Exercises That Aren't Painful for Hidradenitis Suppurativa
Was this helpful?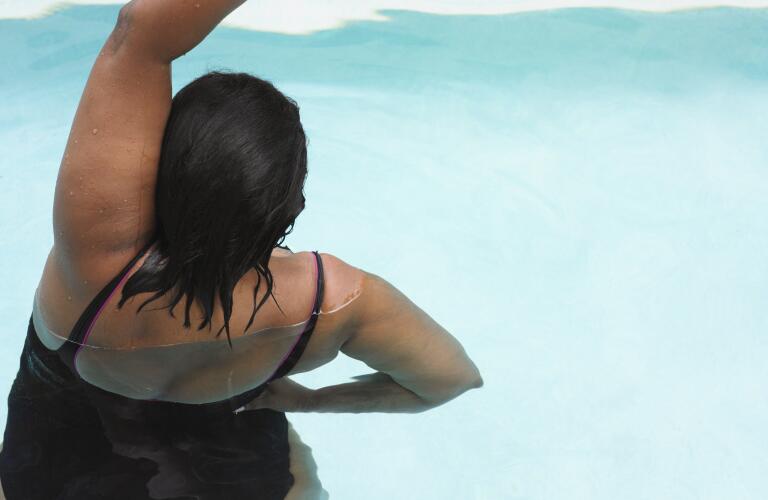 Dermatologists suggest weight loss may be an effective way to help manage the symptoms of Hidradenitis Suppurativa (HS), also known as acne inversa. Some reports say losing even 10% of your body weight can bring relief by reducing the friction of skin folds under arms, breasts, knees, buttocks and your belly. But choosing the right exercise routine for weight loss can be tricky. Especially since sweat is a known enemy of HS and can cause irritation and flare-ups. The good news is there actually are exercises that can help you get in shape with little to no sweating.
Exercises That Are No Sweat
Sweating can aggravate HS no matter how quickly you hit the shower after your workout. An alternative approach is to find a fitness routine that builds muscle, burns calories, boosts your metabolism and doesn't make you sweat too much. Give these sweat-free exercises a try to see if one, or all of them, may be a good fit for your lifestyle and goals.
Yoga: Skip the power yoga and head for restorative, deep stretch or yin yoga classes. These will give you the calming benefit of yoga without the sweat. Plus, yoga helps your body stay flexible and it reduces stress and anxiety, both of which can trigger HS flare-ups.

Pilates: These exercises are based on dance and yoga and focus on creating long, lean muscles. There's little to no cardio work with Pilates, but you will get a strong back, arms and core over time. Sweating is minimal and Pilates movements actually work better when you do them slower.

Tai Chi: This ancient Chinese wellness activity helps reduce stress, while keeping your body moving. It involves a series of slow, flowing movements that never stop, but also never get going fast enough to make you sweat. You can usually find a Tai Chi class at your local parks and recreation center, YMCA or martial arts school.

Water Fitness: Swimming is an easy way to get your body in motion while staying cool in the water. Even if you do sweat a little, it washes right off. These days there are a lot of other aqua fitness options to mix things up. Look for classes like water aerobics, aqua jogging, Aqua Zumba and Poolates. If group classes aren't your thing, you can find water exercises online and do them on your own in the pool. Even treading water in the deep end for 5 minute intervals will have a big impact on your fitness.

Slo-Mo Weight Lifting: Building muscle helps you burn calories even when you're resting. But pumping iron can definitely work up a sweat. A no-sweat alternative is slow motion weight lifting. Basically it's a chill version of regular weight training exercises, you just make the movements slower. For example, if you're doing a chest press, try pushing the weight up for 10 seconds and then down for 10 seconds. Do 3-5 reps of each exercise and you'll see results.

No-Sweat Walking: Like weight lifting, you don't have to do everything fast. Slow walking still gets your heart pumping and burns calories. To keep from getting too overheated and sweaty, walk somewhere air-conditioned like an indoor track or at the mall. Keep your speed slow, but try to increase your distance as a goal.
If you have HS, a run-of-the-mill workout outfit may not feel comfortable for you or be good for your body. Here are some tips for picking the perfect exercise clothes.
Choose loose ventilated clothing that will reduce friction and sweating.

Try clothing made of breathable fabrics like cotton or special sweat-wicking materials.

If you like swimming and water fitness, but don't like wearing a skimpy swimsuit, try wearing running shorts or pants and a swim or surf shirt over your bathing suit. That will give you plenty of coverage while still repelling water.
Shedding a few pounds will help you build confidence and make your HS symptoms feel better. Who knows, you might even meet a workout buddy to try new no-sweat exercises with!
Was this helpful?