Finding the Right Doctor for Hernia Repair
Was this helpful?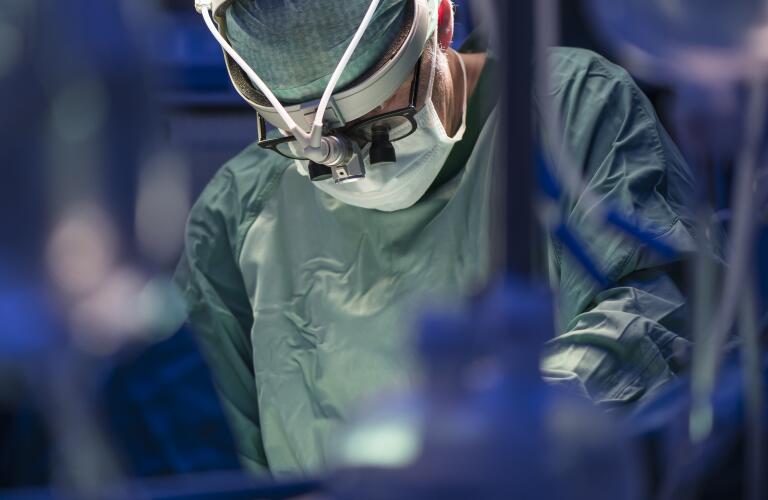 A hernia occurs when a muscle or area of connective tissue develops a tear or weak point that allows internal organs to push through it. While hernias can occur in several places throughout the body, when people talk about hernia repair surgery, they're usually referring to the inguinal type of hernia. This is when a small area of bowel pushes through a weak segment of muscle in the groin. If you have an inguinal hernia that is causing symptoms and requires a surgical repair, finding an experienced hernia repair surgeon should be a top priority. Use these factors to evaluate a hernia repair doctor before you move forward with surgery.
Inguinal hernias can be repaired two ways: with open surgery and via laparoscopy. Open hernia repair usually involves a significant incision and placement of a surgical mesh product to reinforce the site of the hernia. In laparoscopic hernia repair, the doctor makes several small incisions in the abdomen to insert a lighted scope and surgical instruments to fix the hernia from inside the body, with or without using mesh. Not every hernia can be repaired using the laparoscopic method. Ask your doctor if you qualify for this minimally invasive surgery.
Occasionally, a doctor can begin with a laparoscopic procedure to repair a hernia and need to convert to an open procedure because the hernia turns out to be larger or more complicated than expected. As you evaluate hernia surgeons, ask if they have experience performing both types of surgery.
In general, the more experience the surgeon has performing the procedure you are having, the better your results are likely to be. The surgeon should be able to provide you evidence of performing each type of procedure dozens, if not hundreds, of times. This is especially true of the laparoscopic approach, which requires extensive training and repeated procedures to become proficient.
Choosing a surgeon with advanced expertise in hernia surgery can give you peace of mind that, no matter what the doctor finds, your hernia will be expertly repaired.
You can thoroughly research any doctor's qualifications to perform hernia surgery. Answer these questions to learn as much as you can about your doctor's education, training and background:
Is the doctor board certified? Gastrointestinal surgeons are certified first as general surgeons by the American Board of Surgery (ABS) and other medical boards. Since 2009, ABS has required surgeons to complete the Fundamentals of Laparoscopic Surgery program in order to certify. You can view the status of any doctor's board certification at Certification Matters, a service of the American Board of Medical Specialties. Board certification indicates your doctor maintains high standards of care and may be more likely to follow best practices than non-certified doctors.

Has the doctor been disciplined? Your state's Board of Medicine website can tell you if a doctor you're considering has an active medical license and if he or she has been subject to any disciplinary actions.

Has the doctor published any clinical research regarding hernia repair? Perform an online search of a doctor's name to discover if he or she has participated in any clinical research or procedure improvement on hernia repair. Contributing to the medical literature reflects a doctor's intense interest in advancing care in a particular clinical area.

What do other patients say about the doctor? You can check websites like Healthgrades.com to see what other patients have said about a doctor you're considering for hernia repair surgery.
In addition to evaluating a prospective surgeon, you should consider several factors related to the facility where your surgery will take place and the surgical products that might be used. Ask:
How does the hospital rank, in terms of quality? Using the Medicare Hospital Compare website, you can review a hospital's general quality ratings.

How many hernia repair surgeries are performed at the facility each month? Studies correlate a lower risk of adverse events with high volumes of various types of surgeries, so try to have your surgery at a high-volume facility. You can ask your doctor to rate the hospital's volume of hernia repair surgeries relative to other hospitals in the area to get a sense of whether your surgery will be performed at a high-volume center. The surgeon's own procedure volume at the hospital is important too.

Is hernia mesh safe? If your doctor proposes repairing your hernia with surgical mesh, educate yourself about the safety of these products at the Food and Drug Administration medical devices website.

Is the doctor affiliated with an in-network facility? Avoid out-of-network deductibles and copays by asking your insurance company if your doctor and the hospital where he or she performs surgery are considered in-network.
With a little online research, you can feel confident in your choice of a hernia repair surgeon and start preparing for surgery and a smooth recovery.
Was this helpful?