Talking With Your Doctor About Hepatitis C Treatment
Was this helpful?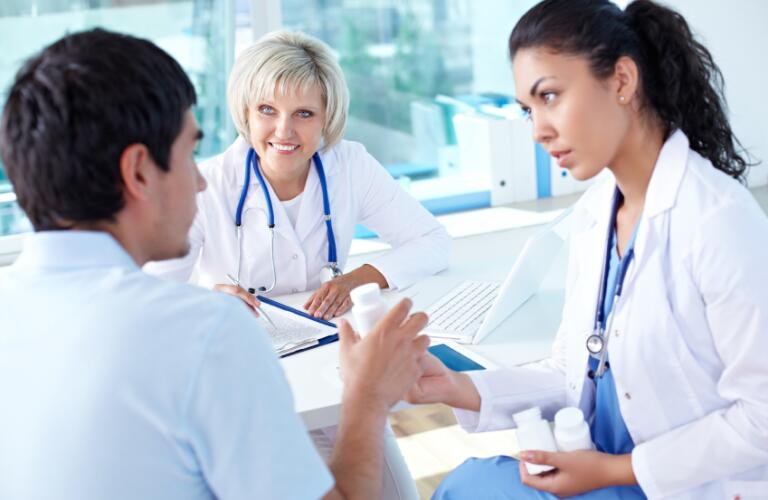 When you first learn you have hepatitis C, you may have lots of questions about what comes next. There are many treatments for hepatitis C, and newer therapies can remove all traces of the virus from your blood, effectively curing the disease. While older hepatitis C medications had severe side effects with low success rates, these newer treatments offer high cure rates with mild side effects. Your doctor can help you decide if and when you should start treatment. Here are some questions to discuss with your doctor.
What Types of Tests Do I Need?
To help decide if you need treatment, your doctor may do blood tests to see how much the virus has damaged your liver. You may also need to have a liver biopsy. This is a test that takes a small piece of your liver to check for damage.
Your doctor may also do blood tests to check the levels of hepatitis C virus in your body and to find out what type of hepatitis C you have. There are six main types of hepatitis C, but genotype 1 is the most common in the United States. Knowing the type of virus you have will help your doctor make decisions about your treatment.
Once you and your doctor know more about how the virus has affected your liver, you can discuss whether to start treatment. In the past, treatment for hepatitis C caused several challenging side effects, and because of this, many people chose not to undergo treatment until they needed it. Today, since newer medications are much easier to tolerate and much more effective, many patients choose to begin treatment even before symptoms of hepatitis C have worsened.
If your liver is still healthy and you don't have too much virus in your body, your doctor may suggest keeping a close watch on your liver instead of beginning treatment. If you start to have liver problems, your doctor may then recommend treatment.
If your liver is already damaged from the virus, your doctor may suggest starting treatment right away.
Am I a Candidate for Treatment?
There are some people who should not try certain hepatitis C medications. This includes those who:
Highly effective medical treatment is available today to treat HCV infection. Your doctor will request additional lab studies to customize your treatment. Your doctor will want to know the following details:
Your specific HCV genotype (1a, 1b, 2-6)
Whether you have ever been treated for HCV in the past
The virus load in your blood
Whether you have kidney or liver disease
For example, most people who have not been treated for HCV genotype 1 can get rid of the infection following a 12-week course of a once-a-day combination of the antiviral medications ledipasvir and sofosbuvir (Harvoni). Many other effective therapies are now available that may not expose the individual to the harmful side effects of interferon, a once-frequently used treatment for HCV.
Your doctor will tell you what type of treatment is best for you.
How Long Will I Need Treatment?
In most cases, you will take the treatment for 24 or 48 weeks, although newer medications take less time. Ask your doctor how long your treatment will last.
What Are the Side Effects?
Your doctor can describe the side effects to expect. They may include:
These side effects are often most severe at the start of treatment. Some people have more problems with side effects than others. If side effects are bothering you, talk with your doctor about ways to cope as well as minimize side effects.

How Will I Know If the Treatment Worked?
After your treatment, your doctor will check your blood to see how much virus is still in it. This is called your viral load. Your treatment has worked if you have a viral load so low it can't be measured six months after your treatment ends. This is called a sustained virologic response, or SVR. In many cases, an SVR after treatment means hepatitis C will not affect your future health.
If you don't have an SVR after your treatment, your doctor may suggest another round of treatment or talk with you about other options.
Was this helpful?