Heart and Vascular Treatment Options
Was this helpful?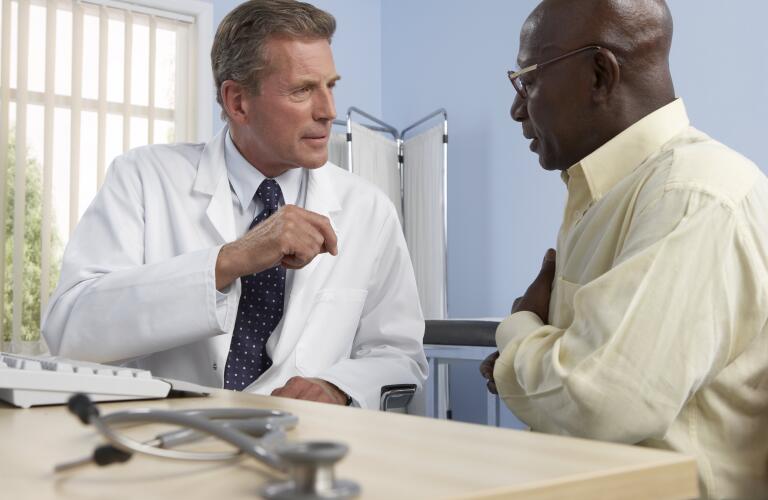 Heart and vascular treatment options are very effective at treating many diseases, disorders and conditions of the heart and cardiovascular system, including major blood vessels entering and leaving the heart, the coronary arteries, and the peripheral arteries and veins in the arms, legs and torso.
Treatments evolve with the rapid pace of innovation in cardiology, heart and vascular surgery, and minimally invasive techniques. Cardiovascular disease treatment ranges from lifestyle changes and prescription medication, to catheter-based procedures like angioplasty, to open heart surgery. Cardiac rehabilitation, a medically supervised program designed to strengthen the heart and improve overall health, is also used to treat many cardiovascular conditions.
The overall goal of treatment for heart problems and vascular conditions is to improve the function of the heart and cardiovascular system. Your heart pumps oxygen-carrying blood throughout the body. If the heart isn't working well, or if there are blockages in the blood vessels, the body may not receive enough oxygen to function well. Lack of sufficient oxygen can cause pain, fatigue, and poor health. Heart and vascular treatments correct underlying problems and help prevent complications.
Heart and vascular treatment may be recommended if you have:
Your doctor will help you explore your treatment options, offer advice, and recommend the one that's best for you. For some conditions, such as angina, your doctor may recommend less invasive treatment options, such as medicine and cardiac rehabilitation.
Your doctor—either a cardiologist, heart failure specialist, or vascular surgeon—will prescribe noninvasive treatments during an office visit. For congestive heart failure treatment, options may include a heart-healthy diet low in fat and salt, a suitable exercise program, medication to relieve heart failure symptoms, and cardiac rehabilitation. In cases where heart failure is due to a treatable heart problem or defect, your treatment options may include surgery.
Most interventional and surgical cardiovascular treatments occur in a hospital or outpatient clinic. Your medical team will describe your treatment to you in advance and give you an opportunity to ask questions. Many different medical professionals provide interventional and surgical heart and vascular treatments. A cardiologist may direct your care.
If you need cardiac catheterization for angioplasty or heart attack treatment, it may be performed by an interventional cardiologist, a heart doctor who is specially trained to perform such procedures.
Vascular surgery, such as peripheral vascular surgery, varicose vein surgery, or thoracic aneurysm repair, is performed by vascular surgeons—doctors who specialize in surgeries involving blood vessels.
If you need open heart surgery, such as heart bypass surgery, heart valve repair, or aortic valve repair or replacement, a cardiothoracic surgeon will operate on you.
Registered nurses, radiology and operating room technicians, anesthesiologists and nurse anesthetists, physical and occupational therapists, nutritionists and mental health professionals may also be part of your healthcare team.
When selecting heart and vascular treatment, it is important to look for providers who specialize in the treatment you're considering. Ideally, you want someone who performs that treatment on a regular basis.
As with all procedures, heart and vascular treatment involves risks and potential complications. Complications may become serious and life threatening in some cases. However, in most cases, the risks of a treatment for a heart problem or vascular disease is far less than the risk of not treating it.
General risks of catheter and surgical treatments
Your personal risk of complications depends somewhat on your overall health and the specific treatment. Common risks of heart and vascular treatment include:
Potential complications of heart and vascular treatment
Most heart and vascular treatments are successful and improve symptoms, but potential complications include hemorrhage, heart attack and nerve damage, all of which are more likely to occur with open and minimally invasive surgery.
Reducing your risk of complications
You can reduce your risk of certain complications by:
It's normal to be anxious when your doctor discusses your treatment options, especially if it involves surgery. But when you truly understand your condition and how best to treat it, you can feel more confident in your treatment choice.
Here is a list of questions to ask your doctor:
Recovery after surgical and catheter-based treatment varies depending upon your overall health, your treatment, and whether or not you experience any complications. Catheter and minimally invasive heart and vascular treatments have a shorter recovery time than open surgery with a larger incision. It can take several months to fully recover from open chest surgery. However, your overall cardiovascular health should improve after treatment, which will help with healing. Your medical team will monitor you closely during and after treatment. They will also work with you to reach your health goals so you can return to an active lifestyle and prevent future heart problems. In some cases, additional or continuing treatment may be necessary.
Was this helpful?