What to Expect With a Telehealth Appointment for Heart Failure
Medically Reviewed By William C. Lloyd III, MD, FACS
Was this helpful?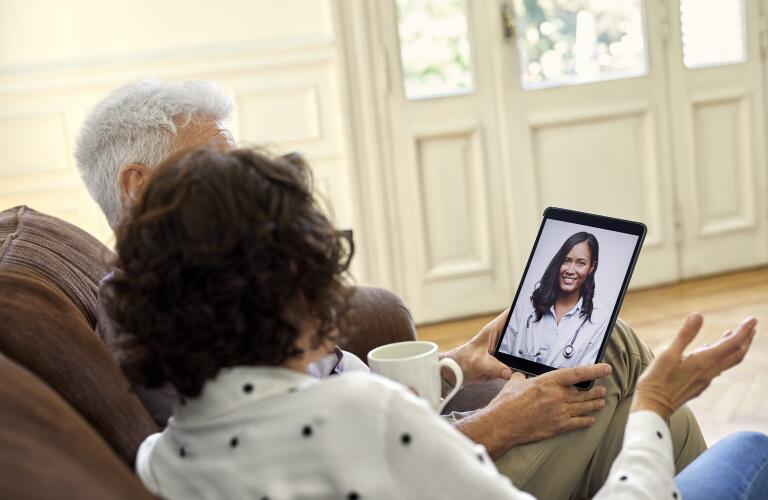 If you're one of the 6.5 million adults in the United States with heart failure, a condition in which your heart can't pump enough blood to meet your body's needs, you know how important it is to stay in close contact with your cardiologist. But sometimes, like during the COVID-19 pandemic, it may be difficult to make it into the office. Whether it's for a routine check-up or to address some new concerns, using telehealth to connect with your cardiologist may make the process easier for you. Here's what you can expect with an online cardiologist visit.
A virtual doctor's visit is scheduled just like a regular in-person appointment. Using a computer or a mobile device, you'll connect with your cardiologist at a predetermined time. Some appointments may be conducted via phone call, but videoconferencing is generally preferred so you can see and speak to your cardiologist in real time. Before your telehealth visit, make sure you've downloaded any apps you may need; your doctor's office should notify you of the requirements. Find a quiet, private spot in your home where you won't be interrupted, and make sure your device is charged or plugged in. It can also be helpful to keep a pen and paper handy to take notes during your call.
You may be surprised at how much a telemedicine visit can accomplish. Much of your appointment will revolve around your discussion with your doctor, so it's important to be honest about how you've been feeling. Be sure to let your doctor know if you're experiencing changes in your symptoms of heart failure, such as shortness of breath or fatigue. If you're taking medications for heart failure, talk about how it's working or if you are having issues with compliance or side effects. Feel comfortable to ask any questions you have about your condition or treatment plan.
Even though a complete physical examination isn't possible through a virtual visit, your cardiologist can still assess you online over video. Many things can point to signs of worsening heart failure or complications, including:
Your general appearance: Are you alert and oriented? Are you speaking easily and breathing easily?
Swelling: Do you have fluid building up in your legs and feet? Are the veins on your neck bulging?
Difficulties with exercise or changes in position: You may be asked to lie down or walk up a flight of stairs. Does your breathing change?
Intravenous (IV) access sites or surgical incisions: If you have an IV to receive infusions of medications, or if you had heart surgery, are there signs of infection around your operative site or IV area? Are things healing well?
Telehealth appointments are also a great opportunity for patient education. You can learn about ways to improve your overall health and the importance of sticking to your treatment plan. Talk to your doctor about changes in diet and exercise and taking medications properly. If you have a heart failure action plan, review it with your doctor to make certain you know how to watch your condition and identify when you need urgent help.
Many people with heart failure are encouraged to monitor themselves at home. This can be as simple as checking your weight each day or measuring your blood pressure with an automatic cuff and notifying your doctor if there are any worrisome changes. But with advances in telehealth, digital equipment can be used to automatically send this information to your heart doctor online. This can be even be expanded to more robust monitoring, such as wearable devices that measure your heart rate and rhythm or implantable devices that directly measure pressures in the blood vessels of your heart.
Not only does this give you important data to discuss during your telemedicine appointment, but it can help your doctor evaluate your condition between appointments, catching potentially dangerous trends early on.
Experts predict that virtual doctor's visits for heart failure will become part of the normal standard of care in the future. The hope is that with closer monitoring, heart failure management can be improved. Talk to your cardiologist about how you can implement telehealth into your plan of care
Was this helpful?