Treating Heart Failure With Preserved Ejection Fraction
Was this helpful?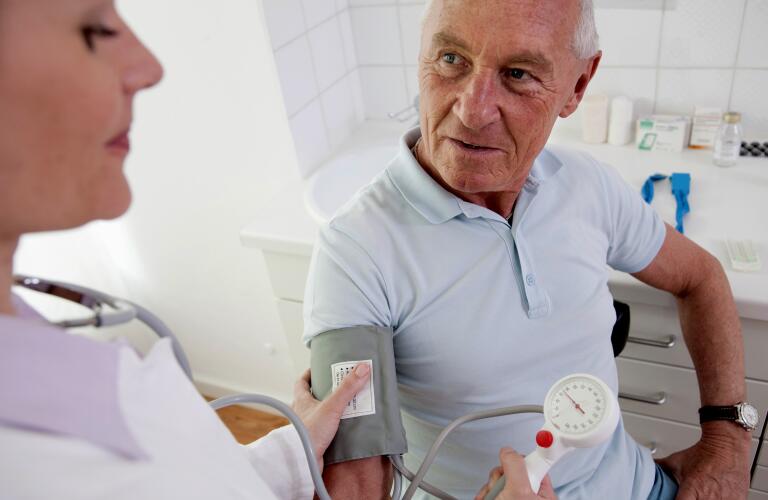 If you've gotten a diagnosis of heart failure with preserved ejection fraction, that means your case has some specific characteristics. Simply put, heart failure means your heart isn't pumping blood well enough to meet your body's needs.
It can occur on one or both sides of your heart. The right side of your heart is responsible for pumping blood to your lungs to be replenished with oxygen. The left side of your heart pumps freshly oxygenated blood out to the rest of your body. When you don't get enough blood to your organs and tissues, they can't work as they should.
The amount of blood your heart pumps out to your body depends on two things: how well your heart relaxes and fills up with blood, and how well your heart contracts and pushes the blood out. "Ejection fraction" is a measurement of how much blood the left side of your heart pumps out (or "ejects") every time it beats. If you have an ejection fraction of 50%, for example, that means 50% of the blood in the left side of your heart is pushed out with each contraction. Your doctor may make treatment decisions depending on your ejection fraction percentage.
Based on this, left-sided heart failure can be classified into two types:
Heart failure with preserved ejection fraction (HFpEF): This type of heart failure means your heart muscle is able to contract normally, but it doesn't relax like it should after pumping. As a result, it doesn't fill up with enough blood, so it pumps out less blood than normal. Your ejection fraction may be in the normal (or "preserved") range, but you're still not getting enough blood to your organs and tissues. Because this has to do with the relaxation phase of your heartbeat, or diastolic phase, it may also be referred to as diastolic heart failure.

Heart failure with reduced ejection fraction (HFrEF): With this type of heart failure, the left side of your heart doesn't contract properly, which means it doesn't have enough force to push enough blood out into your circulation. Because it has to do with the contraction of your heart, called the systolic phase, it's sometimes also referred to as systolic heart failure.
Current Heart Failure With Preserved Ejection Fraction Treatments
There isn't a cure for heart failure, but it can be well managed for a long time. And since about half of the cases of heart failure in the United States are classified as heart failure with preserved ejection fraction, doctors are well versed in treating it. When it comes to a treatment plan for HFpEF, experts recommend addressing symptoms and controlling other medical conditions that can cause heart failure or make it worse. This can be done in some of the following ways:
Lowering high blood pressure: Most people with HFpEF have high blood pressure, and it's believed to contribute to the progression of the disease. Several classes of medications are frequently recommended as treatment. This includes angiotensin-converting enzyme (ACE) inhibitors such as enalapril (Vasotec), angiotensin II receptor blockers (ARBs) such as azilsartan (Edarbi), beta blockers such as propranolol (Inderal), and calcium channel blockers such as nifedipine (Procardia). A combination drug, Entresto, pairs up an ARB, valsartan, with a blood pressure medicine, sacubitril, and is commonly used for patients with chronic HFpEF. By lowering your blood pressure, the goal is to decrease the workload on your heart.

Getting rid of excess fluid: A common symptom of heart failure is a buildup of fluid in your body. This can affect your lungs, making it difficult to breathe. You may notice weight gain or swelling in your ankles, legs, or abdomen. Diuretics, often referred to as "water pills," may be prescribed to help you urinate more and get rid of excess fluid. Your doctor may also suggest restricting salt in your diet and watching how much fluid you take in each day.

Managing other medical conditions: Damage to your blood vessels from conditions like coronary artery disease and diabetes put increased stress on your heart. Working to improve co-existing medical conditions can relieve some of that stress.

Making healthy lifestyle changes: There are many things you can do to improve your heart health: stop smoking, lower the fat and cholesterol in your diet, exercise, and avoid recreational drugs and alcohol. Making these changes can slow the rate at which your heart failure.
Research remains underway to learn how to develop treatments specifically for HFpEF. In the meantime, don't hesitate to ask your doctor about what treatments are available to you.
Was this helpful?