Diet and Nutrition Tips for Heart Failure
Was this helpful?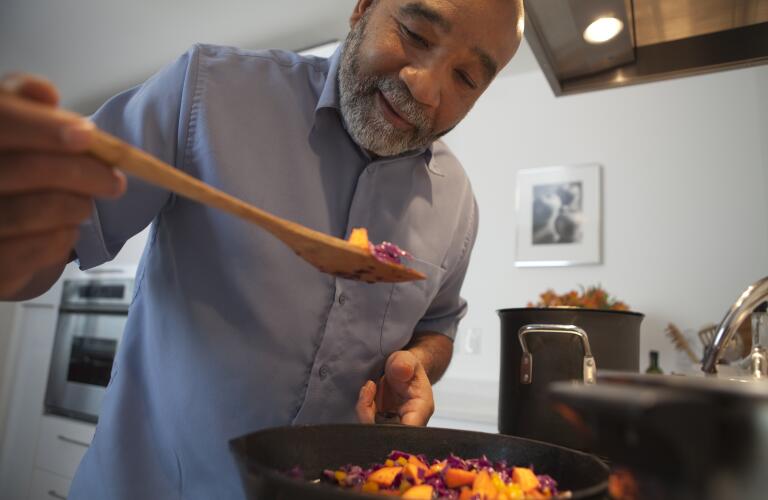 If you are one of the 4.6 million Americans living with congestive heart failure, you can help manage your symptoms by eating certain types of foods, while avoiding others. This doesn't mean simply following the same heart-healthy diet that somebody without heart failure would use. While eating healthy is important, there are some key differences you must keep in mind, due to the special needs you may face due to your condition.
Congestive heart failure occurs when your heart stops pumping efficiently, which can be caused by high blood pressure, heart disease, diabetes or kidney disease. When your blood isn't flowing properly through your body, not enough oxygen is being delivered.
One way to ease this strain on your heart is to reduce your fluid intake and avoid eating foods that cause you to retain fluid. More fluid in your bloodstream makes your heart work harder to move blood around putting added stress on your heart.
Salt is one of the major culprits in fluid retention. Your doctor likely will tell you to reduce salt and sodium chloride, an additive that contains salt. Experts recommend those with congestive heart failure reduce salt and sodium to no more than 1,500 to 2,000 milligrams per day.
To reduce salt and sodium in your diet, incorporate the following low-sodium, heart failure food list and tips into your everyday eating habits:
Avoid high-sodium foods like cheeses, cured meats (bacon, sausage, hot dogs, bologna, ham) and fast foods.
Eat fresh fruits and vegetables, which have little salt in them; avoid adding salt.
Eat other low-salt foods, like fresh meat, poultry, fish, eggs, milk, yogurt and beans. Again, don't add salt.
Eat rice, pasta and oatmeal so long as you don't add salt or salty toppings.
Replace salt with other seasonings, such as herbs (fresh or dried), spices, herbed vinegars and oils, and lemon or other fruit juices.
Beware combination herb and spice mixtures, which can have hidden salt. Pepper does not cause fluid retention, so shake away. Marinate meat in orange or pineapple juice.
Beware condiments, which can be hidden salt landmines. These include catsup, mustard, steak sauce, soy sauce, and beef bouillon. Use these foods sparingly, if at all.
Make your own dressings and dips for salads and veggies. These are easy to make, will save you money, and have much less sodium than store-bought varieties.
Make a habit of reading labels. Packaged and canned foods often contain too much salt, as do many frozen meals. Stick to less than 350 milligrams of sodium per serving, with a goal of 500 milligrams or less for any given meal. There are many low-sodium and "no salt added" versions of canned and frozen meals.
Put away your salt shaker to reduce temptation. Don't keep it by the stove or on your dinner table.
Cut salt from recipes. Most don't need it, even if listed. Try cutting the salt in recipes by half or eliminating it. Don't add it to water when you cook pasta.
When going out to eat, tell your server you are on a low-salt diet. Stick with grilled, skinless, low-fat meats; salads with dressing on the side; and other fresh vegetables.
Most importantly, be patient. It takes 21 days to change any habit, and about that long for your taste buds to adjust to new flavors and less salt in your food.
Depending on why you have heart failure and what other medical conditions you have, you may need to adjust your food list further, beyond limiting sodium.
For example, some people with congestive heart failure need to increase the amount of potassium they consume, due to medicines they are taking (such as diuretics) which cause loss of this vital mineral.
If this is your situation, you can increase your potassium level by eating more foods high in this substance, such as potatoes, tomatoes, bananas, cantaloupe, cooked spinach, bran cereals, and sports drinks. Some salt substitutes (such as Morton Lite Salt) contain potassium chloride, so you may want to seek these out.
Some heart failure medicines can cause potassium in the blood to rise. Too much potassium, called hyperkalemia, can cause such symptoms as weakness, nausea, diarrhea, pain, paralysis, difficulty urinating, and irregular heartbeat.
If you have this problem and need to decrease your potassium level, try:
Soaking or boiling vegetables and fruits in water before eating
Avoiding foods labeled with KCI potassium chloride), K+, or potassium
Beyond sodium and potassium limitations, most people with congestive heart failure will benefit by following a heart-healthy diet and lifestyle. This can help you reduce cholesterol and excess weight, which can help ease the strain on your heart. Also, eating nutrient-packed foods can keep heart failure patients healthier longer, reducing the likelihood of severe outcomes, such as hospitalization, according to a recent study.
A heart-healthy diet includes:
No alcohol or limited alcohol (males should have no more than two drinks per day; females, one)
More omega-3 rich foods (such as fish: especially char, trout, salmon and mackerel; flaxseed; canola oil; soybeans; walnuts)
A variety of fruits, vegetables, whole grains, nuts and legumes, low-fat dairy, skinless poultry, and fish
Very limited amounts of saturated and trans fats, cholesterol, red meats, and sweets
Watching your weight also is important. Track your weight daily. If you gain or lose more than 3 pounds in a day, this may be a sign you are retaining fluid. Your healthcare provider can tell you if this means you need to restrict your fluid intake overall, in order to keep your congestive heart failure from progressing.

Was this helpful?