Why You're Most Likely to Have a Heart Attack in the Morning
Was this helpful?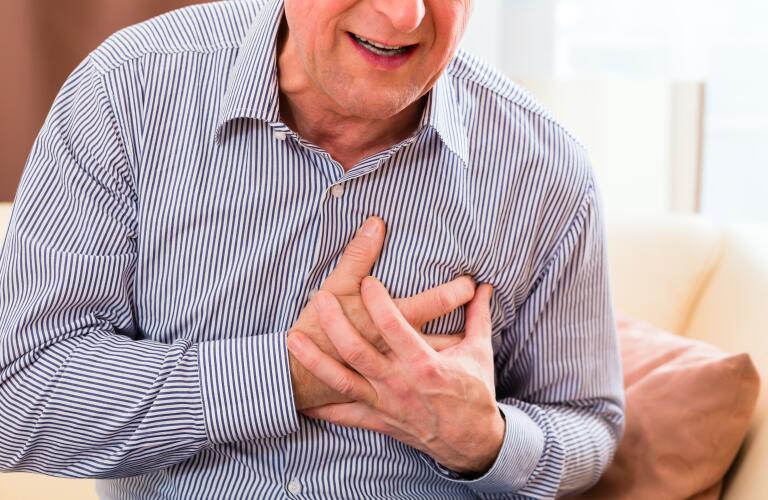 Did you know people are more likely to have a heart attack in the morning than any other time of day? This may seem to run counter to what we think about heart attacks. We often hear about them occurring in the middle of a crisis, during intense physical activity, or when we are seriously stressed. But what is it about the morning that actually makes it a more likely time of day for a heart attack?
The most common cause of a heart attack is coronary heart disease (CHD). Plaque builds up over time along the walls of the artery, causing the blood vessel to narrow. Eventually, the narrowing becomes severe enough to reduce the blood flow to the heart or block it altogether. A blood clot traveling through the blood vessels can also cause a heart attack by plugging the artery and blocking the blood flow.
Researchers have some theories they're working on to explain why people may be more likely to have a heart attack in the morning than any other time of day. One theory looks at a protein in your blood called PA1, which prevents clots from dissolving. The results of a small study showed that healthy study participants had higher levels of PA1 around 6:30 a.m., after they woke up. This higher level of PA1 increases the risk of clot formation in a blood vessel, blocking blood flow to the heart. As the morning went on, the levels for those in the study dropped back to normal ranges.
Other researchers think early morning heart attacks could have other causes, such as an elevated amount of stress hormones. As you wake up, your body releases stress hormones to get your body up and going for the day. In addition, your body tends to be dehydrated by the time you wake up and for some people, this combination of added stress hormones plus dehydration may be enough to trigger a heart attack.
Aside from the increased risk of heart attacks in the morning, researchers have also found that morning heart attacks may cause more damage to the heart than those that occur during any other time of day. No matter the hour, it's important to seek immediate treatment for symptoms of heart attack if you or anyone else experiences them.
The signs and symptoms of a heart attack can vary, especially between men and women. Women often report subtler signs, first believing they were caused by something else, such as stomach upset or stress. For anyone, the symptoms of a heart attack may come on strongly and suddenly, or they may come on gradually. The most common ones include:
Pain, pressure or tightness in your chest

Squeezing or aching sensation in your chest

Chest pain or aching that spreads to your neck, jaw or back

Shortness of breath, difficulty breathing

Lightheadedness or sudden dizziness

If you experience any of these signs and symptoms, you must act immediately. Call 911 or your local emergency number right away, or have someone else drive you to the closest emergency room.

Not all heart attacks can be prevented, but you can lower your risk of having one. Here are some ways:
Go for regular check-ups, particularly if you have been diagnosed with heart disease or you have a sibling, parent or grandparent who has heart disease or has had a heart attack.

Follow your treatment plan if you do have heart disease. Take your medication as prescribed and go for regular testing.

Manage any chronic diseases, such as diabetes.

Eat a heart-healthy diet, and lose weight if necessary.

Exercise regularly.

Reduce the amount of stress in your life as much as possible.

Avoid illegal drugs, as they can cause coronary artery spasms.

Ask your doctor if you should take aspirin regularly or take aspirin as soon as you experience any signs of a heart attack.

We don't always feel our best first thing in the morning as we struggle to wake up and face the day. But if you experience any signs or symptoms of a heart attack, these should be taken seriously. Your odds of surviving increase dramatically with quick recognition and rapid treatment.
Was this helpful?