Warning Signs of a Heart Attack in Men
Was this helpful?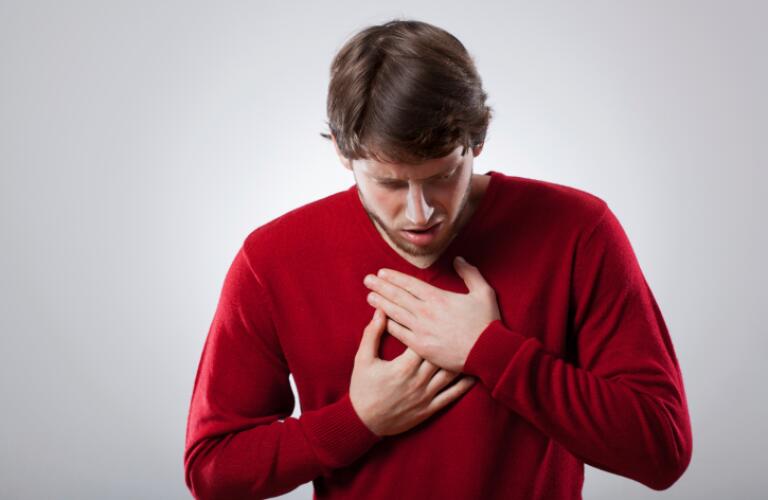 If you get an unexpected pain in your shoulders, it may be more than stress or strain. Shoulder pain and other nonspecific symptoms could signal a heart attack, even if you don't have chest pain. While both women and men are at risk for heart attack symptoms, some signs are more specific to men. Knowing these warning signs of a heart attack in men can save a life--possibly even your own.

Many people will have chest pain during a heart attack, also known as myocardial infarction. Chest pain, often right-sided chest pain, is the most common heart attack symptom in men.
Despite popular belief, the chest pain of a heart attack is not always sudden and severe. Heart attacks in men often begin slowly with mild chest pain that comes and goes.
You may feel such symptoms as:
Dull ache in your chest
Indigestion or heartburn in your upper chest
Pressure or a feeling of a heavy weight on your chest
Vague discomfort in your chest
Men should also watch for unexpected signs of a heart attack such as:

Men commonly delay seeking care when they have chest pain and other warning signs of a heart attack. This may be because warning signs of a heart attack often begin slowly, which may lead you to believe your condition is not serious. The best thing you can do if you have any warning signs of a heart attack is to:
Call 911. Heart attacks can cause permanent and disabling heart damage. Call 911 right away even if your symptoms are mild or you do not have chest pain. Do not wait to see if the symptoms go away. Emergency personnel will treat you as if you are having a heart attack until all your tests (on site and at the hospital) are complete.

Follow the 911 operator's instructions. The operator may tell you to take an aspirin to help prevent a blood clot in your heart or to keep the clot from getting bigger. Tell the operator about the types of medications you take, if you have bleeding problems, if you take blood thinners, and if you have an aspirin allergy.

Ask questions. In the hospital ER, ask your doctor to clearly explain your test results and what is causing your symptoms. Men with warning signs of a heart attack are often admitted to the hospital overnight for observation and more tests, even if tests are normal in the emergency room. Whether or not you are admitted depends on your age, family and personal medical history, what other symptoms you have, and your test results.

Follow your doctor's instructions. After you go home, don't be reluctant to call 911 again if your symptoms return or become more severe. A heart attack can occur at any time, even if you have just been released from the hospital.
Before an emergency happens, have on-hand a list of your medical problems, medications, and doctor's name and phone number. This will help speed up your care if you have warning signs of a heart attack. Your family members should also be aware of your medications and medical history in case you are unable to answer questions. Let them know where to find your health information.
Was this helpful?