Why People Avoid Hearing Aids—And How to Help
Was this helpful?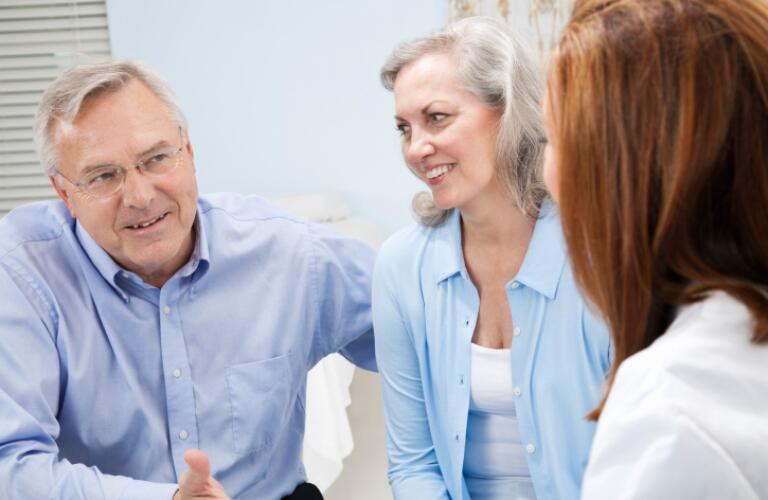 You probably know someone with hearing loss, and more than likely, that person doesn't wear any kind of hearing aid. About 40% of seniors aged 55 to 74 years have some degree of age-related hearing loss. But as few as 20% of those people actually wear hearing aids, and men are less likely than women to wear them. This is frustrating for you as well as the person with hearing impairment because communication is often difficult. Overall, people struggle with hearing loss for an average of 10 years before finally deciding to purchase hearing aids.
Persuading a loved one to buy and use hearing aids, however, can be a significant challenge. Helping someone you love understand your concern and support is a good way to encourage him or her to wear hearing aids.
Each person's reason for avoiding hearing aids is their own, but there are some common themes that emerge: stigma, cost, comfort and technology.
The stigma associated with hearing loss can make it very difficult for someone who suffers with hearing impairment to admit the problem. This stigma can come in two forms: the reluctance to accept getting older and the psychological aversion to disability. In a culture that values youth and is often prejudiced against people with disabilities, these feelings can be difficult to overcome.
The substantial cost of hearing aids can also be a deterrent to buying them. Hearing aids can cost more than $2,000 each, and people often benefit most from using two hearing aids. Hearing aid costs continue to rise over time as technology becomes more advanced. Some people don't think hearing aids provide enough benefit to justify the cost.
Comfort has been cited in many studies as one of the top reasons people decide not to wear hearing aids. Difficulty getting them on and off is often a factor as well as discomfort while wearing them. Side effects can occur, such as itching or developing a rash.
Another problem is difficulty getting used to the way hearing aids work. They don't cure hearing loss. Instead, they amplify and modify sounds so you can hear them better. At first, it might be challenging to recognize the words people say because they sound different than what you're used to—even your own voice may sound strange.
When someone with hearing loss avoids using hearing aids, it can become increasingly difficult to use them successfully later on. This is because when the person doesn't hear sounds, changes in the brain's cortex make it more difficult to understand the sounds he or she does hear—essentially resulting in loss of brain function in the parts of the brain that process sound and speech. Hearing loss also increases other health risks, such as loss of balance and dementia. Some people with hearing loss may isolate themselves because they can't hear what others are saying, and social isolation is a risk factor for dementia.
It's also important to know the difference between hearing aids and hearing amplifiers (called personal sound-amplifying devices) because they're not the same thing. Hearing aids help people with hearing loss, whereas hearing amplifiers are for people who do not have hearing loss. People who can't hear well in certain situations, such as an event where there is a lot of background noise, may benefit from an amplifier.
Because hearing amplifiers don't require a test from an audiologist and cost substantially less than hearing aids, people with impaired hearing may be quick to buy hearing amplifiers—while their hearing loss continues to deteriorate without a diagnosis. If you think you (or your loved one) may benefit from an amplifier, first see an audiologist for an accurate hearing diagnosis.
You can start the conversation by explaining how much you value their company and conversation. Since good hearing enhances overall quality of life, emphasize that you want them to enjoy the surrounding sounds, whether that be friends, grandchildren or activities, even television. Make sure they understand you'll be there for support as they get used to the hearing aids. It can be a significant challenge, especially for older people with reduced dexterity in their hands.
It's also good to share how much technology has improved with the use of digital hearing aids. Digital hearing aids are able to more precisely duplicate sound and enhance speech than older analog models. They also can be programmed to help the wearer in different environments, which reduces feedback and background noise. For many people, they may also be more comfortable to wear, which may make your loved one more likely to use the hearing aids.
When someone you love has hearing loss, everyone suffers. Conversations are more difficult, and it may become harder for you to enjoy each other's company. So, it's important to encourage your loved one to use hearing aids, not only to protect against degenerating hearing, but also so you both can communicate effectively again.
Was this helpful?