Recognizing and Treating Hearing Loss in Children
Was this helpful?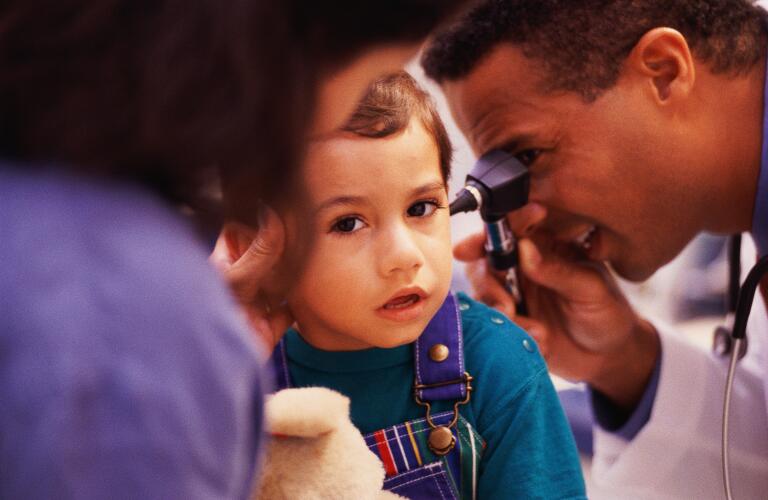 If you experienced a change in your hearing, you'd be able to communicate what was happening. However, dealing with hearing loss in infants and young children is completely different. They can't tell you what's wrong. Instead, it's important to watch for signals that could mean there's a problem with their hearing.
It can be difficult to recognize when young children are struggling with hearing problems. The signs of hearing loss vary from one child to another. They're also different for babies than they are for young kids.
If your baby has any of the following signs, consult your doctor and ask about hearing loss:
Doesn't startle at loud noises like a dog barking or a door slamming
Doesn't turn toward sounds by six months of age

Doesn't turn his or her head when called by name, even if your baby turns his or her head upon seeing you

Doesn't say any words, such as "mama" or "dada," by the time he or she is one year old
For young children, watch for these signs of potential hearing loss:

Doesn't follow directions
Doesn't speak very clearly
Has a delay in speech development
Says "what? or "huh?" frequently
Turns up the TV volume to a high level
Most babies receive a hearing screening while they're still in the hospital. All babies should receive this screening by one month of age. Children should receive a hearing screening at 5, 6, 8 and 10 years of age, according to the American Academy of Pediatrics. Many schools provide the screening. If you suspect your child has hearing loss, he or she should receive a hearing screening right away.
If your baby or child fails his or her hearing screening, a hearing test will likely be necessary. There are several types of hearing tests audiologists—experts who are trained to test hearing—can use. Some can even take place while your baby sleeps.
If your baby or child has hearing loss, there are many different treatment options available. Your doctor and audiologist can help you find the treatments or services that are right for your child. These may include:
Early intervention services to help your child learn speech, language, and social skills

Medications or surgery to treat conditions contributing to hearing loss, such as chronic ear infections or problems with ear development that were present at birth

Special education services to help children with disabilities or developmental delays

Technology to make the most of the hearing your child does have, such as hearing aids, cochlear implants, and other devices
If you think your child may have hearing loss, ask your pediatrician for a hearing screening right away. Hearing loss can interfere with a child's development of speech, language, and communication skills. The sooner your child begins treatment, the better off he or she will be.
Was this helpful?