How to Avoid Getting Sick During the Holidays
Was this helpful?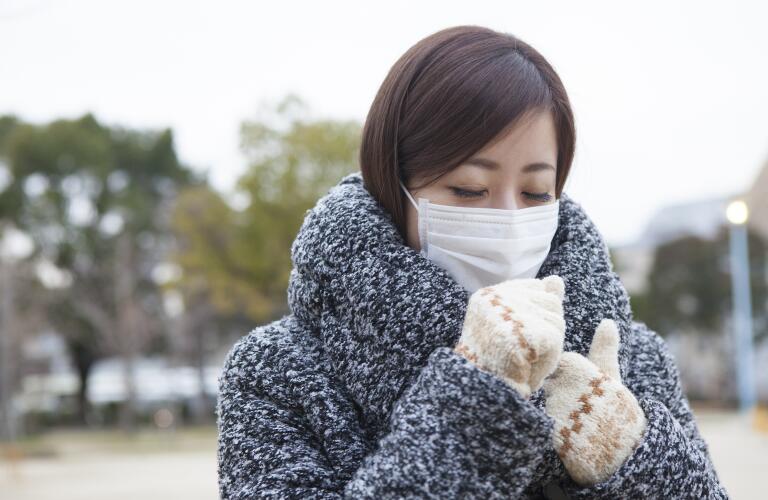 Nobody wants to get sick during the holidays, much less spread illness to family and friends. But winter months are when colds and flu are at their peak. Not to mention COVID-19, which is more likely to spread indoors, making holiday parties problematic. Does this mean nixing Thanksgiving or canceling Christmas? Experts say no; you can still celebrate these and other winter holidays–so long as you are careful and follow health recommendations.
1. Limit personal contact.
The holiday season has traditionally been one where you get together with more people than usual. This may mean traveling, having houseguests, or attending holiday gatherings. Yet, due to COVID-19, you may need to rethink travel or having close personal contact with people you don't live with. Similarly, to avoid colds and flu, you need to avoid contact with people who either are sick themselves or who have been recently exposed to a sick person.
Sometimes nobody knows if exposure has occurred, since people can be contagious before symptoms appear. So, in general, it's best to avoid certain practices, such as hugging and handshakes, in favor of more distanced connection, such as "elbow bumps." Other ways to prevent transmitting holiday illnesses include: maintaining a personal distance of about 6 feet, getting together outside if possible, keeping windows cracked to allow for ventilation, and wearing masks around people you don't live with.
If you want to have house guests for the holidays, it's a good idea for both you and your guest to quarantine for 14 days before a visit, to ensure that neither of you has been exposed COVID-19 or other illnesses before you get together. This means staying home from work, avoiding in-person shopping, and keeping distant from other people for two weeks.
If you must stay physically apart from loved ones to avoid getting sick, you can still maintain connection through video chats, phone calls, or emails. People confined to nursing homes can enjoy "window visits," where you talk via phone while seeing loved ones through panes of glass (but keep windows closed to avoid spreading viruses).
2. Get a flu vaccine.
Influenza vaccines aren't 100% effective against flu, but they can lessen your chances of getting and spreading this illness, which is more common during the holiday season. Or, if you do contract flu, your symptoms are likely to be less severe if you've had a flu shot.
A flu vaccine takes about two weeks to become effective, so experts recommend getting one by the end of October, if possible. If you missed this window, still get vaccinated to prevent getting sick with flu. Flu is at its peak from December through February, but you can contract the illness at any time of year.
Flu vaccines, which are recommended for everybody older than 6 months, come in several varieties, including a nasal spray and injection, with different criteria for who should take which type. A high-dose vaccine is available for those 65 and up. Pneumonia shots also are available for at-risk people, such as those with asthma or people 65 and up. Contact your health provider if you have questions about which vaccines are best for you.
3. Keep your immune system strong.
Your immune system is your body's defense against illness. So, fortifying it can help fight off any viruses or bacteria you encounter. Ways to do this include eating nutritious food, exercising regularly (aerobics is known to boost virus-fighting cells), and getting enough sleep (7 to 8 hours per night). Also try to relax and manage stress, since stress hormones can harm your immune system.
4. Wash your hands.
One way to get sick over the holidays is by touching a germy surface and then touching your nose, mouth or eyes, which transfers the germ inside your body. Prevent this by washing your hands frequently. Common situations that call for handwashing include:
Before you handle food (cooking or eating)
Before and after touching your face (especially eyes, hands and mouth)
After you cough or sneeze
After being around someone who's sick
After touching surfaces such as door handles or payment machines at stores
Before and after using shared devices, such as computers and phones
To properly wash your hands to prevent illness, use soap and warm water or hand sanitizer. A quick splash under the faucet isn't good enough. Instead, wash hands for 20 seconds, the length of time it takes to sing the "Happy Birthday Song" (the chorus of "Jolene" or "Yankee Doodle Dandy" work too). Keep a small bottle of hand sanitizer with you to wash when away from a sink.
5. Practice safe snot management.
If you sneeze, do so into your elbow or upper arm–not your hand. (The same is true if you cough.) When you blow your nose, do so in a tissue, not a handkerchief, and then get rid of it. Don't stuff used tissues into your purse or pocket, where germs may transfer.
6. Clean surfaces with bleach.
If you or someone in your household has become sick with cold, flu or COVID-19, clean and sanitize bathrooms with chlorine bleach, in order to prevent spreading illness to others. Also keep in mind that the norovirus, which causes about half of stomach upsets, is not killed with alcohol-based commercial hand sanitizers or cleaning products. Surfaces should be wiped down with bleach or hydrogen peroxide (or products containing these substances) in order to kill this virus.
7. Take care with food preparation.
To prevent getting ill with food poisoning this holiday, be extra careful in the kitchen. Keep surfaces clean, but be careful of cross-contamination between raw meats, poultry and fish, and foods that you will serve raw, such as fresh veggies. Use separate cutting boards and avoid sharing cleaning rags across these surfaces. Also, when you wash your hands in the kitchen, use paper towels to dry, not a common, shared rag. Invest in a food thermometer and cook foods to recommended temperatures.
The stress of the holidays–especially during the pandemic–is already high, and getting sick doesn't make anything easier. By taking necessary precautions and practicing smart habits, you can help keep the holidays both happy and healthy.

Was this helpful?