What Chronic Gout Can Do to Your Kidneys
Was this helpful?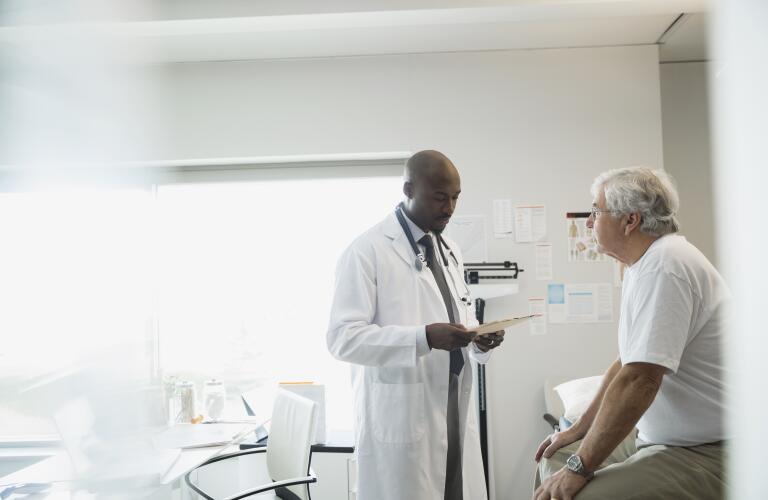 Gout is the most common form of arthritis, causing needle-like pain and swellling in the joints, most often in the big toe. In most people, gout comes and goes, but some people have chronic gout, in which the joints stay inflamed. If you have chronic gout, you have an increased risk of kidney disease, in which your kidneys gradually lose function. Doctors have been aware of this link between gout and kidney disease for decades, but the nature of the connection was a matter of debate. Does gout cause kidney problems, or do kidney problems cause gout? Although the matter may not be completely settled, we do know they are associated. If you have chronic gout, it's important to treat it, which will lower the risk of harm to your kidneys as well as your joints.
Your healthy kidneys do a lot of jobs; one of them is to remove excess uric acid from your system. When your kidneys don't excrete enough uric acid, this leads to gout. Uric acid is actually an antioxidant—which we think of as a good thing—when it's outside the cells. Once it's absorbed into your cells, however, it can cause inflammation and oxidative stress, an imbalance that lowers your body's ability to prevent tissue damage.
Your kidneys are the filters of your body. Like with many other materials, they filter out uric acid into your urine. But, if you have more uric acid in your body than your kidneys can handle, or your kidneys aren't working as well as they could, uric acid will build up. Eventually, this build-up can form crystals in the fluid in your joints, causing a gout attack with needle-like pain, swelling and redness. If uric acid deposits build up in your kidneys as well as your joints, you may develop kidney stones, other kidney problems, or chronic kidney disease (CKD). If your CKD isn't controlled, you may begin to feel ill and develop high blood pressure, anemia, weak bones, or nerve damage. Kidney disease also increases your risk for heart attack and stroke.
Treating gout is a matter of keeping your uric acid levels down with medication and diet. If the most common uric acid reducer, allopurinol (Zyloprim, Aloprim), doesn't work for you or you can't tolerate it, there are other medications your doctor can give you. Some of them, however, including febuxostat (Uloric), probenecid (Benemid), and lesinurad (Zurampic), may adversely affect your kidneys, especially if you already have kidney disease. You still have options, though. Pegloticase (Krystexxa) is a medicine given by injection that can work quickly and effectively to lower uric acid levels. It does not affect the kidneys or worsen kidney disease. Sometimes, pegloticase can become less effective over time, so it's important you follow a diet that can help lower your uric acid levels as well.
A good diet for chronic gout is one that is low in purines, which are the substances that form uric acid in your body. Avoid alcohol—particularly beer—as well as meat and shellfish, which are all high in purines. There is evidence that cherries lower uric acid, so consider adding cherry extract or cherry juice to your daily routine. If you have kidney problems, be sure to talk to your doctor about how much liquid you should have each day, so that you don't overtax those hard-working organs.
You have much to gain by keeping your uric acid levels down if you have chronic gout. Not only will your pain and inflammation recede, but you may avoid kidney problems, and people with CKD may see improvement in their kidney function. Studies in the United Kingdom showed that uric acid reducers can cut kidney disease progression in half and reduce the incidence of heart attack or stroke by more than that. When it comes to gout and kidneys, what's good for one is good for the other.
Was this helpful?