PATIENT VOICES

My Gout Journey: Connecting With My Rheumatologist

Was this helpful?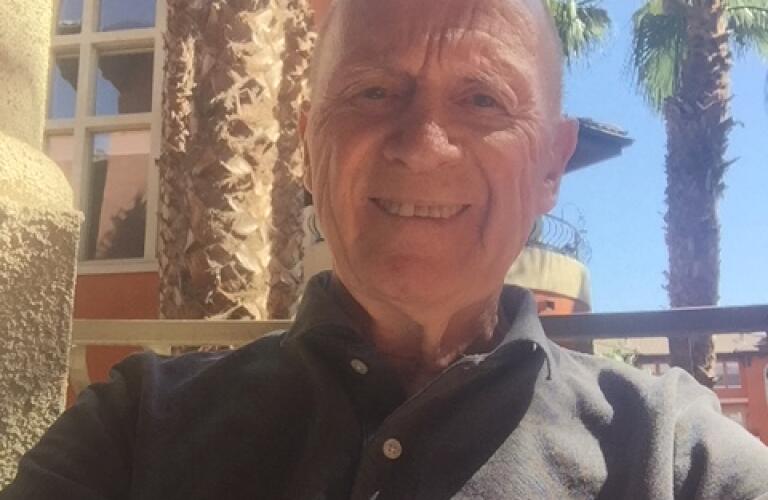 My gout story begins more than five decades ago when I was recovering from collarbone surgery to address a rugby injury. For six weeks, my arm was bent at the elbow and immobilized with compression bandages, and I started to feel excruciating pain swell at the joint. This was a long time ago and I don't remember who made the diagnosis, but I was told I had gout. An intensely painful form of arthritis, gout is caused by sharp crystals of uric acid that accumulate around the joints. I went on an anti-inflammatory drug for gout attacks and was back to normal in a couple weeks.
For many years, that episode was my one and only experience with gout, but not my only run-in with arthritis. What started as a crick in my neck eventually expanded to my shoulders and down my back, hindering my mobility. My next-door neighbor, an internist, heard about my symptoms and suspected I had rheumatoid arthritis (RA). She recommended I see a rheumatologist, Dr. Peter Bardwick. My neighbor has RA herself, and he was her doctor. So with that referral, Dr. Bardwick became my rheumatologist too.
Dr. Bardwick began to treat my RA, but unfortunately, neither he nor my primary care doctor knew about my history of gout. That first attack after my rugby injury never made it onto my record. And decades later, when I started seeing my current doctors, I felt no need to bring it up because gout hadn't affected me since. I regret not mentioning it. But back then, when you went in for your first visit with a new doctor, you weren't given much time to provide exhaustive details of your medical history. You had to quickly fill out a form right before the doctor was ready to see you.
Several years later, I needed surgery again after fracturing my femur. The day after the procedure to repair it, I told my doctor I thought I was getting gout in my knee and toes and I explained how I had developed it once before, decades earlier. They tested my uric acid levels, told me they were normal, and said they believed I had an infection instead. But I remembered how the gout attack had felt after my collarbone surgery. There's nothing else like that pain; it feels like somebody is pulling razor blades through your veins. Even so, no one was taking my complaints seriously. Then finally, after days of arguing, a night nurse put a needle in one of my toes, and jagged white crystals came pouring out.
Once they confirmed it was gout, I called Dr. Bardwick, figuring he would know how to deal with it. He was pretty frustrated nobody had listened to me about my past experience. According to him, patients with a history of gout are almost guaranteed to have a gout attack after surgery if they don't take preventative medication. Had he known I'd had a gout attack once before, he would have prescribed medication prior to my femur surgery to save me from another attack.
My One and Only Rheumatologist
After that second gout attack, the surgical rehab staff once again put me on medication, which helped with the pain. But I still needed to see Dr. Bardwick several times after that to drain the crystals out of my toes. As for long-term treatment, he put me on a maintenance drug that keeps my uric acid levels low. He told me we can't cure the gout, but with treatment we can prevent it from recurring. So I'll be taking the medication every day for the rest of my life.
Since the femur surgery, I've had two more major orthopedic surgeries. But now I know to keep Dr. Bardwick in the loop, and he makes sure I take the anti-inflammatory drug preventatively—four days before surgery and 10 days after. Many doctors and surgeons aren't aware of this preventative measure for gout. But thanks to Dr. Bardwick, I've been prepared and haven't had any more problems. If I hadn't connected with him as my rheumatologist, I almost certainly would have had another gout attack.
Dr. Bardwick is the only rheumatologist I've ever seen, and I still see him a few times a year for check-ups. My main worry with him at this point is that he will retire on me. Over the years, if I haven't trusted a doctor's abilities, I've gotten another physician. But I've never had that feeling with Dr. Bardwick; I have nothing but respect for him. We have the kind of relationship where I can call his cellphone at any time, and he'll squeeze me into his schedule. And he has solved my health problems through the years. What more can you ask for than a doctor who's both good at his profession and has empathy for his patients?
After serving in the Army with the 101st Airborne Division, John spent his career in network television sales for NBC and CBS. Since retiring in 2003, he co-founded and continues to work for The Memory Kit, an Atlanta-based organization that advocates for people with dementia.

Was this helpful?