What to Expect While Recovering from Foot Surgery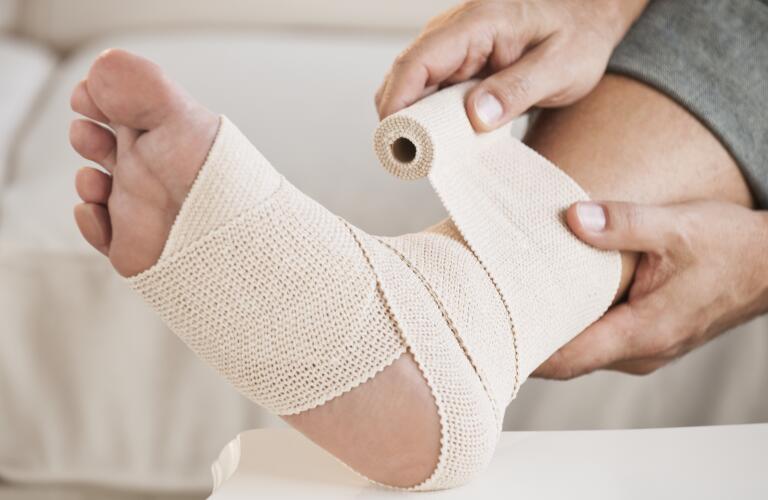 While every type of foot surgery is different, the basics of care after surgery are often similar. Knowing what to expect as you recover will help you prepare ahead of time and let you focus on getting better.
It's likely you'll need to rest your foot for some time after surgery, to give it a chance to heal. Depending on your type of surgery, you may need a few days or several weeks to recover. During this time, you may need to use a cane, walker or crutches to help keep weight off your foot. Your doctor will tell you when it's safe to start walking and driving.
After many types of foot surgery, you will be asked to ice your foot and keep it elevated (at the level of your heart) as much as possible for a few weeks. This will help minimize pain and swelling.
After surgery, you may need to wear a cast or boot to protect your foot during recovery and help you walk. Your doctor will tell you how long you need to keep your foot in the boot or cast and give you any specific instructions.
After some procedures, such as bunion or fusion surgeries, you may have bandages or dressings on your foot. You'll need to keep the dressings clean and dry and cover them with a plastic bag when you shower. Your doctor may give you more specific instructions on how to care for your dressings.
Stitches or staples are usually removed about 2 to 3 weeks after your surgery. If you also had pins inserted during surgery, your doctor will often remove them after a few weeks, too.
Depending on the type of surgery you have, your doctor may recommend physical therapy to improve the movement in your foot. Or, your doctor may suggest you do certain types of stretches or exercises on your own at home. It's important to keep your physical therapy appointments for the best recovery possible.
Your doctor will give you a list of warning signs—such as fever, chills or pain that doesn't go away—to look for after surgery. These signs could mean there's a problem with your recovery, such as infection. Let your doctor know right away if you have any of these signs or you are concerned about other symptoms.
In most cases, you'll visit your doctor a couple of weeks after surgery to see how your foot is healing. At this time, your doctor may give you extra instructions about how to care for your foot. It's a good time to ask questions, but if you have any questions about your recovery before this visit, don't hesitate to call your doctor. For example, you might call if you have questions about swelling or pain or if you're experiencing side effects from your medicines.
Was this helpful?