How to Get Rid of Corns and Calluses
Was this helpful?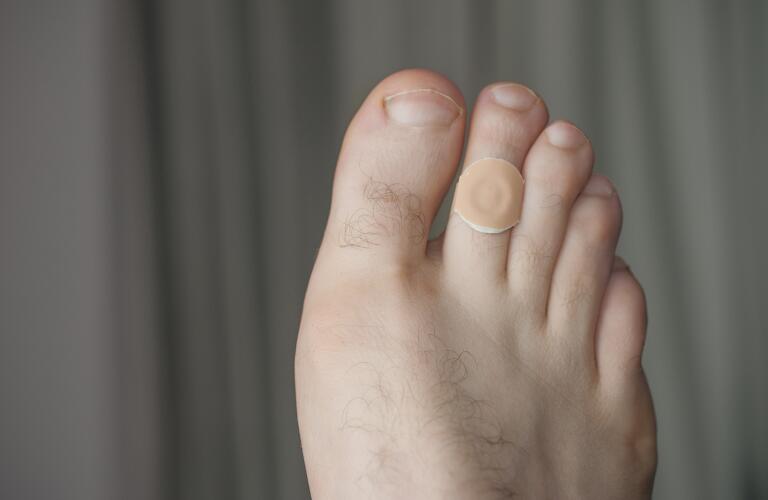 Corns and calluses are thick rough patches of dead skin. These spots—corns on the top of toes or feet and calluses on the bottom of feet—develop from pressure and constant friction. Having corns and calluses on your feet can be very painful, but treatment is available to maintain healthy feet. There are ways you can treat corns and calluses at home that can provide relief. For some people, corns and calluses may require medical treatment.
Mild cases can be resolved by simple treatments.
For mild cases, you may be able to use at-home treatments for corn removal or to treat calluses:
Wear properly fitting shoes. "Wear shoes that give adequate room for the various structures of the feet," says Dr. Mitchell J. Siegel of Dr. Mitchell J. Siegel, DPM in Brooklyn and Great Neck, N.Y. "Put in an orthotic device to keep the bone alignment proper."
Apply over-the-counter pads. To reduce pain and protect feet from where corns or calluses have appeared, insert non-medicated pads to the affected area.
Remove excess skin of the corn or callus. Use a pumice stone, emery board or washcloth to remove excess skin from the corn or callus. Soaking your feet in warm, soapy water first can help soften the skin. When removing skin, be careful not to remove too much. "If one removes too much corn or callus, it can lead to the development of a wound that can be difficult to heal," says Dr. Bruce Pinker, DPM, AACFAS, of Progressive Foot Care in Nanuet and White Plains, N.Y.
Apply lotion or moisturizer to the affected area. This will keep feet soft and help prevent corns and calluses from forming.
If at-home corn removal treatments are not working for you, or if you are having trouble getting rid of calluses, you should consult with your doctor. Treatments your doctor can provide for corns and calluses include:
Shaving excess skin. Your doctor can carefully remove excess skin by using a scalpel. This technique should be left to your doctor who is skilled at not removing too much and who can protect you from infection.
Applying medicated pads. Your doctor may recommend over-the-counter medicated pads to treat corns and calluses. These pads contain acids that can lead to wounds on the feet. So it's important to use them under the direction of a doctor. Your doctor can also prescribe medications to treat corns and calluses.
Prescribe orthotics. Initially, you may try over-the-counter orthotics to take pressure off the corns and calluses on your feet. If over-the-counter orthotics don't provide full relief, your doctor may prescribe custom orthotics tailor-made for your feet to fully treat corns and calluses and to keep them from recurring.
Surgery. If your corns or calluses are caused by an internal misalignment of the bones in your foot, you may need surgery. Surgery can effectively treat corns by eliminating the source of extra pressure, says Dr. Edgard Nau of Manhattan Home Podiatric in New York.
Was this helpful?