When Should You Take Turmeric?
Was this helpful?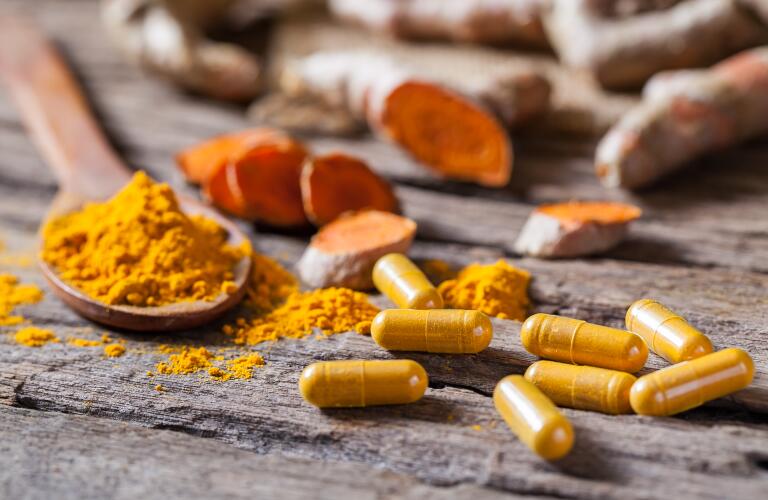 The benefits of turmeric as an anti-inflammatory come from its antioxidant properties. Those antioxidant properties are derived from turmeric's main ingredient, curcumin. While turmeric itself is a spice, curcumin is often used in food products like mustard and curry to provide their bright yellow color. Learn about turmeric uses and side effects, turmeric tea, the best types of turmeric for absorption, and what to ask your doctor before taking a turmeric supplement.
Native to Southeast Asia, turmeric has been used for decades as a spice for cooking as well as for medicinal purposes. A member of the ginger family, turmeric often is used in numerous recipes, such as those for soups, curries, rice, tofu and more. While some use it for its flavor—somewhat bitter and peppery with a slight ginger flavor—it's often used to add color to dishes.
As with many other spices, turmeric also has been used for medicinal purposes, everything ranging from disorders of the skin to digestive problems to joint inflammation.
Because turmeric is not a pharmaceutical drug requiring approval by the U.S. Food & Drug Administration, it hasn't undergone clinical trials to demonstrate its benefits. Even so, many studies on turmeric show benefits due to its antioxidant and anti-inflammatory properties.
For example, in one study, patients taking curcumin in addition to prescription medication for ulcerative colitis experienced remission more than those who only took the medicine. Another study showed that a daily dose of curcumin led to improved memory and attention in non-demented adults. Other reported benefits include reduced arthritis pain and swelling, reducing hay fever symptoms, and lowering cholesterol.
Turmeric tea remains a popular option for increasing your turmeric consumption because it contains high concentrations of curcumin. Turmeric tea can be purchased at numerous stores and online, or you can grate dried turmeric to make your own tea. Another way to include turmeric into your diet is by juicing fresh turmeric root, and adding it to your favorite citrus or green juice. You may need to experiment to get the right amount to ensure the flavor is to your liking. Adding turmeric or curcumin powder to smoothies also provides a good boost.
If you want to know exactly how much turmeric you are getting each day, a supplement could be the right choice. In general, turmeric supplements have a recommended dose of 500 milligrams taken twice daily. Check the label for "standardized for 95% curcuminoids" to ensure you are getting the turmeric boost you want. A label with the USP verified logo ensures quality and purity of the turmeric supplement, too. Also, make sure you store your turmeric supplement in a cool, dark place as heat and air exposure can degrade the quality.
There are numerous ways to increase your turmeric intake, but supplements are the best for absorption because many are designed specifically for that quality. Supplements made with phytosome technology have a higher absorption rate than standard supplements. Supplements that include black pepper or piperine in their ingredients also can help increase absorption. Taking the supplement with heart healthy fats like nuts, seeds, oils and avocado also can aid absorption. If you are cooking with turmeric, heating it in soups, tea or scrambled eggs also can maximize absorption. Try mixing turmeric powder into tomato juice for spice.
Like many other spices, minerals and food products, you don't want to overdo it. As such, if you are taking a supplement, there's no need to increase your intake of foods containing turmeric. In the event you do ingest more turmeric than your body wants, you may experience an upset stomach, bloating, nausea, or diarrhea. If you experience any of these symptoms, stop taking turmeric until they subside. If you resume turmeric consumption, reduce the amount to limit or eliminate these side effects.
As with any supplement, you should talk with your doctor before taking a turmeric supplement. Although general recommendations call for 500 milligrams taken twice daily, your doctor may recommend a different dosage based on your medical history and condition. In addition, there is some concern turmeric may interfere with blood-clotting medications because the spice could act as a blood thinner.
Increased levels of turmeric may also be unsafe during pregnancy, and little is known about its effect on breastfeeding women and her baby. Turmeric also can lower blood sugar, so anyone taking anti-diabetic drugs should not take turmeric supplements.
Was this helpful?