When Should You Take Omega-3s?
Was this helpful?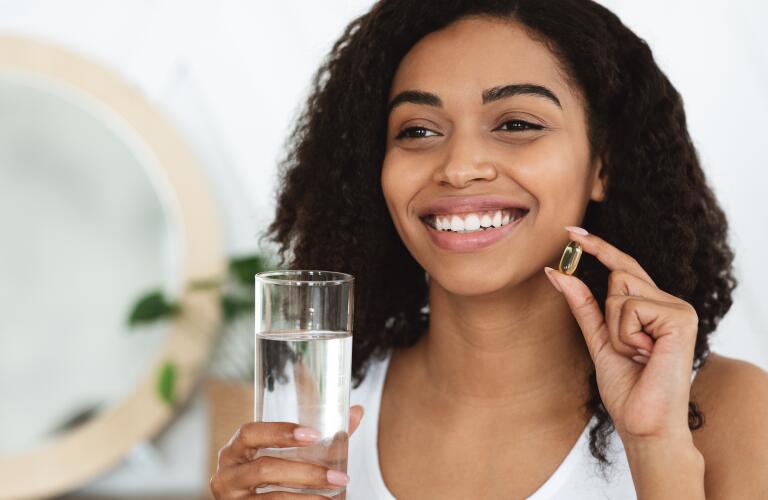 Omega-3 fatty acids help your body function, while providing a range of health benefits. However, depending on your diet, you may not get enough omega-3 fatty acids from the food you eat. Although there are no established recommended amounts for most omega-3 fatty acids, there are ways to boost your omega-3 fatty acids intake. Learn about omega-3-rich foods and other sources like fish oil, and what to ask your doctor about potential omega-3 supplement side effects.
The three main types of omega-3 fatty acids are alpha-linolenic acid (ALA), eicosapentaenoic acid (EPA) and docosahexaenoic acid (DHA). While DHA and EPA are found in fish and seafood, ALA is primarily found in plant oils, such as canola, soybean and flaxseed oils. Because your body cannot make ALA and can produce only limited amounts of DHA and EPA, it's important to boost these omega-3 fatty acids through either omega-3 foods or omega-3 supplements. If you don't get enough omega-3 fatty acids, you could experience rough, scaly skin or an itchy, red rash; this is uncommon in the United States.
While studies continue on the effects of omega-3 fatty acids, some studies have shown that increasing your EPA and DHA intake can lower triglyceride levels, which can help improve heart health. Other studies suggest that increased omega-3 levels can help lower the risk of breast cancer, although clinical trials continue to determine the exact effect of omega-3 fatty acids on cancer risk. And there is some research, although not definitive, that consuming more omega-3 fatty acids could lower the risk of developing Alzheimer's disease or dementia.
Thus far, there are no daily recommended amounts for omega-3 fatty acids other than ALA. The average daily recommended amounts for ALA are based on your gender. For men, it is 1.6 grams; for women, it is 1.1 grams. The recommended amount for pregnant women is 1.4 grams and 1.3 grams for breastfeeding women.
Before increasing your intake of omega-3 fatty acids, talk with your doctor to see if supplementing your omega-3 intake is necessary. If so, find out if that increase should come from foods, supplements or both.
When choosing omega-3 foods, cold-water fish and seafood are the best choices. These include tuna, salmon, sardines, mackerel and herring. Plant oils are good natural sources too.
Other good omega-3 foods are nuts and seeds, such as flaxseed, walnuts and chia seeds. You also can find many foods that have been fortified with omega-3 fatty acids. These include certain brands of milk, yogurt, soy beverages, juices and eggs. Check the labels to see how much omega-3 fatty acids each contains.
If you don't eat at least two servings of fatty fish each week, an omega-3 supplement could be the boost you need. While many people know that fish oil dietary supplements offer additional omega-3 fatty acids, there are other options. These include cod liver oil, krill oil, and algal oil. Ideally, you want to find an omega-3 supplement that contains both EPA and DHA. Also, look for supplements that have seals from the U.S. Pharmacopeia, NSF International or ConsumerLab.com as these indicate high quality.
It's possible your omega-3 supplements could interact with medications you take. For example, if you take a blood thinner, elevated levels of omega-3 fatty acids could lead to bleeding problems. If you take omega-3 supplements in higher doses to lower triglycerides, it could negatively impact your immune function. Other side effects of omega-3 supplements are less severe and typically include bad breath, bad taste in the mouth, headache, stomach discomfort, nausea, heartburn, diarrhea and bad body odor.
Was this helpful?