Kale: The New "It" Vegetable
Was this helpful?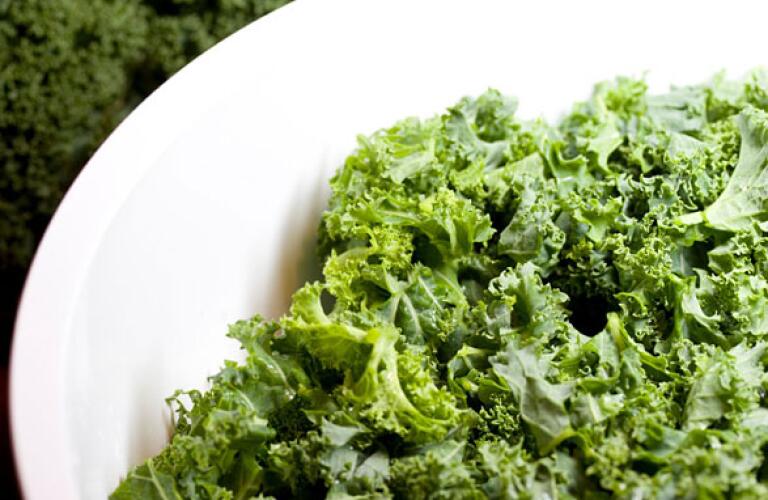 Kale, a dark green, leafy vegetable in the cabbage family, is all the rage these days. Is it the gorgeous frilly leaves? The stellar nutritional profile? Its versatility in the kitchen? Check "all of the above." Then start getting to know this star-quality veggie.
Kale is an excellent source of vitamins A, C, and K. It provides healthy doses of calcium, copper, iron, manganese, and potassium, too. But its real claim to fame is its array of phytochemicals. Phytochemicals give plants their unique colors, flavors, and odors, and they bring powerful health benefits. Here are a few that are found in kale.
Lutein and Zeaxanthin for Healthy Eyes
Lutein and zeaxanthin are antioxidants in the carotenoid family. They help prevent eye diseases such as cataracts and age-related macular degeneration, a leading cause of blindness. According to the American Institute for Cancer Research, these compounds may help ward off cancer and boost immunity, too.
A cup of cooked kale provides 24 milligrams of lutein and zeaxanthin. That's twice the daily amount shown to have benefits in medical studies.
Glucosinolates to Fight Cancer
Kale is a rich source of sulfur-containing compounds called glucosinolates. These antioxidants help block cancer-causing substances. They also slow down hormones involved in cancer and prevent the growth of tumors. One cup of raw, chopped kale has a healthy 89 milligrams of glucosinolates.
Another Cancer Foe: Isothiocyanates
Isothiocyanates seem to work in several ways to ward off cancer. Research shows they detoxify substances that trigger cancer, protect cells from damage, and slow cancer growth. Like other members of the cabbage family, kale is especially rich in isothiocyanates. How well these compounds can prevent cancer in humans is still being studied.
You may find several varieties of kale in the grocery store and farmer's market, and they're all equally nutritious. Green kale has frilly leaves and a sweet flavor. Dino kale is also known as Tuscan, lacinato, and black kale. It has narrow, textured leaves and a delicate flavor. Red kale has sturdy leaves and a slightly peppery taste.
Fresh Ideas for Cooking with Kale
Add kale to soups, stews, and stir-fry dishes.

For a simple vegetable side dish, steam kale and sprinkle it with lemon juice, olive oil, salt, and pepper.

For a quick noodle dish, add chopped kale to a pot of soba noodles five minutes before the noodles are done. Drain. Toss noodles and kale with toasted sesame oil, sesame seeds, and sliced green onions.

Make a classic Tuscan soup of white beans, kale, other vegetables, and seasonings.

Crispy kale chips are a trendy snack and couldn't be simpler to make. Toss 1½-inch pieces of kale with olive oil and a sprinkle of sea salt. Spread on a baking sheet. Bake 20 minutes at 275° until crisp, turning the chips once during baking.
Kale is a dark green leafy vegetable that's a good source of calcium, iron, and vitamins A, C, and K.

It also boasts phytochemicals that help ward off cancer and protect eyesight.

There are several varieties of kale to choose from. Try adding kale to soups, stews, and stir-fries.

Was this helpful?