Treatment Options for Fibromyalgia: Medicine
Was this helpful?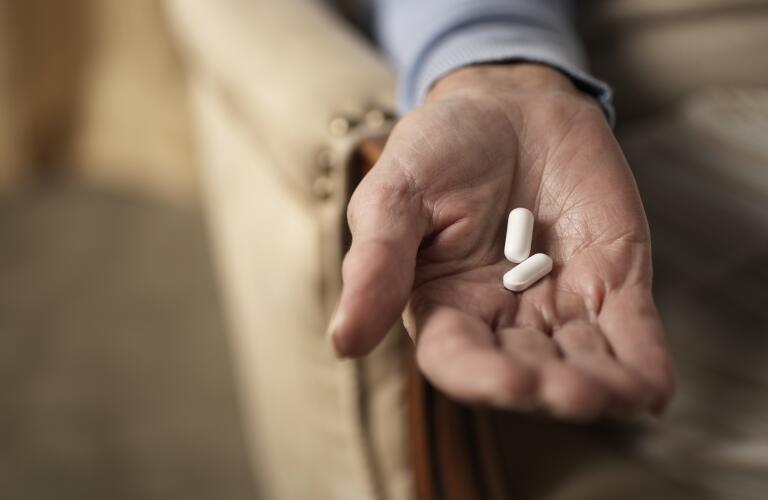 Many people suffering from fibromyalgia have chronic pain all over their body. Unfortunately, there is no known prevention or cure. Research continues into the exact cause of the fibromyalgia syndrome of symptoms as well as what medications ease the debilitating muscle pain and fatigue. Doctors and caregivers often turn to prescription medications to treat fibromyalgia.
Relief for Fibromyalgia: What Medicines Are Available?
Three medications have been approved by the U.S. Food and Drug Administration (FDA) specifically for treating fibromyalgia.
These medications have been studied and carefully reviewed:
Taking an antidepressant for pain and fatigue may seem odd, but the active ingredient in antidepressants are used to treat a variety of conditions besides depression. Antidepressants work by balancing brain chemicals, including serotonin and norepinephrine, which affect mood. Studies have found that certain antidepressants may ease body pain, improve mood, and allow for more restful sleep in people with fibromyalgia. Many types of antidepressants are used to treat fibromyalgia including:

Your doctor may prescribe a combination of these medications to relieve your symptoms.
Pain-Relievers, Muscle Relaxers and More
In addition to antidepressants, other types of medications are used to ease fibromyalgia symptoms. They include:
Depending on your fibromyalgia symptoms, other medications may be prescribed. For example, if you have irritable bowel syndrome (IBS), your doctor may recommend you take fiber supplements or laxatives to relieve constipation, or medications such as diphenoxylate/atropine (Lotomil) or loperamide (Imodium) to treat diarrhea.
Fibromyalgia-Related Insomnia
Falling asleep and staying asleep is a major problem for many people with fibromyalgia. There are many things you can do to improve your sleep. Practicing healthy sleep habits, such as going to bed and getting up at the same time each day can help. In addition, some of your fibromyalgia medications, like amitriptyline and pregabalin, may help you sleep better. Your doctor may prescribe other sleep medications including:
Finding the Right Fibromyalgia Healthcare Team
In order to manage your symptoms and get the most relief, you need a good healthcare team. Some family doctors, internists, and rheumatologists (doctors who treat people with arthritis) have experience treating people with fibromyalgia.
Call fibromyalgia organizations for a recommendation, or see if there are pain clinics in your area that work with people who have fibromyalgia. In addition to finding an experienced doctor who you like working with, you may want to add a counselor or psychologist and a physical therapist to your healthcare team.
Lastly, keep in mind that everyone responds to treatment differently. What works for one person may not work for you. You may have to try a number of medications before finding the right one or combination that treats your particular symptoms with the least amount of side effects.
Was this helpful?