How Doctors Diagnose Fibromyalgia
Was this helpful?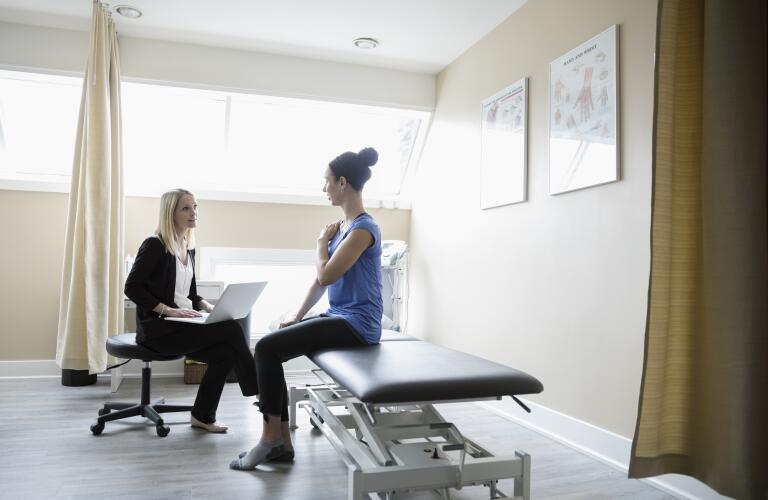 Fibromyalgia is a disorder that causes musculoskeletal pain and sensitivity to touch throughout the body. It is a chronic condition that comes and goes, often accompanied by fatigue, sleep, memory and mood issues. Fibromyalgia can be hard to diagnose because the symptoms are similar to other diseases, including ankylosing spondylitis (an inflammatory disease of the small bones in the spine), an underactive thyroid, lupus, and arthritis. Recent developments in diagnosing fibromyalgia could help people get treatment sooner, which includes medication and physical therapy.
If your doctor thinks you might have fibromyalgia, they will check your symptoms and rule out other possible reasons for them. One key measure is the 'widespread pain index'—whether you have had generalized musculoskeletal pain for more than three months with no underlying medical condition.
You may also experience:

Headaches, including migraines
After discussing your symptoms, their severity, and areas of the body where you have pain, your doctor may order tests to rule out other conditions. These can include blood tests, X-rays, and scans. If your doctor diagnoses you with fibromyalgia, there are medications, as well as exercise and lifestyle changes, that can help control the symptoms.
Potential Diagnostic Tests for Fibromyalgia
A new test for fibromyalgia is being offered under FDA guidelines, though it is not yet FDA approved. The FM/a test looks for certain patterns within white blood cells to determine whether you have fibromyalgia. Your provider must authorize the test and submit a form to the manufacturer. If it is approved, your doctor will take a blood sample and send it to a lab for analysis.
Many health insurance plans and Medicare cover the FM/a test, but be sure to check your coverage so that you are aware of any costs associated with the testing. The results are based on a scale of 1 to 100, and a score above 50 strongly indicates a diagnosis of fibromyalgia. The manufacturer claims the test is up to 93% accurate, but that statement has not been evaluated by the FDA.
There is also research into a diagnostic test for fibromyalgia using 'metabolic fingerprinting' that it is in an earlier stage of development than the FM/a test. It uses a high-tech approach, called vibrational spectroscopy, that measures the energy of certain molecules within the blood. It could be available within the next few years.
Newer diagnostic approaches could lead to earlier treatment for fibromyalgia, a painful and sometimes debilitating condition that affects as many as 10 million people in the United States alone.

Was this helpful?