Fibromyalgia in Men and Women
Was this helpful?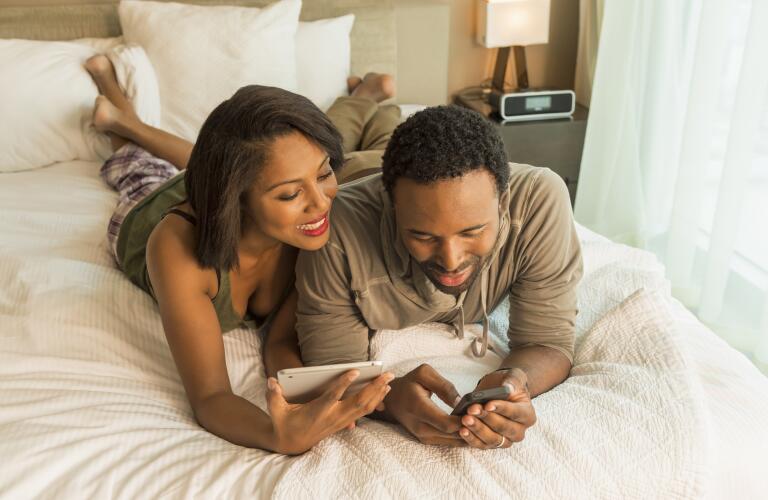 Fibromyalgia, a condition that causes chronic pain and fatigue, affects approximately 10 million Americans, the vast majority (75% to 90%) of which are women (Source: NFA). As a result, fibromyalgia is viewed as a women's disease. However, men and children get fibromyalgia too.
Fibromyalgia and Gender Differences
While doctors don't know exactly what causes fibromyalgia, they do know that fibromyalgia sufferers have an imbalance of certain brain chemicals. Both men and women with fibromyalgia have a higher amount of a neurotransmitter that signals pain and a lower amount of serotonin, a neurotransmitter that inhibits pain.
Genes and hormones may play a role in fibromyalgia. Certain genes can make people more vulnerable to pain. Genetic variation between women and men is one potential cause of the syndrome's higher likelihood in women compared to men. In addition, hormones, such as estrogen, can increase a person's sensitivity to pain. This may be one reason why more women have fibromyalgia.
It's possible that fibromyalgia is under diagnosed in men. Men are less likely to admit that they are in pain and less likely to seek treatment. Even when a man seeks treatment for fibromyalgia, the false belief (even among doctors) that fibromyalgia only affects women can make it harder to obtain an accurate diagnosis. The number of men with fibromyalgia may be much higher than reported.
Fibromyalgia Symptoms in Men and Women
Chronic pain and fatigue are the hallmark symptoms of fibromyalgia. But fibromyalgia can cause a host of other problems including:
Headaches

Memory and concentration problems

Restless legs syndrome

Sleep problems
Fibromyalgia in men is uncommon but does occur. Men with fibromyalgia tend to report fewer and milder symptoms than women with fibromyalgia. In other cases, men have more severe symptoms compared to women, as well as decreased physical function and a poorer quality of life.
Regardless, men with fibromyalgia experience a unique set of challenges. Not only are men less likely to be correctly diagnosed, men often have more difficulty finding support. Many men have a hard time expressing their feelings, complaining about pain, and asking for help. Even when a man seeks support for fibromyalgia, he may have a tough time finding a support group that is not all female.
Tips for Men Living With Fibromyalgia
Don't let your sense of pride in not complaining get in the way of your health. Living with fibromyalgia is tough, no matter what your gender. But there are things you can do to take control of your life again and feel better including:
Go to the doctor: Don't put off going to the doctor. And don't hesitate to ask "could this be fibromyalgia?" The longer you wait, the more likely you are to have complications that can seriously affect your quality of life, career, and relationships. Also, it is important to find the right doctor—ideally someone experienced in treating people with fibromyalgia, such as a rheumatologist, and who will be familiar with your symptoms and concerns. Many family doctors, internists, and neurologists also have experience with fibromyalgia.

Be honest: Tell your doctor about all your symptoms, including pain severity, so you can be diagnosed properly. Also, be open with your family, friends and colleagues. Tell them how you are feeling and ask for their understanding and patience.

Stick with treatment: There are medications and lifestyle changes that can make living with fibromyalgia easier. Take your medicine, eat a healthy diet, exercise regularly, and do what you can to get a good night's sleep.

Get support: Join a support group or seek help from a counselor or therapist. Depending on where you live, you may be able to find a male-only fibromyalgia support group or you can reach out to other male sufferers online. You don't have to fight your battle alone. There are people who want to help.

Be realistic: Don't try to take on more than you can manage. Pace yourself. Set small, attainable goals that you can do each day and make you feel accomplished.

Don't judge yourself: The world we live in tends to equate self-worth with productivity. If you have fibromyalgia, you may not be as productive as you would like. You may have to adjust the way you see yourself in the world. Find new ways to view success and self-worth. Being honest about your physical well-being is a strong step forward and an important measure of success.
Was this helpful?