Understanding Wet Versus Dry Age-Related Macular Degeneration
Was this helpful?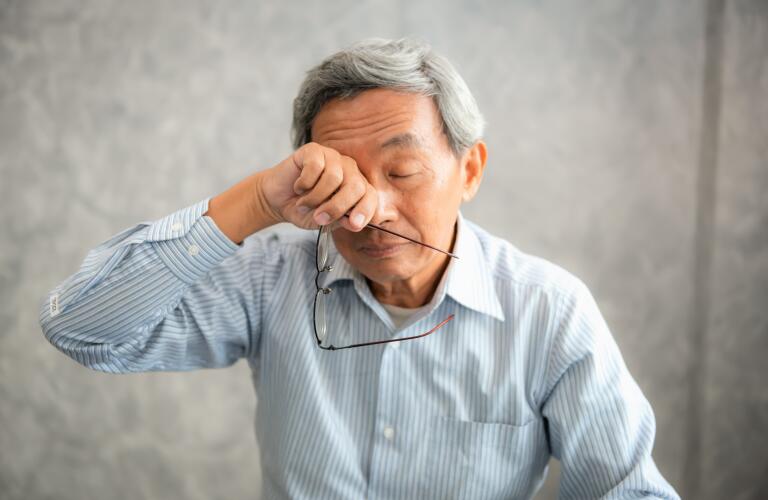 For many people, changes in vision are a normal part of the aging process. But for others, eye issues that develop later in life make seeing clearly difficult. One such issue, age-related macular degeneration (AMD), typically affects individuals age 50 or older. The symptoms of this condition may come on slowly, leading you to incorrectly believe your vision is only worsening as a result of getting older.
When macular degeneration reaches an advanced stage, it can be categorized into two types: dry age-related macular degeneration (dry AMD) and wet age-related macular degeneration (wet AMD). Understanding these conditions can help you recognize early warning signs that you should tell your doctor about. And while macular degeneration typically does not result in complete blindness, the condition can cause long-lasting changes to your ability to see clearly.
The Basics of Dry Age-Related Macular Degeneration
To understand macular degeneration, you need to be familiar with part of the structure of the eye. Located in the back of each eye, the retina is a thin layer of cells that converts light into electrical signals. These signals are sent to your brain, where they are interpreted as objects you see. The macula is a vital region located in the center of each retina. The macula allows you to see fine details in the objects in your world, like faces and words.
Dry AMD affects the macula itself. With this condition, the macula becomes much thinner than normal, causing blurred or reduced vision in the center of your visual field. Usually, dry AMD affects one eye at first, but the condition may worsen to affect both eyes over time. Dry AMD is more common and progresses slower than wet AMD, Most folks with Dry AMD are able to preserve good vision.
The symptoms of dry AMD include:
Reduced central vision in one or both eyes

Increased visual blurriness or fuzziness

Difficulty recognizing faces or other objects

Decreased brightness or intensity of colors

Difficulty reading or other close work without bright lights
There is no specific treatment for dry age-related macular degeneration, but you can take steps to slow the progression of the condition. Your doctor may recommend certain vitamin supplements which are essential for maintaining eye health. Additionally, avoiding known risk factors, like smoking, can help manage this condition.
The Basics of Wet Age-Related Macular Degeneration
Sometimes, dry age-related macular degeneration eventually progresses to wet age-related macular degeneration. Wet AMD also causes central vision loss and blurred vision, but it's caused by different factors. Instead of a thinning of the macula, abnormal blood vessels grow underneath the retina and leak blood, fluid, or other substances into the macula itself, interfering with its ability to function properly. Vision loss with wet AMD is usually more severe than experienced with dry AMD. Wet AMD also progresses more quickly than dry AMD and typically causes a rapid change in vision.
The symptoms of wet AMD include:
Reduced central vision in one or both eyes

Haziness, blurriness, or a blind spot in your visual field

Decreased brightness or intensity of colors

Visual distortions

Sudden onset with rapid worsening of symptoms
Until about a decade ago, wet AMD was considered untreatable, and the majority of patients could expect to become legally blind within two years of diagnosis. Fortunately, today, several medications are available to help treat wet age-related macular degeneration. In general, these medications, known as anti-VEGF treatments, help to stop the growth of abnormal blood vessels inside the eye, which helps prevent blood or fluid from leaking into the macula. A chemical called vascular endothelial growth factor (VEGF) plays a key role in the development of these abnormal blood vessels, and anti-VEGF medications block this chemical from acting. These new drugs, including ranibizumab (Lucentis) and aflibercept (Eylea), help to prevent further loss of vision and can sometimes improve sight. Your doctor may also recommend treatments like photodynamic therapy or laser photocoagulation surgery, which use medications and special laser lights to seal off abnormal blood vessels inside your eye.

Fortunately, both dry and wet macular degeneration usually don't lead to full blindness. However, both conditions can seriously impair your ability to see properly, which may interfere with your ability to live independently as you normally would. If you notice any vision changes in one or both eyes, it's important to see your doctor for a thorough eye examination. Such exams help your doctor locate problems early so you can start treatment sooner. Prompt treatment is key to avoiding prolonged or severe vision loss.
Was this helpful?