PHYSICIAN VOICES

Meet the Ophthalmologist

Was this helpful?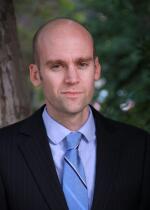 Dr. Jason Crosson is a board-certified ophthalmologist specializing in medical and surgical diseases of the retina with Retina Consultants of Alabama and UAB Callahan Eye Hospital.
In our "Meet the Specialist" series, we highlight the perspectives of various medical specialists on the types of patients they see and what they find rewarding and challenging in their daily practice.
As an ophthalmologist, and more specifically, a retina specialist, I treat patients with all types of different eye problems that affect the retina—the sight-sensing tissue in the back of the eye. I see a lot of people with eye disease related to diabetes, as well as macular degeneration, a condition in which the center of the retina is damaged, leading to blurred vision or loss of sight altogether. Every day is different and challenging, and I feel fortunate to be able to help people, whether I'm working to stop a disease from progressing or bringing vision back to someone who has lost it.
My dad was a dentist, so I was exposed to the medical field early on. I always wanted to help people, but I didn't really like teeth, so I knew I wouldn't be following in my father's footsteps. I decided to go to medical school without a specialty in mind. During my training, I loved developing long-term relationships with people and I liked the idea of helping them in tangible ways. I wanted to pursue a specialty where those doctor-patient relationships were strong and valued. A friend thought I might like ophthalmology, and from the start, I was hooked. I shadowed ophthalmologists as they treated patients and performed eye surgeries, and I found that ophthalmology had everything I wanted. The technology is amazing, the impact is real, and the retina is just beautiful to look at. I liked the retina so much that eventually, I trained to become a retina specialist. The retina as a part of the eye is similar to the film paper in an old camera. Light passes into the eye and is focused onto the retina, and the retina translates the light into an image the brain can understand and perceive. A retina specialist can prevent someone from going blind, and that, along with the beauty of the retina and my relationships with patients, makes this job extremely rewarding.
I see patients in the clinic four days a week and I perform scheduled surgeries one day a week. As a retina specialist, we have a few more emergencies than general ophthalmologists; there's usually one day a week where I need to do an urgent surgery of some sort, like repairing a detached retina. On my scheduled surgery days, I'll typically do about six surgeries in a day, but this can vary from as few as four to as many as 10. My typical day in clinic is full of eye exams and discussing treatments with my patients. Probably about a third of my patients receive injections in their eyes to treat conditions like diabetic retinopathy, macular degeneration, and more. We'll also perform laser procedures on patients who require them.
Finding the Right Ophthalmologist
When you're trying to find an ophthalmologist, look for someone who treats you like family and shows you they really care. The relationship between a patient and an ophthalmologist is a long-term one, and eye problems get more common as we age. Choose someone who makes you feel comfortable and confident. Of course, you want someone who is well-trained, so make sure you're seeing a board-certified ophthalmologist. If you're dealing with a retina-related condition, like diabetic retinopathy, turn to a retina specialist, who will have trained for a period of time to specifically treat diseases of the retina.
When it comes to treating eye disease, the goal is different for every patient. In some cases, their condition is quite advanced, so we try to save what vision they still have. But in many cases, regular annual dilated eye exams show me when problems are developing, so we can catch them early and get to work protecting the eyes from more damage. It's very rewarding to me when I can keep someone from losing their vision, and with new technologies and treatment advances, the field of ophthalmology is only going to get more exciting and help many more patients.
Was this helpful?