PHYSICIAN VOICES

FAQs About Treating Wet Age-Related Macular Degeneration

Was this helpful?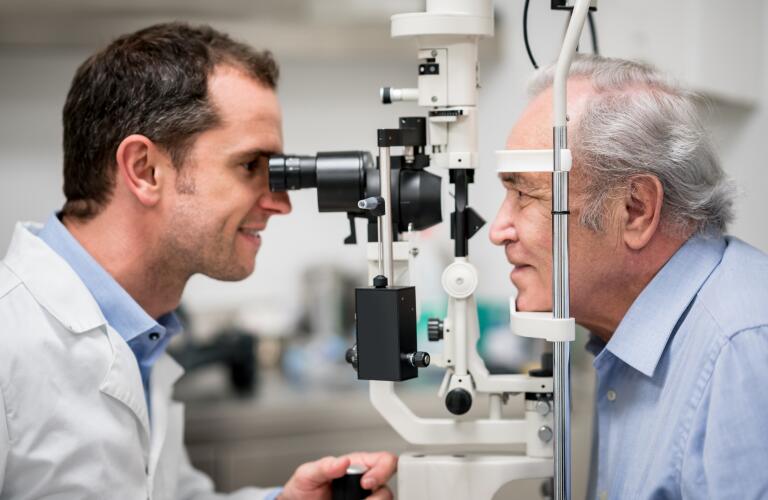 Learning you have wet age-related macular degeneration (wet AMD) can be stressful and overwhelming.
Fortunately, when tackled early, wet AMD can be effectively treated.
Dr. Eric Nudleman, an ophthalmologist with UC San Diego Health, shares what he wants his patients to know.
1. Q: What is age-related macular degeneration?
A: Age-related macular degeneration (AMD) is a condition that can cause a loss of central vision, which may result in difficulty seeing details, recognizing faces, and navigating daily life. If you've been diagnosed with AMD, it is important to learn a couple of key terms in order to understand your condition. Macular degeneration affects the macula, which is the portion of the retina that is responsible for seeing details. The retina is the light-sensing tissue that lines the back of the eye.
AMD can result in damage to certain cells in the macula. There are two types of age-related macular degeneration: dry AMD and wet AMD. Dry AMD always develops first, and sometimes dry AMD progresses into wet AMD. With dry AMD, patchy areas of cell death, called geographic atrophy, can result in blind spots. Dry AMD can also progress into wet AMD when abnormal blood vessels grow under the retina and start to leak fluid or blood. The term "wet" AMD refers to the leakage of fluid or blood under and within the retina.
2. Q: How do I know if my dry AMD is progressing into wet AMD?
A: Dry AMD is often asymptomatic, and patients may be unaware of it until they are informed by an eye care specialist following an exam. Patients with dry AMD should continue to have follow-up exams to help detect subtle changes. In addition, certain patients should take a group of vitamins, called AREDS, to help prevent progression to wet AMD. Your doctor will help determine if these are appropriate for you.
Progression to wet AMD can occur suddenly. The symptoms typically include distortion of straight lines such that they appear wavy or curved, which are often noticed when reading, or when looking at a grid of horizontal and vertical lines (called an Amsler grid). If there is bleeding, there may also be a dark spot in the central vision. If such changes occur, it's important to see your ophthalmologist without delay. When wet AMD is detected early and treated, there's a high chance of preserving vision. Untreated wet AMD can result in permanent vision loss.
3. Q: How is wet AMD treated?
A: Currently there are no treatments for dry AMD. However, excellent therapies for wet AMD are available. These drugs are administered by injection into the eye. They are designed to block a molecule called vascular endothelial growth factor (VEGF). VEGF is critical for the growth of abnormal blood vessels, so blocking this molecule causes the abnormal vessels to regress. This can improve vision and reduce the risk of progression. These treatments are often required every one to three months, depending on the patient.
4. Q: What's the injection experience like?
A: First, the patient is examined and evaluated with imaging. If it is determined that an injection is needed, then the procedure is typically done on the same day. The entire process takes just a couple of minutes. The surface of the eye is anesthetized and treated with a solution to prevent an infection. The injection is then performed with a very small needle, and finally the surface of the eye is rinsed. The procedure is low risk and often very effective for restoring or maintaining vision.
Was this helpful?