Drugs Commonly Prescribed for Erectile Dysfunction
Was this helpful?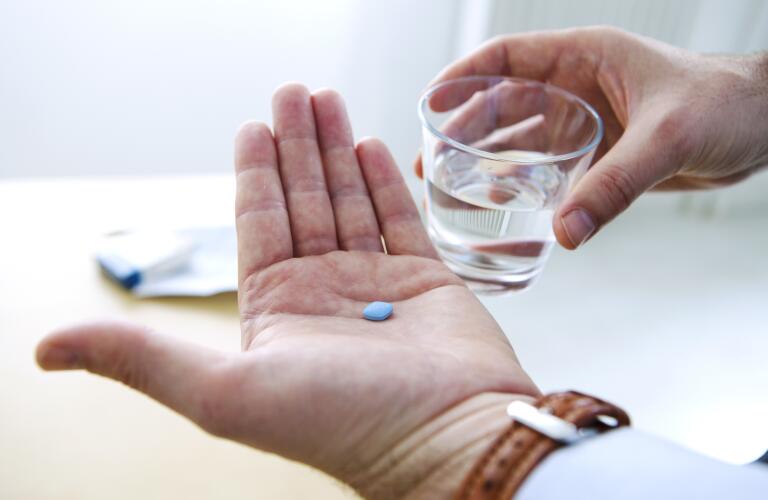 About 30 million American men are living with erectile dysfunction (ED). This makes it the most common male sexual problem. ED can be a red flag for other medical conditions. It can also affect a man's quality of life by causing low self-esteem, depression, and relationship stress. Fortunately, erectile dysfunction treatment usually works well to enhance erectile ability and improve well-being.
Treating ED often starts with improving vascular health and making lifestyle changes to manage risk factors. Doctors may need to adjust other medicines that could be contributing to the problem, as well. Noninvasive medical treatments are also a major part of ED treatment. Erectile dysfunction drugs are likely the most well-known option.
The underlying cause of ED will guide your doctor's recommendations for treating it. The severity of the problem will also play a role.
There are three main classes of erectile dysfunction medication:
Phosphodiesterase-5 (PDE5) inhibitors enhance the effect of nitric oxide. Penile nerves release nitric oxide with sexual stimulation. Nitric oxide increases blood flow to the penis, which causes an erection. With this class, an erection is not automatic. Men still need sexual stimulation to trigger nitric oxide release. These drugs are very popular, but they are not right for every man. Those who take nitrates or alpha-blockers may experience dangerous drops in blood pressure. Other options may be a better choice in this case.

Prostaglandin E1 (PGE1) agonists work by directly relaxing blood vessels—vasodilation. Blood flow into the penis increases as a result. An erection occurs automatically because the effect does not rely on nitric oxide release from nerves. This class may be effective for men who do not respond to PDE5 inhibitors or who do not have normal nerve function.

Testosterone replacement is a rare treatment for ED. In most cases, men with ED have normal levels of testosterone. Adding more testosterone will do nothing to help ED in these men. However, there are cases when men have low sex drive and ED due to low testosterone levels. Combining testosterone replacement with PDE5 inhibitors may be effective in these men.
PDE5 inhibitors are first-line treatment for ED. The drugs within the class vary as far as dosage and how long they last. Finding the right one may take some trial and error. Erectile dysfunction drug side effects also vary. Here are the medications currently available to treat ED:
Alprostadil injection (Caverject, Edex) is a PGE1 agonist. Your doctor will give the first dose in the office so you can learn how to use it. You use a fine needle to inject the medicine into the base of the penis. An erection occurs within 5 to 20 minutes and lasts up to 60 minutes. You should not use this product more than three times a week. You need to wait at least 24 hours between doses. The success rate is high at 85%. Side effects may include minor pain, minor bleeding, and priapism—a prolonged erection that requires immediate medical care to avoid permanent damage.

Alprostadil suppository (Muse) is another form of PGE1 agonist. It is a small pellet you place inside the urethra with an applicator. Like the injection, the first dose requires an office visit. An erection begins within 10 minutes and lasts up to 60 minutes. You can use the pellets twice within a 24-hour period. This form of the drug can be less effective than the injection. The most common side effect is a burning sensation in your penis. Priapism is also possible.

Avanafil (Stendra) is a PDE5 inhibitor. It is a tablet you take 15 to 30 minutes before sex, depending on the dose. You should not take more than one dose in a 24-hour period. About 70% of men who take a PDE5 inhibitor will achieve better erections. Common side effects for the class include headache, flushing, nasal congestion, and stomach upset. Side effects are usually mild and short-lived.

Sildenafil (Viagra) was the first of the erectile dysfunction pills. It is a PDE5 inhibitor. You can take it anywhere from 30 minutes to four hours before sexual activity. The optimal timing is one hour prior to sex. Taking it with a high-fat meal will delay its effects. Do not take sildenafil more than once in 24 hours.

Tadalafil (Cialis) is another PDE5 inhibitor. There are two ways to take this drug—daily or as needed. Daily use allows you to have sex at any time. This may be a good choice for men who have sex more than twice a week or when spontaneity is a priority. It can also reduce side effects. However, it may be less effective than using it on demand. If you use it on an as needed basis, take it 30 minutes before sex. Tadalafil is the longest acting drug in the PDE5 inhibitor class. It typically lasts 24 to 36 hours and up to 72 hours. Like the others, do not repeat the dose within 24 hours.

Testosterone (Depo-Testosterone, Jatenzo, Testoderm, Testopel, others) comes in a variety of dosage forms. This includes capsules, patches, creams, gels, injections and pellets. The way you use it will depend on the dosage form.

Vardenafil (Levitra) is also a PDE5 inhibitor. It comes as a regular tablet and an orally-disintegrating tablet. You usually take it an hour before sex and should not repeat the dose within 24 hours. If you eat grapefruit or drink grapefruit juice, talk with your doctor about it.
Erectile dysfunction drugs' side effects can be bothersome. If you are having trouble with one drug, you may be able to switch within the PDE5 inhibitor class. Men who do not have success with this class may be able to achieve an erection with alprostadil. If all medication treatment fails, there are other options. This includes vacuum devices and surgery to place implants. Surgery has the highest success rate and satisfaction of the treatments for ED.
Was this helpful?