Creating a Better Sex Life with Erectile Dysfunction
Was this helpful?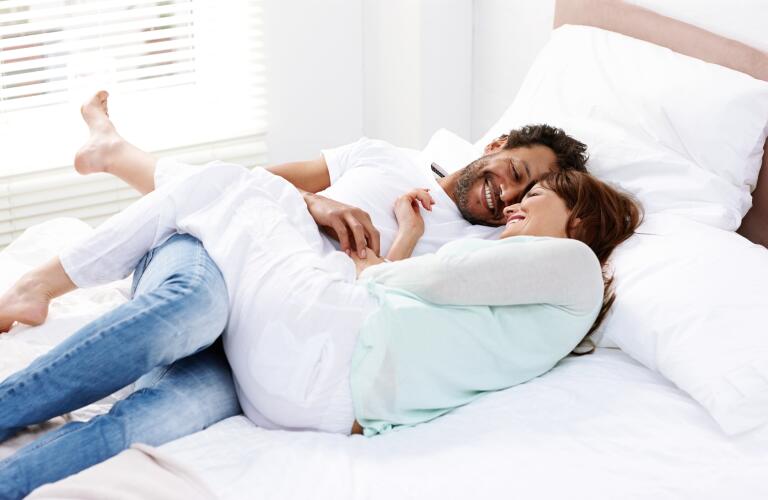 For many men, erectile dysfunction (ED) is a real concern. In fact, it affects roughly 10% of men younger than 50, around 40% of men over age 60, and more than half of men over 70. It can cause embarrassment, stress, anxiety and downright frustration. But it doesn't have to mean the end of your sex life.
Many couples dealing with erectile dysfunction have found ways to get past the issue in the bedroom, and, in many cases, improve their sex lives.
Erectile dysfunction (or impotence) is when you have trouble getting or keeping an erection. Contrary to popular belief, it's not just a part of getting older. While many men may need more stimulation as they age, they can still get an erection and enjoy sex. There are many other reasons why it is difficult for some men to get and sustain an erection:
Atherosclerosis (hardening of the arteries)
Stress, anxiety or depression
Problems in the relationship
Sleep disorders
Alcohol and tobacco use
Certain medicines
Brain or spinal-cord injuries
Some types of prostate or bladder surgery
Hypogonadism (which leads to lower testosterone levels)
Radiation therapy to the testicles
If you're concerned about erectile dysfunction — how it's affecting your sex life, your relationship, or your health — talk to your doctor, especially if you're having other sexual issues, such as premature or delayed ejaculation. Your doctor may suggest medication or other treatments, such as couples' counseling or psychotherapy. Sometimes treating an underlying medical condition is enough to remedy the issue. But there are also some things you and your partner can do together that can have a big impact in the bedroom.
Talk about it. Let's face it, it's tough to talk about sex, even with someone we love and trust, and especially if we're in a new relationship. It's an emotional and vulnerable topic for many. But the single most important thing you can do to improve your sexual relationship is to communicate with your partner, especially if there's an issue. It takes two to work out a solution or come up with ideas to manage the situation.

Make sure the time is right. Pick the right moment to talk. Never do it right after trying to have sex, unless you're telling your partner what feels good. And be sure to choose a time when you can be alone and uninterrupted by phones or children.

Be sensitive. Men who are dealing with erectile dysfunction may feel nervous about sex, perhaps because of a bad experience, or because they feel shameful or depressed. Some men may be so self-conscious, they can hardly talk about it, much less enjoy trying to do it. Tread lightly and reassure him that you're willing to discuss ways to help. Be sensitive and help your partner understand the cause of the issue, and what he or she can do to help you both.

Be honest. If you're both honest about your feelings, you've got a much better chance of finding solutions that work for both of you. Be reassuring, and don't say things are fine when they aren't. If you're in a new relationship, this may be difficult, but if you've found someone willing to listen and understand, she or he will make it easier.

Lay off the booze. Although some like to loosen up with a drink before having sex, too much alcohol, as well as smoking too much and abusing drugs, can also contribute to erectile dysfunction. Try other ways to relax, such as giving each other a massage, watching a romantic movie or taking a hot shower or bath together.

Learn new ways to please. As things change in a relationship, and with our bodies, sometimes couples need to find a new normal when it comes to sex. This not only can reduce anxiety about having an erection, but it can be fun. There are lots of ways to please that don't involve penetration, such as intimate touching, mutual masturbation or oral sex. Your partner may even welcome the chance to try something new!

See a therapist. If you're having trouble talking to your partner about your sex life, bring a therapist into the mix. Many couples go to sex therapists to help them address problems or issues that they find difficult to talk about together. A therapist can also suggest ways to improve your intimacy and sex life that you may not have thought of, and that work for both of you.

Don't rush it. It may be tempting to fix the issue right away, but be patient with one another. And be patient during sex. Choose a time when you both can be relaxed and unhurried. Don't be quick to have sex if either one of you is overtired or anxious.
Was this helpful?