PATIENT VOICES

Finding a Solution for Endometriosis Pain Through Hysterectomy

Was this helpful?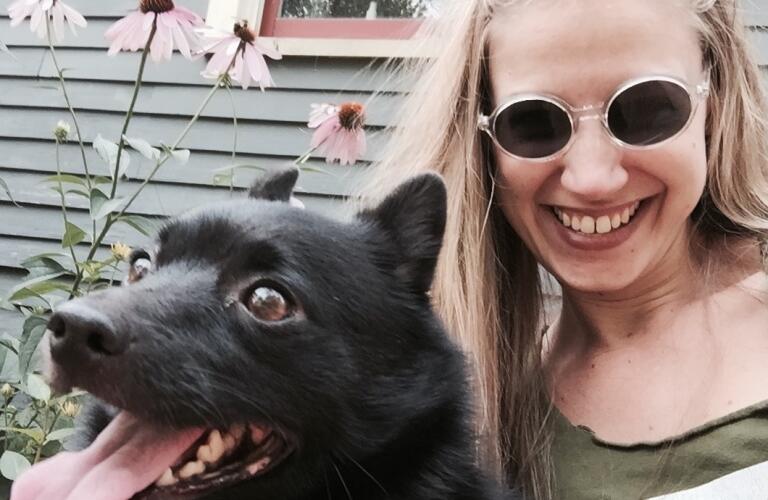 When I was 21, I'd just landed my first journalism job. I had been given an important assignment, but rather than chasing down my story, I found myself doubled over on the bathroom floor with severe abdominal pain, nausea, and a hormonal migraine. I'd had horrendous menstrual cramps since I was a kid that only got worse in adulthood. After this incident, I finally took notice that other women didn't experience the same sidelining symptoms during their periods.
I struggled through my reporting assignment and then booked an appointment with an Ob/Gyn. He suspected endometriosis. He told me that for some women, endometrial tissue gets outside the uterus and grows on other pelvic organs or ligaments. A few weeks later, he performed laparoscopic surgery to confirm his diagnosis and to remove endometrial patches. I was lucky to learn early on what caused my pain. Unfortunately, endometriosis has no known cure, and I worried what that meant for my life going forward.
I spent the next 17 years searching for the right pain management solution. I tried different treatments and had four more laparoscopic surgeries performed by different doctors to remove subsequent endometrial patches. At 38, I finally had a total vaginal hysterectomy, the culmination of a frustrating and painful medical journey.
I was young and naïve when my endometriosis journey began. I trusted that my first Ob/Gyn had the knowledge and skills to perform surgery and help me manage my pain. I was wrong. Although the surgery went well, he suggested I get pregnant as a pain-management solution. That made me angry. I was single, had no plans to start a family, and was just starting out in my career. I learned quickly that I'd have to do my own research and be my own advocate.
I researched doctors who specialized in endometriosis excision. Two years later, I traveled across the country to have my second laparoscopy and a presacral neurectomy to cut certain nerves leading to my uterus. Since my new surgeon lived out of state, I had to find an Ob/Gyn locally to manage my care going forward. Searching for the right doctor, one who would take my pain seriously and work with me to find solutions that fit my active lifestyle, was an ongoing, frustrating experience made more difficult with my several moves to different cities. With each move, I had to go through process all over again.
Over the years, I continued to have laparoscopies to remove growths and prevent adhesions (when endometrial or scar tissue causes sticking). I even had a colonoscopy to make sure I didn't have endo inside my colon. I had these surgeries every few years to prevent future complications, but they didn't alleviate the stabbing pain in my pelvis or my other symptoms.
I made frequent trips to the emergency room for ruptured cysts, I vomited in my office wastebasket during work deadlines, and I spent days in bed with cramping and hormonal migraines. I also suffered the dreaded endo belly, which is abdominal swelling. I could predict I would need down time during my period, but that meant I had to schedule my life around my menstrual cycle. I could not predict when a cyst would rupture, however. I feared I would have one at the worst times, like while on vacation, a work trip, or even during my wedding.
I was determined not to let endometriosis control my life, so I searched for pain relief. I attended conferences, read books, and talked to other women with endo to learn what had helped them. I tried medically induced menopause in my early 20s, but the side effects were worse than the pain. I also tried acupuncture, dietary changes, hormonal birth control pills, epidurals, trigger point injections, a pain pump, and even vaginal Botox to alleviate pelvic floor discomfort. None of these potential solutions provided pain relief. Pain medications helped, but they weren't a long-term option. They made me drowsy, and I never felt comfortable taking them while working.
Ten years after being diagnosed with endometriosis, I finally found an Ob/Gyn I loved, Amanda Cofer Yunker, DO, MSCR, at Vanderbilt University Medical Center. She spent a lot of time with me in her office, discussed all my options, and referred me to Vanderbilt's interventional pain clinic. A doctor there prescribed me gabapentin, an anticonvulsant medication, which alleviated symptoms on high pain days. Finally finding the right combination of hormonal birth control pills also helped, especially with my mid-cycle pain and migraines.
Unfortunately, at 37, I had to quit taking the pill after experiencing a deep vein thrombosis (DVT) in my arm. After the blood clot, my endometriosis symptoms became excruciating. The heavier bleeding, increased cramping, endless nausea, and more prevalent migraines were interfering with my workload and life in general. I also had to take blood thinners for 90 days following the DVT, which exacerbated my already heavy periods and caused iron deficiency. Finally, my doctor and I discussed a hysterectomy.
I'd always considered a hysterectomy as an option and had asked previous doctors about the surgery. They often told me that although it might help my pain, they wouldn't perform a hysterectomy on a woman in her 20s. They were concerned I would regret it a few years down the road when I wanted children. I was grateful my current doctor respected my decision-making abilities. My husband and I had decided not have kids, and that made choosing the surgery easier, but it was still a big decision. I took a few months to research message boards and talk to other women who'd had the surgery for endometriosis pain relief.
I felt comfortable with and trusted my surgeon, who had already performed two laparoscopies on me, so I scheduled the hysterectomy to remove my cervix, uterus, and left ovary, which had always given me trouble. I kept my right ovary so I wouldn't go into immediate menopause.
The surgery went well. Vanderbilt University Medical Center has a great staff in their women's surgery center, and their kindness in the recovery area made a difficult experience much easier. I spent one night in the hospital and then was free to recover at home. The recovery took about six weeks before I was cleared for normal activities.
Although a hysterectomy is not a cure for endometriosis, the surgery brought me remarkable pain relief. I still have endometriosis symptoms, but they are mild compared to what I'd been experiencing for most of my life. I went on a vacation about three months after my surgery and I happened to note the date on my calendar. If I'd still had my uterus, I would have been starting my period. Instead I was hiking a mountain in Colorado, paying no attention to my cycle.
My only regret is not having the surgery sooner. I encourage other women with endometriosis to always advocate for themselves when they are at the doctor's office, even when it's hard. If a doctor is disrespectful or doesn't spend time answering questions and navigating solutions, find a different one. In regards to endometriosis, I found that the best Ob/Gyns I encountered were experts in abnormal gynecological issues.
Keeping a positive mindset is also important. Researchers don't yet have a cure for endometriosis, and that can feel defeating. The only option is to find the best pain-management methods and lifestyle changes. For me, that was a mix of medications, alternative solutions, and my hysterectomy. But embracing positivity also made all the difference. I threw myself into the activities I most enjoyed when I could—like running, gardening and writing—and found a way to work that also offered me flexibility to manage my medical care.
Someday there will be better research and treatments. Until then, women with endo have to do what they can to empower themselves over the disease.
Was this helpful?