Types of Daily Living Assistance for Seniors
Was this helpful?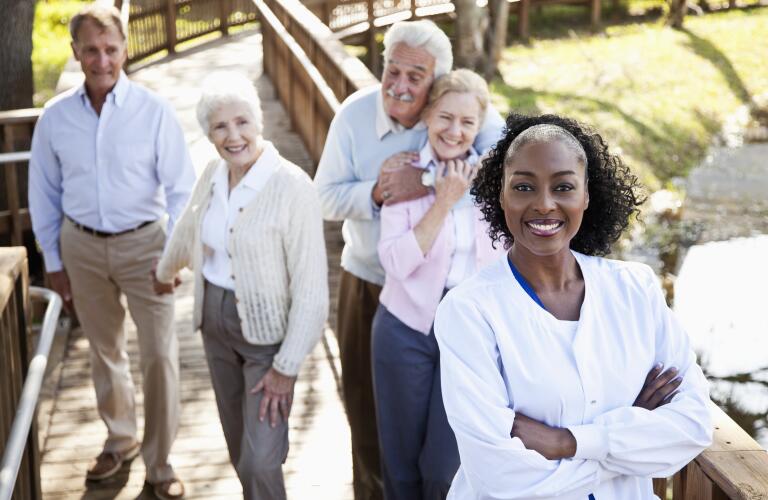 Seniors vary in terms of their physical, mental, and emotional needs; types and level of activity; levels of independence; and desires for their daily lives. So it makes sense that the type and extent of daily assistance needed for people older than 65 can vary widely from person to person. Learning about the different types of assistance available to seniors will help you navigate the spectrum of living assistance—for you or a loved one.
Two major areas where people may need help as they get older are in "activities of daily living" and "instrumental activities of daily living."
Activities of daily living are related to personal, bodily care, and include tasks, such as:
Eating
Going to the bathroom
Getting dressed
Bathing
Instrumental activities of daily living include household-related everyday tasks, such as:
Using a phone or computer
Performing housework
Preparing meals
Shopping
Seniors living at home can benefit greatly from living with a relatively high level of independence and a strong sense of familiarity. Seniors who live in their own homes (or in the home of a family member) may need a little extra help with daily tasks. Even if fully functional, seniors who live alone benefit enormously from routine social interaction with others. Services for seniors who are "aging in place" include:
Home care services. Home care providers come to the senior's home. Home care services can be healthcare-related services, such as nursing and physical therapy. Other home care services focus on activities of daily living like eating and going to the bathroom, or instrumental activities of daily living like housework, paying bills, and making phone calls.

Adult day care centers provide a place for seniors to go during the day for meals, social activities, and in some cases, healthcare services.

Transportation services provide seniors car and bus service to places like stores, doctor's offices, and centers of worship.

Meal delivery services bring food to seniors in their homes.
Assisted living facilities provide a safe environment between living at home and living in a nursing home. Assisted living facilities have levels of assistance corresponding to the amount and type of care that residents need. Higher levels of care typically involve higher costs. Assisted living facilities typically do not provide skilled nursing care.
Each of the 50 states individually regulates and oversees assisted living facilities and staff. Because of this, there is a lot of variation in what facilities offer, how they are regulated, and even how they are defined from state to state. Check with your state's assisted living regulatory agency for more information.
Generally, assisted living facilities offer:
Housing, often in a private room, apartment, or cottage. Housing varies from a private home licensed to house just a few residents to large facilities housing several dozen (or more) residents.
Help with activities of daily living, such as dressing, bathing, taking medications, and getting in and out of their residence
Services including meals, local transportation, laundry, and housekeeping
Recreation and social activities, such as fitness, art classes, singing, and entertainment
Other names for assisted living facilities include "board and care," "residential care," "adult foster care," and "adult group home." Assisted living also may be part of a large, age-restricted retirement community that offers varying levels of care on one campus.
Nursing homes are residences for people who need 24-hour medical and rehabilitative care, in addition to help with activities of daily living. Nursing homes provide all the services that assisted living facilities provide, plus round-the-clock assistance from doctors, nurses, and physical, occupational and speech therapists.
Like assisted living facilities, nursing homes have levels of care with variable costs depending on how much and what types of care are necessary. "Long-term care facilities" and "skilled nursing facilities" are other commonly used names for nursing homes.
To help you decide the type and level of care you or a loved one needs, it's important to consider both your current and potentially future needs. Cost also is a major factor. Assisted living and nursing home facilities will have you sign a contract, which should clearly define the services you are receiving and the cost for each service.
Was this helpful?