When Eczema Flares Despite Your Efforts: Take a Bath
Was this helpful?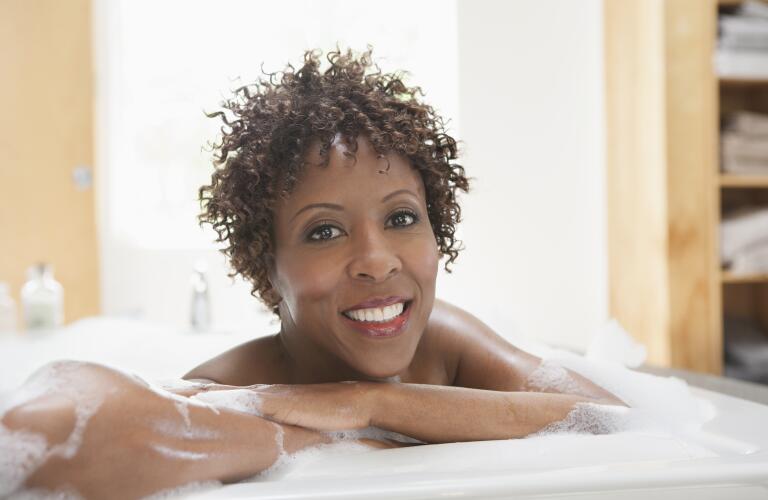 A recent study showed that more than 85% of people with eczema itch every day, and for more than 62% of them, the itch lasts at least 12 hours a day. Eczema itch can be frustrating, uncomfortable, and even dangerous, as itching too much can create or open wounds that may get infected. If you're trying everything you can to manage your eczema, but you're not finding relief, one strategy might improve your symptoms–and your stress level. Hop in the tub and try the "soak and seal" method for healing eczema! Bathing with eczema requires a little extra attention to water temperature, cleansers, moisturizing, and other factors. Use these tips to draw the perfect bath for managing eczema symptoms.
There are several things you can add to your bath to help soothe the pain and itch of eczema. Ask your dermatologist before you try one of the following:
A quarter cup of baking soda, known to ease itching
A half cup of bleach, which can decrease inflammation and bacteria on the skin (Make sure to ask your doctor for guidance)
One cup of salt, which can ease any stinging sensations
One cup of vinegar, thought to kill bacteria and prevent skin infections
One cup of dry oatmeal, also great for relieving eczema itch
A scoop of gentle, fragrance-free, bath oil, to moisturize
A long, hot bath can feel great in the moment, but it's not great for eczema. It makes the skin even drier and inflammation worse. Aim for a lukewarm bath that's 80 to 86° Fahrenheit and don't linger. Five to 10 minutes can help, while longer can hurt. If you need to wash up, use your hands instead of a cloth, loofah, or pouf that can irritate your skin. Look for gentle cleansers specially made for dry or sensitive skin. Check the ingredient labels and choose products that don't contain any of the following:
Fragrance, including essential oils
Preservatives, including methylisothiazolinone (MIT) and methylchloroisothiazolinone (CMIT)
Soap, which can contain harsh lye
Alcohol
Dye
Deodorant
And keep in mind: unscented products still contain fragrance in the form of an "unscented" scent. Ask your dermatologist for a recommendation before you try something new.
When you get out of the bath, dry off by patting your skin lightly; resist the urge to rub. Leave your skin a little damp and moisturize right away. This seals in the moisture, creates a barrier to irritants, heals sore skin, and helps prevent eczema flares. Experts recommend moisturizing within three minutes and using an ointment or cream containing more oil than water. Avoid lotions because they usually contain more water than oil.
Ready for bath time? Remember to watch the temperature, pat yourself dry, and have your moisturizer close at hand. Ask your doctor for more personalized tips at your next appointment.
Was this helpful?