Tips for Easing Eczema
Medically Reviewed By William C. Lloyd III, MD, FACS
Was this helpful?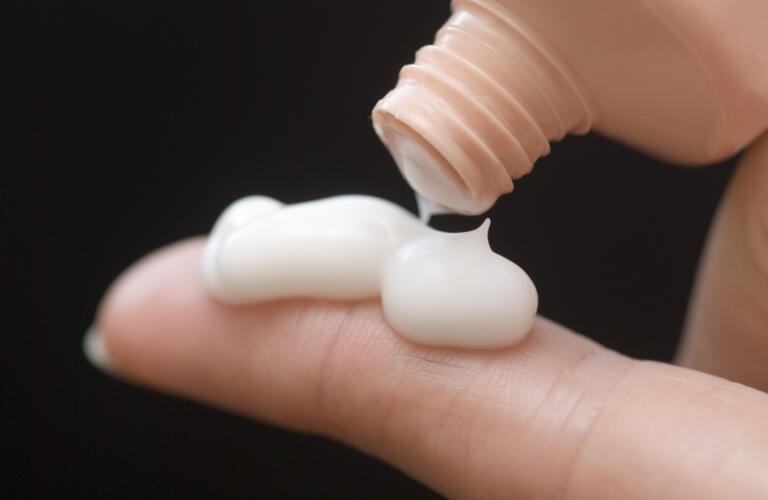 The dry and itchy skin of eczema can be an ongoing problem. Scratching your skin all the time can make the condition worse. It can lead to swelling or cracked skin. Your skin can become scaly or crusty. Scratching can also cause open sores and increase the risk of a skin infection.
You can prevent these problems by taking good care of your skin. Start by making some lifestyle changes. Then, consider other treatment options.
5 Things You Didn't Know About Stubborn Eczema
The right kind of skin care and changing a few daily habits can help keep eczema under control. Consider these tips:
Avoid hot water. Hot water dries the skin. Dry, irritated skin can trigger an eczema flare-up or make your symptoms worse. So, switch from hot to warm water when you wash your hands, shower, or take a bath.
Use mild soap. Don't use harsh soaps or cleansers that could lead to dry skin. Use just a little bit of soap. Look for a mild, unscented cleanser. It should not contain antibacterial agents, preservatives, or other chemicals. Avoid bubble baths and wear rubber gloves to protect your hands when doing the dishes and using household cleaning products.
Keep it short. A long, hot shower might sound good after a hard day, but resist the urge. Long showers can lead to dry skin and trigger an eczema flare-up. So can showering too often. Take a 5 to 10 minute bath or shower just once a day. That will help keep your skin hydrated.
Don't scrub or rub. Body sponges and washcloths can be harsh on your skin and make eczema worse. Rubbing a towel against your skin when drying off also can trigger an eczema flare. Instead, use your hands to apply soap in the shower. Then pat yourself dry with a towel.
Moisturize your skin. Apply a thick, unscented cream or ointment to your skin after a shower or bath. Petroleum jelly is a good example. Do this often to prevent drying and cracking. Apply cream right after bathing to "lock in" moisture. Creams do not hydrate the skin, but they do keep your skin from losing the moisture it already has. Moisturizers that contain oil are best. They may keep you from needing eczema medication.
Here are more ways to reduce eczema flare-ups:
Steer clear of chemicals. Products that contain scents, additives or chemicals can cause an eczema flare-up when they touch your skin. Read the labels closely when you choose soap, detergent, or fabric softener. Opt for fragrance-free varieties. It is a good idea to wash new clothes before wearing them. This gets rid of extra dyes or fabric finishers.
Wear soft, cotton clothes. Rough, scratchy or tight clothing can make eczema symptoms worse. Wool and synthetic fabric can also irritate your skin and lead to a flare-up.
Trim your nails. By keeping fingernails short, you'll be less likely to break the skin if you scratch, especially while you are sleeping.
Check your thermostat. Living in a very dry, hot place is not good for eczema. Sweating and overheating can trigger a flare. Keep the humidity and temperature in your home at a comfortable level. When it's cold outside, a cool-mist humidifier helps prevent dry skin.
Reduce stress. Eczema flares are more likely to occur when you're stressed. Take steps to reduce your stress level. Relaxation techniques can help, so can having a good support system. Some people benefit from therapy or a support group.
It is important avoid things that trigger eczema flare-ups of itchy, dry skin. Your doctor can help you learn what triggers your symptoms. Common triggers include:
Certain foods. Some people need to avoid nuts, milks, eggs, soy or wheat.
Sometimes lifestyle changes alone aren't enough to control eczema. If that's the case, talk with your doctor about other treatments to ease your symptoms. Treatment options include:
Bleach baths. Soak in a tub containing diluted bleach for 5 to 10 minutes. Use regular strength (6%) bleach. Do not use concentrated bleach. Put ½ cup of bleach in a full tub or ¼ cup for a tub that's filled only half way. Avoid adding too much bleach.
Antihistamines. These drugs help control severe itching.
Corticosteroid creams. People with eczema use these creams more than any other medicine to treat symptoms. You can buy mild strength creams over the counter. Stronger creams require a prescription. Your doctor will decide what strength is best for you. This will vary depending on the location of the eczema and how severe your symptoms are. Your doctor will also consider your age and medical history.
Oral corticosteroids. Your doctor may prescribe this type of medicine if you have severe eczema. You take these pills for a short time to avoid potentially dangerous side effects.
Phototherapy. Your doctor may recommend phototherapy if other treatments have not worked. It involves using certain types of light waves to ease the itching and inflammation of mild or moderate eczema. It often takes 1 to 2 months of steady treatment to see an improvement. Close monitoring is important during treatment. Your doctor will make sure you receive as little light exposure as possible to avoid burns and reduce the risk of skin cancer.
Wet-wrap therapy. If your eczema does not respond to other treatment, ask your doctor about wet-wrap therapy. It involves taking a daily lukewarm bath. Then you apply a medicated cream and moisturizer and wrap wet gauze around the affected area. This seals the medication and moisturizer into the skin
Was this helpful?