Should You Try a Biologic for Eczema?
Was this helpful?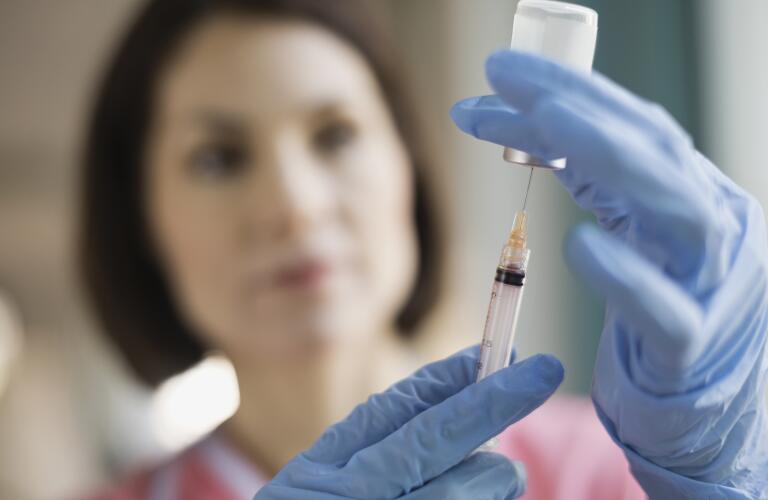 Eczema is a chronic skin condition characterized by patches of red, itchy skin. Standard treatments, including moisturizers and topical steroid creams, are helpful for many patients, but if your eczema symptoms aren't improving as much as you would like, ask yourself the following questions: Is the itchiness caused by your eczema unrelenting? Have you developed skin infections because of your constant scratching? Is a large portion of your body affected? If you answered "yes," a new line of treatment known as biologic therapy, also called biologics, may be right for you.
Biologics target the root of inflammation.
The medical community has been touting the benefits of biologics for some time. Biologics are being used to treat a variety of medical conditions, including asthma, cancer, arthritis, and inflammatory bowel disease; more recently, eczema has joined the list.
5 Things You Didn't Know About Stubborn Eczema
Biologics are different than the kinds of drugs we are most familiar with, like ibuprofen or antibiotics. Traditional drugs are made from chemicals. Biologics, on the other hand, are made from living cells, often human or animal proteins. They are difficult to create and are very sensitive to changes, such as temperature or the way they are handled.
Biologics are considered targeted therapies because they can act on very specific points in your body's immune response. Your immune system helps protect your body from harmful things like bacteria and viruses through the process of inflammation. There are special proteins in your body that trigger and coordinate this immune response. Sometimes, though, your immune system mistakenly attacks its own tissues, causing chronic inflammation. This is where biologics can help—they can find and block those special proteins that trigger the overactive inflammatory response, so inflammation decreases or doesn't occur at all.
The first biologic was recently approved to treat atopic dermatitis.
The term "eczema" is actually an umbrella term encompassing several different types of inflammatory skin conditions. Of these, atopic dermatitis is the most common form. It often starts in childhood, but can occur at any age. People with atopic dermatitis tend to have a genetic predisposition to develop allergic diseases, including asthma and hay fever. The U.S. Food and Drug Administration (FDA) approved dupilumab (Dupixent), a biologic, to be used for adults with moderate to severe cases of atopic dermatitis after clinical trials showed promising results.
Researchers have discovered some of the specific immune proteins involved in the inflammation that occurs with atopic dermatitis: interleukin-4 (IL-4) and interleukin-13 (IL-13). Dupilumab blocks these proteins, slowing down the immune response and inflammation, therefore decreasing atopic dermatitis symptoms.
As with any treatment, there is a risk of having a serious allergic reaction to dupilumab. Other possible side effects include:
Redness, pain, or swelling at the injection site

Cold sores in the mouth or on the lips

Pink eye

Inflammation of the cornea
You should always be followed closely by a doctor anytime you start a new treatment.
New eczema treatments are expected in the future.
In the past, patients who had eczema that didn't respond to topical treatments were sometimes given strong medications that suppressed the entire immune system. While these medications may have worked to treat eczema, they also carried the risk of severe side effects, including damage to the liver and kidneys. This is why the success of dupilumab is so exciting; it offers symptom relief without impacting the whole immune system or causing dangerous side effects.
Researchers are continuing to study other biologics that target different spots along the immune pathway. For example, a biologic typically used to treat severe asthma, omalizumab (Xolair) is also being used to treat some patients with eczema. Omalizumab blocks an antibody, Immunoglobulin E, that initiates inflammation when the body is exposed to something it is allergic to. Since eczema is linked with allergic diseases, this medication may be helpful in some cases. New biologic therapies for eczema are likely to follow.
Eczema can be physically uncomfortable, but it can also cause psychological distress and interrupt daily living activities for some patients. If your eczema is significantly impacting your life, talk to your doctor about what options, including biologics, are appropriate for you.

Was this helpful?