PATIENT VOICES

My Severe Eczema Journey: Connecting With My Dermatologist

Was this helpful?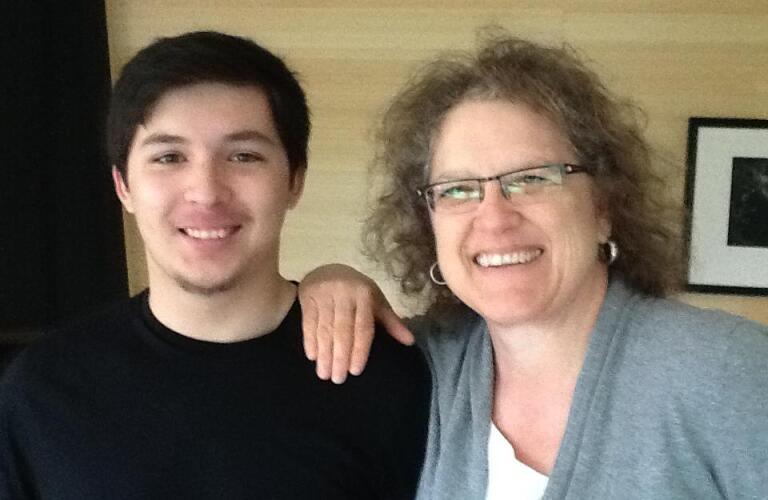 I've had severe eczema since I was a baby. My skin doesn't naturally produce some of the oils it should—at least not at normal rates. This deficiency leads to dry skin for long periods of time. At its worst, this means large patches of itchy and weeping skin covering my back, hands, arms, feet, behind my knees—even my upper lip at times. Growing up, the backs of my hands were raw year-round, but dry weather took my skin to another level. If I balled my fingers into a fist and then stretched them back out, the skin on each joint surrounding my palm would crack open.
I was only a few months old when my neonatal pediatrician first noticed eczema on my face and referred me to a pediatric dermatologist for treatment. Of course, I don't personally remember these visits. But my mom recalls the dermatologist making it clear from the start that my case was far from trivial. As I moved on to a regular pediatrician, my parents ended up taking me to see a second dermatologist based on her recommendations. And over the years, I also saw an allergist for treatment.
Finding a Dermatologist for the Family
When I was four, my parents brought me to my first allergist after reading glowing recommendations about him on a local parents' email network. It only took a few visits, though, to realize it wasn't a good fit; he was condescending to them and wouldn't talk to me directly. Meanwhile, my dad—who also has eczema, along with psoriasis—had been seeing his own dermatologist, Dr. Jason Fung. Eventually, I switched dermatologists and began to see him as well, for all my eczema care.
Seeing Dr. Fung feels more like visiting a friend than a doctor. Over the years, he has always talked to me directly, which makes me feel comfortable at his office and confident in his ability. He has cared for my grandmother too, and the whole family loves him. I'm 24 now; as I've entered adulthood, Dr. Fung has helped me take full responsibility for my skin by treating me like an adult. He listens to my opinions, suggests different approaches, and then steps back to let me make decisions for myself.
Having severe eczema means there's always some part of me where the skin is broken open. And this has led to getting infections over the years. I've had countless staph infections and have needed antibiotic treatment on multiple occasions for cellulitis, in which bacteria has infected the deeper layers of my skin. It's really never been a question of if my skin will get infected again, but when. Keeping everything clean is definitely necessary. That's been a real challenge because I get little cuts here and there pretty frequently. The last thing I want is to deal with another unpleasant infection and hospital visit, so I have to wash and cover every break in the skin.
But at the same time, since I've had eczema my entire life, dealing with it feels pretty normal to me. Putting lotion on multiple times each day, resisting the urge to scratch, and taking whatever treatment Dr. Fung recommends, that's all routine.
When you're a kid and doctors tell you that your eczema will get better in time, it sounds encouraging. But at that age your perception of time is skewed; you hear "in time" and you think a month, when they might mean 10 years. Still, those years do pass. By establishing a relationship with a dermatologist, you can ensure you're getting the care you need as your symptoms change. And you'll also figure out better ways to independently deal with eczema along the way. I got teased for my skin in grade school, but once I hit my teenage years I learned to brush that sort of thing off.
My eczema will never completely go away. I still have to put lotion all over my body several times a day. And I still rely on books and video games to distract myself from scratching. But with ongoing help from Dr. Fung and other providers over the years, I know exactly what I need to do to manage my eczema.
Carl lives in Santa Fe, New Mexico, where he is studying information systems and computer science. He enjoys building computers in his spare time and spends his Monday nights with a tabletop gaming group.
Was this helpful?