How to Get the Most Out of a Virtual Doctor Visit for Eczema
Was this helpful?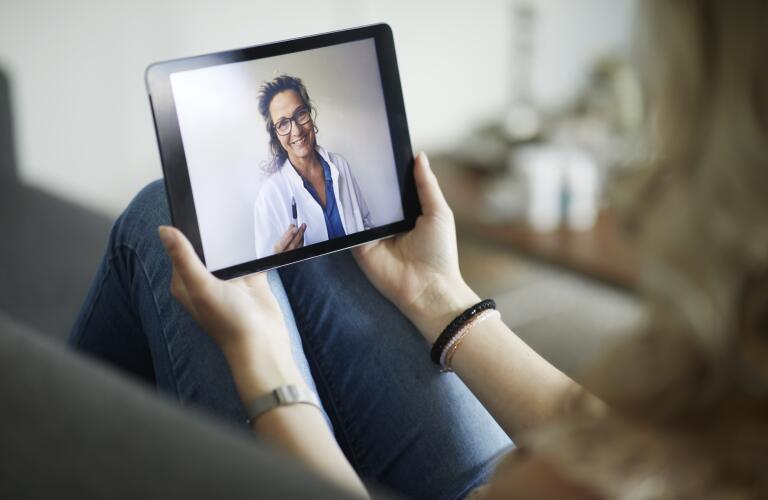 Today, with new technology offering convenience and quality care, telehealth can be a great way to see your doctor. And for people with eczema, dermatology and telehealth go hand in hand.
Instead of taking time away from work or school, people use telehealth to see their dermatologist for eczema. And according to a 2015 study, telemedicine is just as effective as in-person office visits for eczema treatment. If you're interested in using a virtual doctor appointment for eczema, ask your regular healthcare provider if they offer this service. Learning more can help you prepare for your telehealth visit.
Dermatology and Telehealth
It's estimated that as many as 15 million Americans have eczema, a common skin condition causing symptoms such as redness, itchiness, and dryness. And if you were regularly seeing a dermatologist for this condition, you may be hesitant to continue your treatment in-person. That's where virtual doctor visits come in.
5 Things You Didn't Know About Stubborn Eczema
Your dermatologist may offer telemedicine, also known as telehealth, to help keep you as healthy as possible without physically seeing them. Doctors often use telehealth appointments to follow-up on treatments, recommend new therapies, and answer questions you may have.
You may wonder how it's possible to accurately assess your condition, especially if you aren't visiting with your doctor in person. Many dermatologists ask patients to send pictures of areas of skin irritation before appointments so they can review them and assess the effectiveness of your treatment. Your doctor may also request you keep a journal of any other symptoms you experience so you can share this information virtually.
Depending on your doctor, the types of services you receive using telehealth could differ from your regular in-office visits. It's important to ask your doctor what you should expect before your appointment so you can be as prepared as possible.
Getting the most out of your virtual visit isn't hard, but you should take a few simple steps to properly prepare. First, be sure to have all your essential information gathered before talking with your dermatologist. This information may include:
A list of your current medications
Allergy information
Details about your symptoms, such as when they started and how severe they are
Other medical history information
Ensuring your communications technology is in working order is also essential to your visit. Some dermatologists conduct telehealth appointments over the phone, but many prefer meeting with patients virtually using web cameras and microphones. If your doctor wants to meet with you online, be sure to know how to log on to your patient portal or other website your doctor may use to interact with you. This includes checking your internet connection, camera, and microphone to make sure they all work properly.
If your doctor requests pictures of skin areas with eczema, be sure to take the pictures in a well-lit spot. It can be beneficial to take multiple pictures of your skin, especially if any areas of irritation are cracked or sensitive. Also, avoid irritating any affected areas of skin before your appointment—your doctor may want to view these areas during your virtual visit.
Finally, try to find a private, quiet space in your home in which to conduct your virtual visit. It's very important you feel comfortable enough to share any information with your doctor, but this may be difficult if you have others in your home. Choosing a private location helps make sure you get the most benefit out of your visit. Keep pen and paper handy for taking notes.
Dermatology and telehealth can come together to help you receive the best care possible to manage your condition. If your doctor offers telehealth services for eczema, be sure to ask them what to expect prior to your appointment. Take steps to prepare, and be sure you're in an area where you can discuss your concerns freely and openly. Working together with your doctor virtually can help you continue to receive top-notch care for eczema.
Was this helpful?