SOCIAL VOICES

Handwashing Inflamed My Eczema. Here's What I'm Doing to Repair My Hands.

Was this helpful?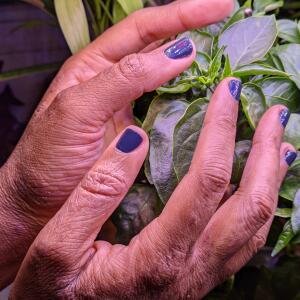 The pandemic has been an excellent reminder of how important it is to thoroughly wash your hands. However, after a while, the frequent handwashing wreaked havoc on my sensitive, eczema-prone skin, which led to a lot of distress. Not only did the soap dry out my hands and inflame my eczema, but at one point, the friction of scrubbing became painful against my open wounds.
I needed to figure out how to keep my hands clean without destroying my skin. After some trial and error, I came up with an effective regimen that has helped repair my damaged skin–and it's been a huge relief.
Under normal circumstances, the soap I typically use has served me well. However, due to the increase in handwashing, the soap started to do more harm than good.
I wanted a soap that was tested on sensitive skin, safe, and free from harsh chemicals. But this journey became tricky. Since buzzwords like "dermatologist approved" and "skin safe" are often thrown around without context, I had to dive into the ingredient list. If there were more than a few lines of ingredients included, I knew the product was more than likely not for me.
After diligently researching online, I decided it was time to make some purchases. After trying a few, I finally landed on one that's just what I needed. Currently, I am using a hand soap specifically made for babies. Yes, you read that correctly. I realized that any time I suffer from a severe eczema breakout, baby products work wonders in healing. I knew I couldn't go wrong with a gentle soap safe enough for any baby's skin. This soap is very mild, yet it's hydrating and effective, and it doesn't irritate the open cracks on my hands when my eczema is flaring.
When my hands are severely dry, cracked, and develop open wounds, it's imperative to keep them moisturized so they can heal. After washing them, the last thing I want to do is dab them dry on a towel. Instead, I leave them damp and reach for a thick moisturizing balm or ointment to protect my broken skin barrier. After applying, I use a gentle, thick cream that won't wear off soon after.
Once my hands are lathered up with protection, I placed them in cooling gel therapeutic gloves. Depending on the time of day, I'll leave them in there for at least 20 minutes. If it's night time, I'll leave them on for 45 minutes to an hour. I don't sleep with these gloves on my hands because I find that to be uncomfortable. And I've been known to rip them off in the middle of the night. For me, 45 minutes works best.
I often have to remind myself that dealing with eczema takes patience. My eczema has a mind of its own and will heal when it's ready. After about two weeks of this process, my hands slowly started to reverse course and heal. Since then, I've kept up this routine, and my hands are in much better shape.
I also make sure to be proactive so I'm setting myself up for success–and any out-of-the-blue eczema flares. I keep my nails short to prevent scratching my wounds. I avoid cutting citrus or jalapeño peppers that might irritate dry skin. And lastly, I keep my nails painted. Although my hands don't always look or feel their best, I still want to feel good about them and have hope that they will heal soon.
We never know what life is going to throw our way, so it's all about adjusting and making it work. I try to remember to treat my body kindly no matter what, and investing the time and energy to find the right handwashing routine for me has made a huge difference.
Was this helpful?