Feeling Comfortable and Confident in Your Skin with Eczema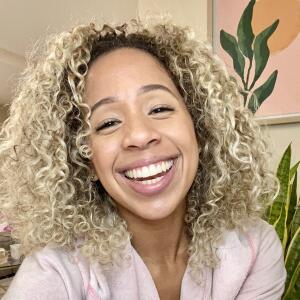 "I would have never thought you suffered from eczema," is a common phrase I hear when I tell people my story and describe my work as an eczema awareness advocate. Perhaps they feel this way because of how they perceive my skin and because of the confidence I exude in fearlessly showing it off nowadays. However, I wasn't always this confident. It has taken tremendous resilience and practice over the years to feel comfortable in my own skin.
Growing up, I tried to hide myself from the world physically, socially, and emotionally. The eczema patches on my face, neck, and the rest of my body were so severe and distinct that they left me feeling insecure and embarrassed. This led to missing days of school, skipping friends' gatherings, and distancing myself from anyone who tried to build a close relationship with me.
I also didn't meet anyone living with eczema until I was 22, which made it even more challenging for me to feel comfortable amongst my peers.
To prove my normalcy to the world, I would hide behind my clothes, humor, and "toughness" in order to fit in. For instance, I would cover up my skin with scarves, long pants, and long-sleeve shirts regardless of the weather. It could be over 80 degrees outside and I would cover up from head to toe to avoid anyone seeing my eczema patches.
When interacting with others, I would use humor to try and distract people from focusing on my skin. I preferred that people remember me as the "funny girl" versus "the girl with really bad skin." This is clearly reflected in past photographs where I would make a funny facial expression to take the focus away from my eczema.
Ironically, all of this "pretending" I did left an impression of having "tough skin" and not caring about what others thought of me. But this is far from the truth. Behind closed doors, I would peel back those layers of hurtful jokes, comments, and questions that pointed directly to my eczema. I was filled with self-doubt and insecurity.
As I matured, I went from pretending to be comfortable in my own skin to actually building true confidence within. This only began when I was able to better understand eczema and my relationship with it. Once I understood it better, found effective treatments, and learned how to control my emotional reactions to flare-ups, the more confident I became.
For example, just a few years ago, I perceived eczema as separate from me and therefore I despised it, not realizing that it's actually a part of who I am. I had to learn that there was nothing wrong with me; I was simply a human being living with a health condition like the majority of society. Accepting my eczema led me to finally accept myself, too.
Another major factor that contributes to my confidence is understanding what works for me in calming down and relieving my eczema symptoms. Studying and getting familiar with my triggers, as well as taking a holistic approach to healing — following a healthy diet, exercising, and prioritizing my mental health — continues to boost my confidence in unimaginable ways. It makes me feel like I am in control of my life, whereas once it felt like my eczema controlled my life. Taking care of my physical and emotional health allows me to respond to my flare-ups from a place of preparation versus desperation.
Like most things in life, confidence takes practice. Here are a few tips that have supported me along the way to help me become more confident in my own skin:
Embrace ALL of you, including your eczema: When you radically accept all that you are and you accept eczema as being a part of who you are, you re-create your identity. Remember, you get to be in control of your eczema, not the other way around.
Be authentically you: Share how you're feeling, so you don't feel like you need to hide behind your skin. One thing I've learned over time is that people don't relate to perfection, they relate to struggle. When I vulnerably and authentically share who I am, others show up in their authenticity and let me know I'm not alone – and often, I find they feel less alone, too.
Build your toolkit: You may not be able to prevent every flare-up, but you can prepare for it. Learn your triggers. Get familiar with what works and doesn't work for you. Build your own resource kit of treatments, tips, and tools so that when your eczema flares-up, you're confident you can beat it!
In learning how to better manage my eczema, I was able to break free of the prison walls it kept me in, preventing me from living a full life and following my dreams and goals. Today, I am confident and comfortable in my own skin because eczema no longer defines who I am. And it doesn't have to define who you are, either.
Was this helpful?