PHYSICIAN VOICES

Expert Insights on Eczema

Was this helpful?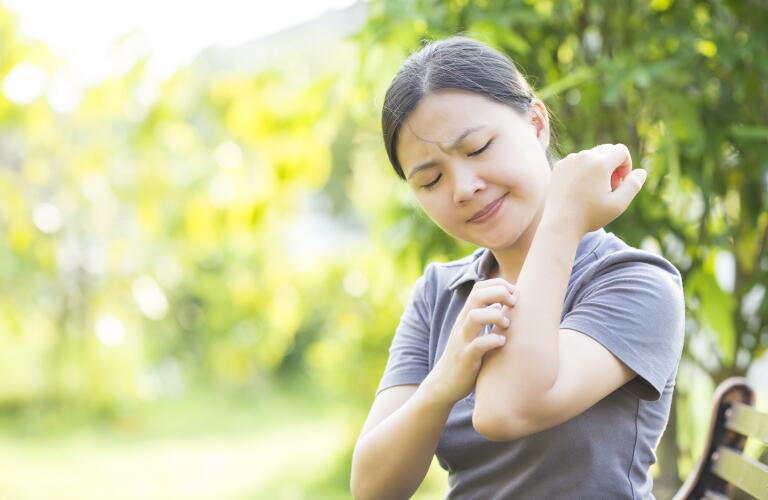 Thirty million Americans suffer from eczema, a chronic skin disease associated with dryness and itchiness. Although it's a common condition, there are a lot of misunderstandings surrounding eczema and the best ways to manage it.
Simple lifestyle changes can be as essential to relieving symptoms as medication.
Dermatologist Sylvia Wright, MD, answers some of the common questions she hears from her patients.
1. Q: What causes eczema?
A: Eczema can be a catch-all term for most red, itchy rashes, but there are actually several types of skin conditions within eczema. Atopic dermatitis is the most common form of eczema and one of the most severe. A chronic, inflammatory skin condition causing redness and itchiness, atopic dermatitis often appears in infants. While some children grow out of the condition, about 50% of childhood cases continue into adulthood. Although there isn't exactly a known cause, we do know that a combination of family history, environmental irritants and immune-related factors can provoke eczema outbreaks. We also know that atopic dermatitis is linked to other conditions, including hay fever (allergic rhinitis) and asthma. Many patients with eczema also have allergies or asthma, and their symptoms can become worse when suffering from allergic reactions to food or certain chemicals, for instance.
5 Things You Didn't Know About Stubborn Eczema
2. Q: Is there a cure for eczema?
A: There is no cure for eczema, but there are many treatments that successfully manage the disease, including a new biological drug. Biologics are advanced medications designed to suppress your immune system's response to irritants, thus reducing inflammation. These injectable drugs have transformed the treatment of psoriasis, another serious skin condition, and now doctors are exploring how biologics can do the same for eczema. Other medications commonly used for suppressing eczema include topical and oral steroids to reduce inflammation, antihistamines to help control itchiness, and other non-steroidal treatments.
3. Q: What leads to eczema flare-ups?
A: There are a variety of causes for flare-ups, ranging from environmental irritants to stress. Flare-ups are often seasonal, developing in dry weather or from exposure to irritants or allergens. Spring is the most common time of year for an eczema flare-up, and dry winter air can also make eczema more difficult to manage. Hot water, sweat, and chemical irritants found in household products are also common aggravators; emotional stress is also a known trigger. Because every eczema patient needs an individualized treatment plan based on his or her skin type, age, and lifestyle, learning what triggers your flare-ups is critical.
4. Q: Is there any way to prevent flare-ups?
A: The best way to manage eczema is with a daily skin routine that prevents flare-ups from happening. Frequent hot baths or showers can make eczema worse, so instead, take cool or warm baths and try to keep your baths short. It's important to moisturize afterward with a fragrance-free lotion or ointment. Maintaining a moisture regimen usually forms the core of eczema treatment, as most eczema patients need to moisturize twice a day to prevent flare-ups and keep skin healthy. Avoiding certain household products like harsh detergents should also be a part of your daily routine and can lead to fewer outbreaks. Talk with your doctor about navigating potential irritants, and about the topical and oral medications right for you.
5. Q: How do I control my itching?
A: For many patients, itching is the most uncomfortable symptom and the one that worsens the rest. To control itchiness, topical treatments like corticosteroids and oral antihistamines can help. Sometimes eczema is treated internally with oral medications or injections depending on the severity. I also recommend patients keep their fingernails short, because scratching compounds other symptoms like dryness and redness.
6. Q: What is the link between emotional stress and eczema?
Eczema is as much a psychological condition as a physical one. Symptoms are not only worsened by emotional stress, but they cause stress as well when difficult to control. Many people find relaxation techniques like yoga, walking, and art therapy effective, and others may turn to meditation to help ease their eczema. Not everyone draws a parallel between stress and an eczema flare-up, but it's important to understand this connection and find out what works best for you to relax and practice self-care. If eczema is bringing added stress to your life, I think it's important for you to talk to your doctor about that aspect of the condition so you can find solutions.
Was this helpful?