Eczema, Anxiety, and Stress
Was this helpful?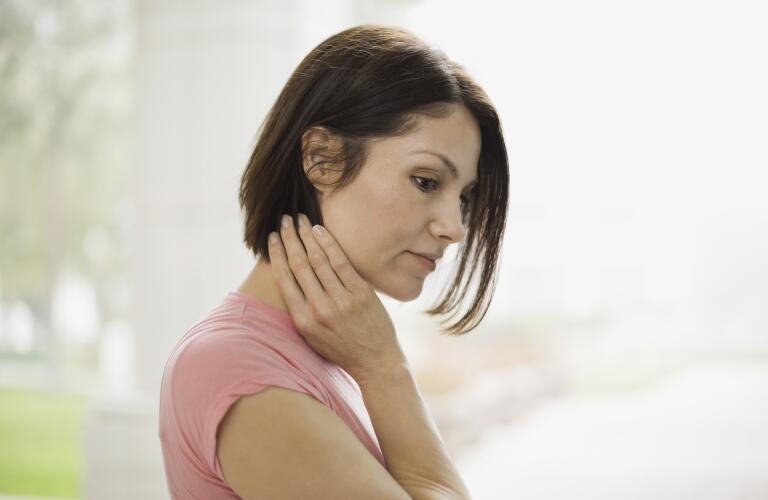 Stress is undeniably a trigger for eczema flare-ups. When you're anxious or stressed out, you may notice your eczema symptoms worsening. You may notice that you feel itchier than usual, a very common reaction to stress in people with eczema. Unfortunately, when you itch, you probably want to scratch. Scratching at your skin can not only damage your skin and possibly introduce infection, but it can also make the itching sensation even worse.
The solution? Address the root cause of the itchy flare-up: the stress. Learning how to cope with stress and get it under control is not an easy task, but it's definitely worthwhile.
5 Things You Didn't Know About Stubborn Eczema
In addition to causing eczema flare-ups, stress can also exacerbate feelings of anxiety and depression. The first step toward getting some eczema stress relief–and maybe also some relief for your anxiety and depression–is figuring out your stress triggers. One way to do that is by sitting down and making lists of everything you can think of that makes your stress levels rise. It may help to think about stress in terms of stress that's caused by one of two types of factors:
External factors, such as your workplace, your environment, your family, your friends, the weather, life changes, and unpredictable events.
Internal factors, which can include your own expectations and beliefs, your fears, and a lack of control.
Once you can identify the factors that ratchet up your stress levels, you can sit down and develop a targeted way to address them. This can include finding a support group.
Nothing feels quite as good as meeting someone in your exact situation who knows how you feel. Suddenly, you don't feel quite as alone. It can be reassuring and stress-relieving to know that others are grappling with the same kinds of challenges and they're making it through–and you can, too.
You could approach this in a couple of different ways. You might look for other people with eczema to commiserate with, since that can sometimes be a great outlet for stress reduction. An eczema support group might be a possible option. Or you could look for people who have other challenges that are similar to yours. For example, if you know that juggling a family with a full-time job is your primary stressor, reach out to friends or neighbors in a similar situation.
In addition to getting support from others, experts regularly recommend finding a relaxation technique that can help you unwind and feel calmer. There's not a one-size-fits-all choice, but there are many options to choose from that have worked for lots of people. Perhaps one of these techniques will appeal to you, too:
Guided imagery relaxation exercises
Yoga, tai chi, or other practices that focus on breathing
Listening to relaxing music
You might even find that different techniques work better for certain situations. Adapt them so they're most useful for you and your needs.
Additionally, a hobby can give you an outlet into which you can channel some of your energy. You might channel some of your stress-induced anxiety or frustration into an activity like painting, knitting, gardening, writing, or building things with your hands. Your hobby can become a focus that allows you to shift some of your attention away from your stressors and into something more productive. Don't have a hobby? Try tinkering with a few things that appeal to you and see if you find something that you like.
Improving your physical health will boost your mental health, too. Caring for your body by getting enough sleep, exercising well, and eating a healthy diet can help relieve stress and anxiety, too. Stress can interfere with your ability to sleep, and a lack of sleep can exacerbate your stress levels. Your body continues to produce higher levels of stress hormones, and then you feel even more irritable, overwhelmed, or even angry.
Make it a priority to try to avoid this vicious cycle by committing to better sleep habits. Start by making a sleep schedule for yourself and sticking to it. Make your bedroom a cool, dark place that's conducive to sleeping–and ditch the electronics that might distract you. Practice some relaxation exercises before you go to bed to prepare your mind and your body for resting.
Exercise can help you sleep well, too; plus, regular exercise can improve your mood and lower your stress levels. Whatever works for you and your schedule can be beneficial. If you like walking, try to fit a walk into your daily schedule. If you like to ride a bike, put on your helmet and start pedaling.
However, you can't ignore your eczema. Quick changes in body temperature can trigger eczema flare-ups in some people, so it's important to be mindful of that when you plan to exercise. When your skin temperature warms up quickly, your skin may feel intensely itch, and you may be overwhelmed with the urge to scratch. Here are a few ways to reduce the chances of an exercise-induced flare-up:
Drink plenty of water before and during exercise
Moisturize your skin before you work out
Wear loose-fitting, comfortable clothes that don't irritate your skin
Exercise in temperature-regulated environments, where it may be cooler
Skip the post-workout hot shower and take a lukewarm shower or bath instead
Finding the right combination of stress relievers that work for you can require some trial and error. After you identify the causes of your stress, you might try just brainstorming things that appeal to you. Finding an activity that you really like, whether it's singing in a choir or rock climbing, can make a positive difference in your stress levels–and in your eczema.
Was this helpful?