SOCIAL VOICES

Eczema and Your Finances: Manage Your Care on a Budget

Was this helpful?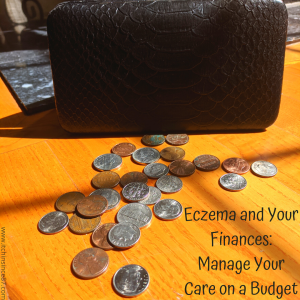 As an eczema patient, I've often questioned the lack of discussion around the monetary burden of my skin condition. The continuous doctor's appointments, copays, prescription medicines, gas mileage, skin creams, and other outside factors add up to be quite expensive. Fortunately, I've been able to curate a strategic method to help ease the financial load of living with eczema. Here are some tips I've found helpful to guide you through this journey.
1. Prioritize your financial education.
Learning about money will benefit you for life. Regardless of your financial standing, it's important to understand the basics. Learn how to make (and stick to) a budget, and take a close look at what's realistic for you. Budgeting apps are excellent tools to help you manage your money and contribute to your savings account-–and with helpful visuals and push notification reminders, they make understanding your spending easier than ever. Once you've acquired this skill, you should move on to understanding policies such as life and health insurance to make sure you have the best deal possible. When you feel in control of your finances, you'll gain confidence with one less thing to be worried about.
2. Set aside money for unexpected ER or doctor visits.
You likely have a budget for medical spending, but do you have one specifically for medical emergencies? Eczema is consistently inconsistent. Just when you think you've gotten in a rhythm, your eczema will surprise you. But that doesn't mean you have to be caught off-guard. Preparing a budget for emergencies is one of the best ways to stay on top of managing your care. Eczema is prone to bacterial and viral infections that need urgent treatment, such as staph, so you'll want to set aside a decent amount in case of a severe flare-up or infection. It's always better to be safe than sorry.
3. Keep an eye out for clinical trials.
If you're at a dead end with eczema treatments, or if you want to try a new medication but the cost is prohibitive, a clinical trial might be something worth looking into. Research labs are filled with innovative treatments to help combat diseases. Once the researchers gain outside approval of their new medicines, they work with agencies to recruit patients and test how the medicines work for real people. This phase of testing is called a clinical trial. Clinical trial websites such as https://clinicaltrials.gov/ are a crucial way to identify and learn more about trials you might benefit from. If you're eligible, participating in a clinical trial can give you the chance to try a new drug and get paid for it, although there's always a chance you'll be placed in the control group and receive a placebo. I have participated in a few eczema clinical trials, and they were a great way to get quality medical care and make some money. Of course, there are risks to clinical trials, and you may experience side effects or see no improvement on your skin. Weigh the pros and cons and talk to your doctor about your concerns before committing to a trial.
4. Enhance your bargain hunting skills.
I encourage everyone to resist the urge to spend money on the latest expensive skincare craze. It's very easy to chase products that sound promising, but often, they end up being a dud. It's smarter to do your research before purchasing: make sure you've read real reviews from people who've tried any new products, and before getting out your credit card, find out if there are more affordable options. I like to pride myself on being very thrifty; when surfing the web, I'm always on the lookout for a discount code, sale, or free giveaway. With coupon aggregators and cashback websites, it's easier than ever to score an incredible deal on products or experiences to help your skin. Additionally, I'll often check out the clearance section or see what's on sale at an off-price retailer.
5. Apply for a patient assistance program.
Anyone with a chronic condition knows how expensive healthcare can be. Fortunately, this isn't lost on pharmaceutical companies, which is why they've created financial assistance programs. A patient assistance program is designed to provide free or low cost medicine to those who cannot afford it. Each program varies depending on which pharmaceutical company you work with.In order to qualify, they may look into your tax returns, copay receipts, insurance cards (if you have them), and a few other documents.This is a great resource to take advantage of if you find yourself unable to cover your medications.
6. Don't allow your eczema to fester.
One of the biggest mistakes I've made was waiting too long to book a doctor's appointment during an intense eczema flare-up. This is a huge no-no! As my skin inflammation grew and expanded, so did my medical bills. Avoid prolonging care for any health problems that arise, especially if they're making you uncomfortable or causing pain. Getting the issue checked out will offer peace of mind and it may also save you money, since letting things build might require more intensive treatment and testing down the road.
Having a skin condition doesn't mean you have to break the bank. However, you'll have to be prepared. This starts with managing your finances by setting a medical budget and sticking to it. I encourage you to utilize these six tips to help reduce your skincare costs, obtain the best medical care, and plan ahead.
Was this helpful?