SOCIAL VOICES

Eczema: 5 Ways to Renew Your Skin

Was this helpful?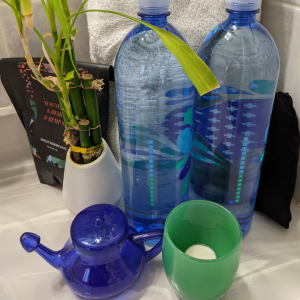 In stressful times, eczema can get worse, strategies that typically work aren't as effective, and you might be reaching a breaking point. However, there's always something new to try–and I've tried a whole lot. Dealing with my stubborn eczema over the years has pushed me to get creative, and through trial and error, I've discovered many unexpected and helpful ways to give my skin a boost. Here are five ways to renew your skin, get ahead of your eczema, and feel your best.
1. Give facial yoga a try.
"You pull your eyebrows up, you pull your eyebrows down, you pull your eyebrows up, and you work on your perfect pout!" Yoga is not new, but facial yoga is a practice often overlooked in the eczema community. That's right–moving your face around in specific ways can actually keep your skin healthy and clear. Dealing with facial eczema is tough: it seems to appear out of nowhere and puts a damper on your self-esteem. But there are steps you can take to help combat these breakouts.
While your skin is in a calm state, start incorporating facial yoga. A five-minute facial yoga session will help stimulate blood flow, reduce stress and inflammation, tighten skin cells, relieve tension, and give your skin a glow. There are some great tutorials on Youtube that I've found helpful.
2. Eat clean by going green.
It's true: you can eat your way to glowing skin. Packing your body full of nutrients by eating green vegetables helps your immune system and skin thrive. Including leafy greens with vitamin K, vitamin B, and vitamin A in your diet can reduce inflammation, help your skin repair and rebuild collagen, and provide your body with lots of energy. I make sure to incorporate spinach, kale, and celery into my diet to make my skin glow.
3. Reinvigorate your shower and bath time.
In the United States, we often find ourselves saying we'll "hop in the shower" or "take a quick bath." Yes, we lead busy lives, but it's also important to slow down–especially when it comes to taking care of ourselves. Stress reduction is key when you have eczema, and reframing how you bathe can be a significant way to add some calm to your life. So start embracing longer and more intentional bath and shower times for self-care. Not only are you cleansing your skin, but you're recharging your mind. One thing to keep in mind: soaking your skin in super hot water for a long time can dry it out and trigger eczema, so try to keep temperatures mild.
To prep for a soothing experience, start by deep cleaning your bathroom space. Next, go over each section and optimize its effectiveness. Is your showerhead too harsh? Swap it out for one with better pressure or a rainfall effect. Are you looking to add music? Use a waterproof speaker. And you can never go wrong with low maintenance plants that thrive in the bathroom, such as bamboo. When it comes to caring for your skin, make sure you're using fragrance-free, sulfate-free soap, and try to slow down with a multi-step skincare routine once you're out of the water.
4. Invest in high-quality SPF.
Although SPF stands for sun protection factor, another way you can look at it is "start protecting your face." That's right, no more excuses! Please, for the love of your eczema-prone skin, protect it from the harsh sun. A high-quality SPF sunscreen should be worn every day, even when it's cloudy.
When searching for a sunscreen that's compatible with your eczema, first make sure it includes UVA and UVB protection. Next, you'll want to look for a product created with sensitive skin in mind. After that, it should have a minimum of SPF 30. It's important to note that if you have a darker complexion, you'll want a sunscreen that doesn't leave a chalky residue or make you appear gray.
5. Create a hydration schedule.
One piece of advice I never stop hearing? Stay hydrated. It's oh so important! Hydration is key when it comes to skin renewal and should not be overlooked. Luckily, you can find water bottles that measure how much water you should be drinking every hour. Also, look into smartphone apps that can send you a little reminder when it's time to drink up. There's no reason not to stay hydrated–and your skin will thank you.
In a perfect world, we wouldn't need to take steps to renew our skin. After all, our skin sheds all the time. But with harmful UV rays, chemicals, bacteria, and other toxins out there, sometimes you need to give your skin cells an extra boost. Keeping skin healthy can make eczema management so much easier–and keep you more comfortable and stress-free.
Was this helpful?