8 Ways to Manage Eczema Itch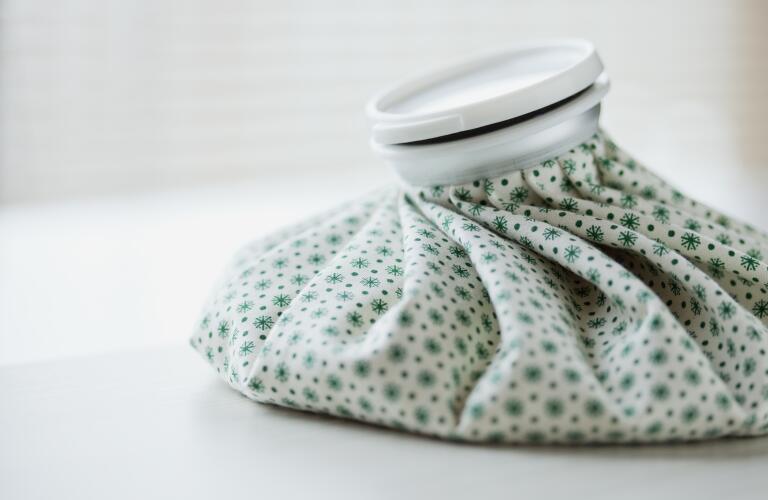 Stop! Stop scratching those itchy red patches of skin. Eczema, an inflammatory skin disorder also known as atopic dermatitis, frequently makes your skin very itchy, so it can be tempting to scratch that itch. But scratching can tear the skin and possibly introduce infections. And once you start scratching, it can be hard to stop. Instead, try other ways to manage your eczema itch:
Prevention is your first step in managing your eczema symptoms, including the itchiness. What's your trigger? Common irritants that can make your eczema—and the itch—worse include soaps and household cleaners, smoke, chemicals like formaldehyde, fragrances, fabrics like wool and polyester, and even some antibacterial ointments. Once you can identify your personal trigger, try to avoid it as much as possible.
5 Things You Didn't Know About Stubborn Eczema
Imagine the relief of a cold, damp compress up against your red, irritated, itchy skin. Ahhh. This is a quick and easy anti-itch strategy. Soak a washcloth in cold water and wring out the excess water. Hold it to your skin to relieve the itch. Reapply as necessary.
It's fine, even helpful, to bathe daily. Just be sure to approach bathing with your itchy skin in mind. Your skin will thank you. Try these tips:
Use lukewarm water. A long, hot shower may sound tempting, but opt for a shorter bath or shower with lukewarm water instead. Too much washing can dry your skin out and make it even itchier.

Choose a gentle cleanser. A gentle, fragrance-free cleanser, rather than a harsh soap, will be less likely to irritate your skin and make it itch more.

Soak in an oatmeal bath. Run a lukewarm bath and add a couple of cups of colloidal oatmeal to the water. Sitting in the milky mixture for about 15 minutes can soothe your irritated, itchy skin. Rinse off with lukewarm water afterward.

Pat dry. Rubbing your skin briskly with a towel can irritate it, so be gentle when drying off.
Don't skimp on the moisturizer. Dry skin tends to itch more, and keeping your skin hydrated can reduce the itch. Choose a thick cream or ointment over a thinner lotion, and look for fragrance-free versions to avoid further irritating your skin. You might also consider a moisturizer containing ceramides, which are waxy lipid molecules that can help your skin hold in moisture. Apply a generous amount of moisturizer to your skin after bathing while the skin is still damp and apply a few more times throughout the day.
Don't just use any old anti-itch cream. Instead, apply a topical cream containing the steroid cortisone to your skin after bathing to relieve the itch. You can get over-the-counter versions or stronger prescription versions—and some severe cases of eczema might even warrant cortisone shots or pills. Experts caution that long-term use of cortisone can cause side effects, so consult with your doctor about the use of this kind of product. Another type of topical treatment that might help you feel less itchy is a topical calcineurin inhibitor, especially if you need to switch from a steroid cream.
If the itch is particularly severe and your usual strategies aren't working, try wet wrap therapy to hydrate your skin. After you bathe and moisturize, briefly dip some gauze or clean cloth in warm water. Wrap the damp cloth around the affected part of your skin. Next, apply a dry layer of cloth on top. You can then put on clothing (or gloves or socks, if it's your hands or feet) to cover the dressings. You can leave the dressings on for several hours or even overnight.
You've tried topical ointments, tepid baths and even wet wrap therapy, but the itching is still driving you crazy. Talk to your doctor about trying a medication called a topical immunomodulator, or TIM. This type of medication affects your body's immune system response to allergens and is showing promise in reducing the itch associated with atopic dermatitis. For severe cases, your doctor may also suggest trying some other types of medications, which might include a topical anesthetic called pramoxine or the antidepressant mirtazapine.
You may be a good candidate for phototherapy using ultraviolet A (UVA) light, ultraviolet B (UVB) light, or a combination. A technician will deliver carefully controlled amounts of UV light to the affected areas of your skin. Phototherapy is generally considered safe as a second-line treatment for eczema. However, your doctor will want to make sure you're not getting more UV light than you really need because of side effects like burning, aging and increased skin cancer risk.
Different people can tolerate different amounts of itching and irritation. What works for someone else may not work for you. You may experience side effects of a treatment that works just fine for someone else. Keep your doctor updated about the effectiveness of your eczema management strategies, and don't be afraid to speak up if you feel you need to try something different to manage your eczema itch.
Was this helpful?