What to Expect During Treatment for an Eating Disorder
Was this helpful?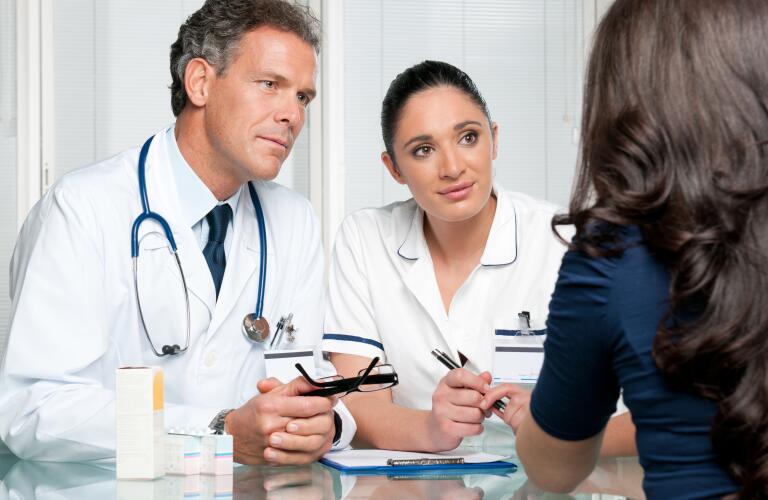 Everyone's treatment for an eating disorder is a little bit different. Your treatment will be designed to fit your specific needs. The type of eating disorder you have will make a difference. So will how it affects your physical and mental health.
One thing you can expect, though, is a team approach. Getting better involves working with a group of doctors and other experts. All of them will have experience treating eating disorders just like yours.
Oftentimes, treatment is easier when you understand the basics and know what to expect:
The first step is to make sure you are safe and out of danger when it comes to your health. Your doctor will do a complete physical exam. This will include checking your weight, blood pressure, and heart function. The doctor will look for medical problems the eating disorder may have caused. You might need blood tests and X-rays.
If you have anorexia and are dangerously underweight, treatment may start in a hospital program. In the hospital, doctors will treat medical complications. They will start you on a program to help you gain weight. This is called nutritional rehabilitation. Other treatments will start once you are back to a safe weight. These include talk therapies (psychotherapy), nutrition counseling and sometimes, medications.
Psychotherapy is part of treatment for almost everyone with an eating disorder. You might work with a mental health professional one-on-one. You might take part in group therapy or therapy with your family. Or you might do all three. At first, you may have therapy sessions several times a week.
If you have anorexia, psychotherapy may include cognitive behavioral therapy (CBT). This type of therapy teaches you to replace unhealthy thoughts and behaviors with healthier choices. If you have bulimia, you may expect to have CBT and also interpersonal psychotherapy. This type of therapy teaches you how to improve your relationships with other people. If you have binge eating disorder, CBT is usually the best therapy.
A psychiatrist is a medical doctor who treats mental health problems, including eating disorders. If you have a severe eating disorder—especially if you have or have had thoughts of harming yourself—you may expect psychiatric care. You may need psychiatric care in a hospital if you have thoughts of suicide.
Psychiatric care also can be very helpful if you have another type of mental health problem along with your eating disorder. This could be depression, anxiety, or obsessive-compulsive disorder (OCD). Your psychiatrist may prescribe medications for these disorders. Medication can help you feel more stable and make psychotherapy more effective.
Psychiatrists may also prescribe medications for eating disorders. These are usually SSRIs. That's a type of antidepressant. SSRIs are most likely to be part of your treatment if you have bulimia or binge eating disorder.
Everyone with an eating disorder gets some type of nutrition counseling. You may work with a dietitian to start a healthy diet. Eating plans may include specific meals and weight goals. If you have anorexia, your dietitian will help you gain a couple of pounds a week until you reach a healthy weight. If you have binge eating disorder, you may need to lose weight. Self-help programs and support groups (like Overeaters Anonymous) are options if you have binge eating disorder or bulimia.
Treatment for your eating disorder does not stop once you get better. The eating disorder may come back if you don't continue to care for yourself. That's a relapse. So expect relapse prevention to be part of your treatment. Your treatment team will work with you on a plan to keep this from happening.
Part of staying healthy when you have an eating disorder is taking responsibility for your recovery. You and your family should learn as much as you can about your eating disorder. Make sure you have a good support network. Consider joining an eating disorder support group. Ask a trusted friend or family member, or someone on your care team for help if you are struggling.
When you understand that treatment for an eating disorder can be a lifetime journey, it's easier to maintain regular visits with your doctor or therapist — and seek help if you feel the tug of a relapse.
Was this helpful?