Talking to Your Allergist About Biologics for Nasal Polyps
Was this helpful?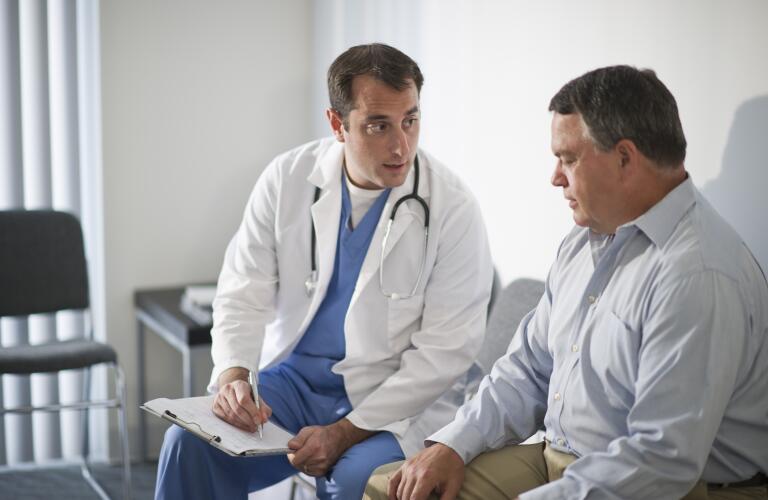 Nasal polyps are soft, noncancerous growths that develop along the lining of your nose or sinuses (or both). When they're small, nasal polyps can be relatively unobtrusive. You might notice that your nose is a little stuffy or runny, but small nasal polyps might not cause any symptoms at all.
However, some nasal polyps are big enough to obstruct the flow of air through your nasal passages. You may have trouble breathing through your nose. You could experience a loss of your sense of smell and persistent stuffiness and drainage from your nose. You might even develop sinus infections on a too-regular basis. And when they cause problems like that, it could be time to start searching for a better treatment for your nasal polyps. You may want to consider trying a biologic medicine, which is a newer type of treatment that works to cut down on inflammation related to nasal polyps.
Once you have a diagnosis, you and your doctor can set out a treatment plan to address your nasal polyps. The goal of treating nasal polyps is to shrink them or eliminate them altogether. A corticosteroid nasal spray, such as fluticasone or budesonide, can be very effective at reducing the swelling and shrinking polyps. However, your nasal polyps might outlast the corticosteroid nasal spray. In that case, your doctor might suggest sticking with the nasal spray but temporarily adding on an oral steroid like prednisone. The reason it's only a temporary solution is that oral steroids can have some significant side effects. People with very large or severe polyps might respond better to an injectable corticosteroid, although severe or large polyps sometimes require surgical removal.
But if corticosteroids aren't the most effective treatment option for you, biologics are a newer option you can try before looking to surgery. These drugs are derived from living organisms and have been found to be very effective for many people with nasal polyps. Although several biologics are currently being studied for the treatment of nasal polyps, three have already been approved by the U.S. Food and Drug Administration (FDA) : dupilumab (Dupixent); omalizumab (Xolair); and mepolizumab (Nucala).

Biologics are highly targeted therapies that address a particular cause of inflammation in your immune system, which makes them very effective. For example, dupilumab interrupts the communication of two proteins that drive a type of inflammation associated with this particular condition. As a result, research suggests that dupilumab can successfully reduce the need for oral steroid treatment and surgery in people with chronic rhinosinusitis with nasal polyps.
If your doctor agrees that it's worth a try, you could receive bi-weekly injections of this biologic. Common side effects include redness or irritation of your eyes, blisters, crusty or scaly patches on your skin, cold sores, or white patches on your lips, mouth or throat. Some people won't experience any side effects, while others may only have mild or temporary problems. However, some may experience more severe ones, so that's always something to watch out for.

You may also want to talk to your doctor about possible interactions with any other medications you're taking–or how this kind of treatment may affect any other underlying health conditions that you have. Depending on your insurance coverage, you might also need to consider whether the cost makes the drug feasible for you, too.

In the future, you may have other biologic options available to you, too. Researchers are conducting clinical trials and examining the potential of several other biologics.
As with any treatment, you and your doctor will need to discuss whether they're the right option for you. You'll want to take into account the size and severity of your nasal polyps and your success or lack of success with other treatments. No matter what, if you are honest with your doctor and committed to your treatment, you can find relief from nasal polyps.
Was this helpful?