PHYSICIAN VOICES

Meet the ENT: Nasal Polyps

Was this helpful?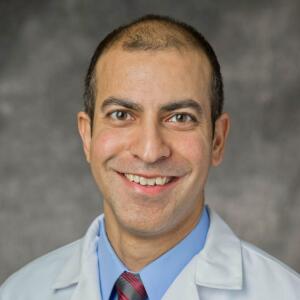 Dr. Nipun Chhabra is a board-certified otolaryngologist with University Hospitals in Cleveland, OH. He's also an Assistant Professor at Case Western Reserve University School of Medicine. In our "Meet the Specialist" series, we highlight the perspectives of various medical specialists on the types of patients they see and what they find rewarding and challenging in their daily practice.
Much of who we are is influenced by what we see, hear, taste, and smell, and when any of those senses are impaired, it can really impact our quality of life. That's one of the reasons why I chose to become an otolaryngologist, otherwise known as an ear, nose, and throat doctor, or ENT. As someone who suffered from allergies and sinus issues when I was younger, I know how difficult it can be to muddle through itchy eyes, a stuffy nose, and headaches. When I see patients with similar problems, from seasonal allergies to severe nasal polyps, it's rewarding to be able to offer them solutions so they can find relief and comfort.
As I trained to become a doctor, I was drawn specifically to rhinology–a specialty in sinus and nasal disorders–particularly because of the significant impact that chronic sinus and nasal issues have on patients. An example is nasal polyps, which are noncancerous growths along the lining of the sinuses and nasal passages that can block airflow, reduce sense of smell, and cause congestion, runny nose, facial pain or pressure, and postnasal drip. Laboring through the day with nasal polyps can be really difficult, and patients often come in because their symptoms are impacting their quality of life. Fortunately, there are effective treatments available, including medication and surgery, which can reduce symptoms and help people get back to their normal lives. The hardest part of my job is seeing patients who have been suffering for years with conditions that have had a profoundly negative impact on their day-to-day lives; often, they've become accustomed to feeling poorly and accept it as normal. It's gratifying to take on the challenge of finding the best treatment plan for each patient, create partnerships, and see them improve.
It's exciting to see the continual innovations in treatments for patients with nasal polyps and other similar conditions. There have been many advances in research, technology, and less invasive treatment approaches over the years. I enjoy seeing how these advances directly translate to clinical care and change what we can offer our patients to help them feel better, whether in the doctor's office or the operating room. It's important for patients to find an ENT who can put these new treatment strategies to use, who has experience with both the medical and surgical management of nasal polyps. If you're struggling with nasal polyps, it can be beneficial to look for a physician who, like myself, has a particular interest and advanced training in rhinology and sinus disorders.
It's also important to find a doctor with experience, who works with you to understand and reach your goals and expectations, provides reassurance, and focuses on developing a mutually productive relationship. The best part of my job is building long-term relationships with patients. I treat each person individually as a partner in their care, and their input is just as important as mine. I've found that patients with nasal polyps are very in tune with their symptoms; I always say they know their symptoms better than I do. If they feel there is an issue or problem, I encourage them to reach out and see me so we can proceed with the next treatment strategy.
Was this helpful?