PHYSICIAN VOICES

An Expert's Perspective on Treating Nasal Polyps

Was this helpful?

Nasal polyps can significantly impact your life, causing symptoms from head pain to nasal congestion. Fortunately, there are a variety of effective treatments available to bring patients relief. Dr. Nipun Chhabra, a board-certified otolaryngologist specializing in sinus and nasal disorders, shares what patients should know.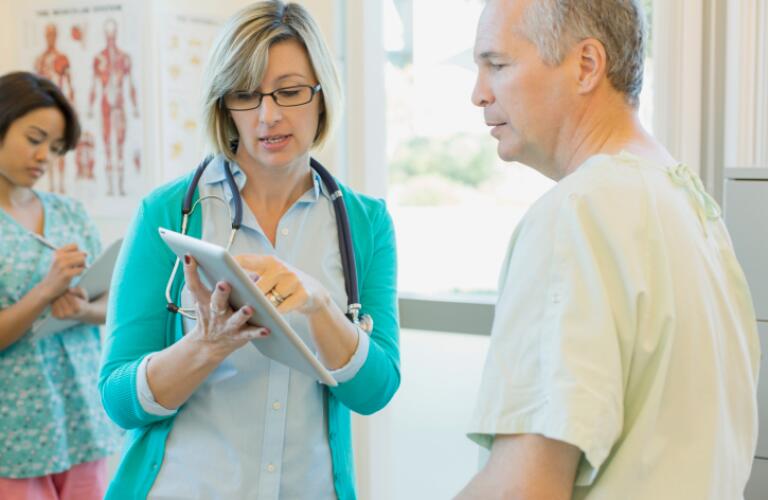 A: Nasal polyps are benign, noncancerous growths on the lining of the sinuses and nasal passages. They usually occur on both sides of the sinuses and they can block airflow, reduce your sense of smell, and contribute to nasal congestion, runny nose, facial pain or pressure, and postnasal drip. Nasal polyps are a type of chronic sinusitis, which is defined as inflammation of the nasal passages and sinuses that lasts for 12 weeks or more. Most patients with chronic sinusitis actually don't have polyps, but about 20 to 25% do. Nasal polyps are often associated with respiratory issues such as allergies and asthma. In some cases, nasal polyps develop in people with increased sensitivities to medications like aspirin or nonsteroidal anti-inflammatory drugs (NSAIDs), as well as in people with chronic conditions like cystic fibrosis.
A: The diagnosis of nasal polyps is based on symptoms as well as a nasal endoscopy–a painless procedure performed in the office using a small camera inserted into the nose. If there are nasal polyps present, I'll be able to see them on a screen connected to the camera, and I can determine their size and severity, which will help guide and inform the treatment plan. A CT scan may also be performed during the workup.
A: While we don't fully know what causes polyps, we have many treatment options to reduce inflammation and swelling in the nose. Our main goal is to improve a patient's quality of life in a long-lasting way. I take an individualized approach with each person. When choosing the right treatment, it comes down to what the most bothersome symptoms are. I discuss with patients the impact polyps have on their lives, and I try to set expectations, because in some cases, nasal polyps can be a long-term problem. Some patients feel better very quickly, while others take a bit longer to find relief. I stress the importance of following the treatment plan consistently. I also make sure to understand whether a patient has had any prior sinus procedures or surgeries, and if they have any associated conditions like allergies, drug sensitivities, or asthma, because addressing those can potentially help improve their nasal polyp symptoms as well.
A: Typically, treatment for nasal polyps begins with sinus rinses or irrigations. These are used to help clear mucus from the sinus and nasal cavities to break down and remove blockages. We'll also add nasal steroid sprays, which help shrink polyps, clear mucus, and alleviate symptoms so the sinuses function better. When nasal polyps are reduced in size, symptoms are more likely to improve and there is more room to allow the sinuses to accommodate medications as they work over time. Oral steroids are sometimes added if the polyps are very large or if they're causing significant obstruction. Generally, steroids are quite effective, although the response may be temporary Sometimes, I'll prescribe antibiotics at the outset, but it depends on the patient and findings.
When patients have tried medical therapy for a consistent period of time and their symptoms aren't improving or the polyps aren't responding, we turn to surgical options. The goal of surgery is to help open the sinus cavities so sprays and medications can be more effective, reducing symptoms, infections, and the amount of blockage. Most commonly, we'll perform endoscopic sinus surgery, which is a minimally invasive approach in which, with the help of cameras in the nostrils, we open the sinus cavities, remove the polyps, and create larger drainage pathways to help the sinuses function properly. This surgery is an outpatient procedure usually performed under general anesthesia, and patients are able to go home the same day. They take pain medications if needed and antibiotics afterwards, and then we see them again in one to two weeks to ensure they're healing well, clean out any scar tissue, or clear any debris or mucus buildup. After surgery, it's very important for patients to be consistent with sinus rinses or irrigations several times a day to keep their cavities clean and promote healing.
A newer type of medication, called biologics, are now available to treat nasal polyps as well. They are aimed at blocking the inflammatory pathway that leads to nasal polyps–thereby preventing the inflammation and polyp formation from even occurring. I typically recommend them in cases where patients haven't responded well to other medications, have coexisting conditions, or have had multiple surgeries. They can be very effective, but since they're prescribed via a monthly or twice-monthly injection, it's a long-term commitment.
Nasal polyps can come back over time; it varies for each patient. That's why it's important to do all you can to cut down on inflammation of the sinuses and nasal passageways, which means being consistent with medications, treating underlying conditions like allergies, and staying in contact with your doctor on a regular basis. Many of my patients with nasal polyps have been suffering for years and become used to living with the symptoms and feeling poorly. I want patients to know we do have treatment options that can really improve their quality of life; you don't have to suffer or accept it.
Was this helpful?