Over-the-Counter Treatments for Hemorrhoids
Was this helpful?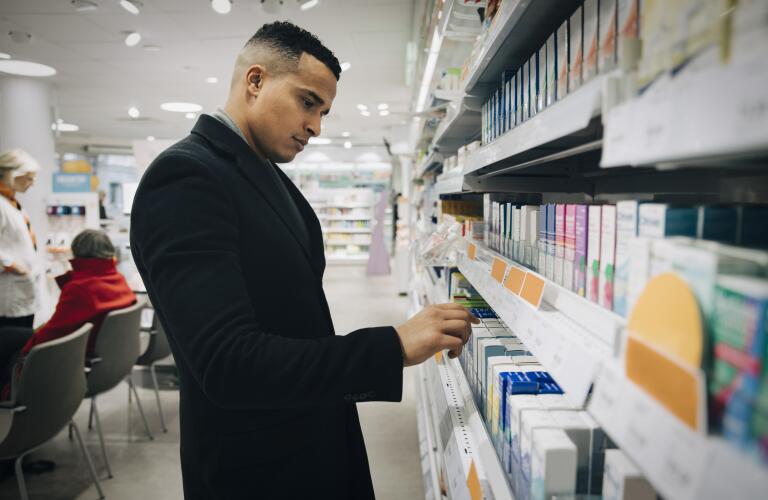 Although most cases of hemorrhoids are generally not serious, the rectal itching, irritation, and burning can seriously interfere with enjoying your daily activities.
You can usually treat hemorrhoids with over-the-counter medications, available without a prescription at your local pharmacy. However, sorting through a vast selection of hemorrhoidal preparations can be confusing. In addition, not all medications are safe or effective for all people. Before trying an over-the-counter hemorrhoidal medication, ask your pharmacist or doctor to recommend the right treatment for you.
Medications applied directly to hemorrhoids
Most hemorrhoidal medications are preparations that contain a variety of active ingredients to provide short-term relief of hemorrhoid symptoms. These products are applied directly to the anal or rectal area and come in different forms, including creams, gels, foams, suppositories and pads. Hemorrhoidal preparations may include protectants, constricting medications, hydrocortisone, numbing medications, witch hazel, and combination products.
Hemorrhoidal preparations often include a protectant, such as zinc oxide, mineral oil or starch, which covers the delicate tissues to prevent excessive drying and irritation and forms a protective barrier while the irritated tissues heal. Protectants include:
TUCKS Topical Starch Hemorrhoidal Suppositories (starch)

Desitin (zinc oxide)

Mineral oil

Lanolin

Glycerin
Constricting medications (also known as vasoconstrictors) can tighten blood vessels and help shrink tissues. Phenylephrine is a common vasoconstrictor used in certain hemorrhoidal preparations, such as:
Medicone Hemorrhoidal Suppositories

Preparation H Ointment and Preparation H Suppositories

Tronolane Anesthetic Hemorrhoid Suppositories
Hydrocortisone is a steroid that temporarily reduces the itching associated with hemorrhoids. Over-the-counter preparations that contain a low dose of hydrocortisone include:
Cortizone-10 Anal Itch Cream

Preparation H Anti-Itch Cream Hydrocortisone

TUCKS Hydrocortisone Anti-Itch Ointment
Some hemorrhoidal preparations include a local anesthetic, which numbs the nerves and can provide temporary relief of pain and other discomforts of hemorrhoids. Products include:
Americaine Hemorrhoidal Ointment (benzocaine)

Lanacane (benzocaine)

Medicone Hemorrhoidal Ointment (benzocaine)

Nupercainal (dibucaine)

Tronolane Anesthetic Hemorrhoid Cream (pramoxine)

TUCKS Hemorrhoidal Ointment (pramoxine)
Witch hazel is an astringent that shrinks blood vessels and exposed tissues, promotes drying, and can temporarily soothe the burning and itching of hemorrhoids. Witch hazel is a common, natural ingredient found in some moist pads and wipes, which can also be used for gentle, soothing cleansing after bowel movements. Products include:
Preparation H Medicated Wipes

TUCKS Medicated Pads
Some over-the-counter treatments contain a combination of medications that work together in different ways to reduce the pain, irritation, itching, burning, and swelling of hemorrhoids and make passing stool more comfortable. These include:
Preparation H Cooling Gel (contains the vasoconstrictor phenylephrine and the astringent witch hazel)

Preparation H Cream with Maximum Strength Pain Relief (contains the vasoconstrictor phenylephrine, the anesthetic pramoxine, and protectants)
Oral medications may also improve your comfort by reducing inflammation and pain. These include:
Acetaminophen (Tylenol)

Aspirin (Ascriptin, Bayer)

Ibuprofen (Advil, Motrin)
Fiber is a substance found in beans, fruits, vegetables, and whole grain breads and cereals. Fiber keeps stools soft, making bowel movements more comfortable and less irritating to your rectal area. A high-fiber diet is a healthy, natural, long-term way to prevent and reduce the symptoms of hemorrhoids. However, many people find it difficult to get enough fiber through their diets. If this is a challenge for you, a variety of fiber supplements are available over-the-counter, including:
FiberCon (Calcium polycarbophil)

Citrucel (Methylcellulose)

Konsyl, Metamucil (Psyllium)

Benefiber (Wheat dextrin)

Drinking up to 8 glasses of water daily provides the necessary fluid for dietary fiber to do its job.
Was this helpful?