Next Steps After Receiving a Misdiagnosis of IBS
Was this helpful?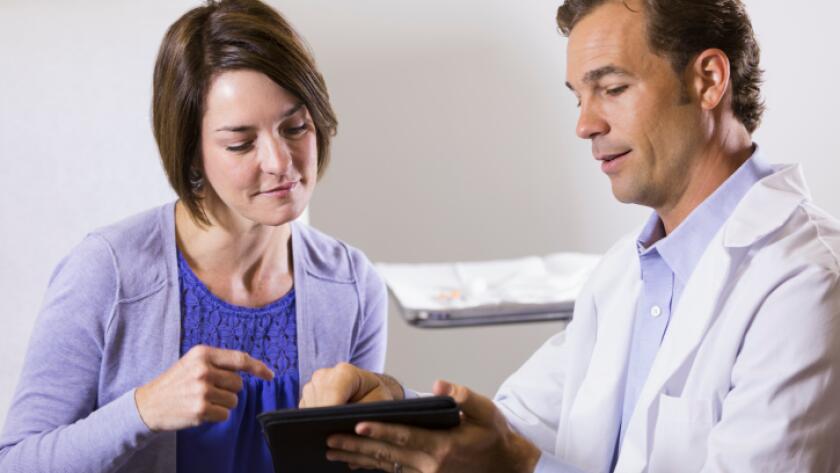 If you have been diagnosed with irritable bowel syndrome (IBS) after experiencing chronic abdominal pain accompanied by constipation and/or diarrhea, you are not alone. IBS is believed to affect 10 to 20% of adults in the United States, with a majority being women, and is in the top 10 most commonly diagnosed conditions by U.S. doctors. However, there are many other conditions that can also produce very similar symptoms. So, what should you do if you worry you have been misdiagnosed—if you're being treated for IBS but you don't feel better? Here are some steps to undertake with your doctor to help find an answer.
1. Understand how IBS is diagnosed.
It is important to understand how your doctor arrived at an IBS diagnosis in the first place. There isn't one specific test to definitively diagnose IBS. Instead, your doctor will look to see if your symptoms are consistent with IBS. Your doctor will see if you meet the following criteria:
Abdominal pain at least once a week for the last three months

Pain associated with bowel movements

A change in the frequency of stool

A change in the form or consistency of stool

Symptom onset at least 6 months ago
Other common symptoms include abdominal bloating, mucus in the stool, and the feeling of incomplete bowel movements.
Your doctor will also take a medical history and perform a physical exam. Additionally, you will be screened for the presence of "red flags", signs that you could have a more serious condition instead, such as cancer or inflammatory bowel disease (IBD). If you do have any red flags, your doctor will order additional testing to rule out these other conditions before giving you a diagnosis of IBS. However, in the absence of any of these alarm signals, the American College of Gastroenterology recommends making a diagnosis based on signs and symptoms and avoiding extensive testing.
In case of an IBS misdiagnosis, it is possible that a red flag was missed or that something has changed. For this reason, it's helpful if you can recognize red flags and notify your doctor immediately. Things to watch for include:
Weight loss

Anemia

Abdominal pain or diarrhea in the middle of the night

Progressively worsening symptoms

No response to current treatment
When trying to get to the bottom of your true diagnosis, one of the best things you can do is keep a running log of your symptoms. Pay attention, of course, to your symptoms, but also consider:
When the symptoms occur

How often they occur

How long they last

What you were doing (or eating/drinking) prior to their onset

If the symptoms are new or changing
This provides a more complete picture for your doctor and may help guide decisions for future testing. And the small details matter! For example, abdominal bloating can be seen with both IBS and ovarian cancer. However, with IBS, bloating tends to come and go; yet with ovarian cancer the bloating may be more consistent and get worse over time.
4. Seek additional testing.
If it isn't IBS, further diagnostic testing will be needed to determine what is causing your symptoms. Talk to your doctor about which tests may be appropriate for you:
Blood tests: A complete blood count can check for check for anemia or signs of infection. Some tests can indicate the presence of inflammation or celiac disease.

Stool tests: Stool is examined for blood, parasites, and bacteria.

Breath tests: This can be used to assess for lactose intolerance or bacterial overgrowth, where an abnormally large number of bacteria grow in the small intestine leading to pain, diarrhea, and bloating.

Colonoscopy and sigmoidoscopy: A flexible tube is inserted to into the large intestine to visualize for polyps, bleeding, abnormal growths, and inflammation.

X-rays: Your doctor may order x-rays to look at the organs in your abdomen and pelvis. Sometimes barium may be swallowed or given as an enema to help visualize the intestines.

Computerized tomography (CT) scan and magnetic resonance imaging (MRI): These external imaging procedures allow for a more detailed look at your internal organs and soft tissues.
5. Consider other medical conditions.
Your doctor will put all of this information together to try and find a proper diagnosis. Some possibilities include:
If you are still unsatisfied with your medical care, don't hesitate to get a second opinion. A gastroenterologist is an expert physician specializing in conditions like IBS. Yes, it may be time-consuming, but it is usually worth it. Some medical conditions can be treated easily, but others can become more serious if not recognized promptly.
Receiving a misdiagnosis can be frustrating, especially when you are anxious to get to the root of your problem and feel better. It is important to find a doctor that you trust and feel comfortable communicating with. Your health and happiness come first!

Was this helpful?