How to Talk to Your Doctor About Opioid-Induced Constipation
Was this helpful?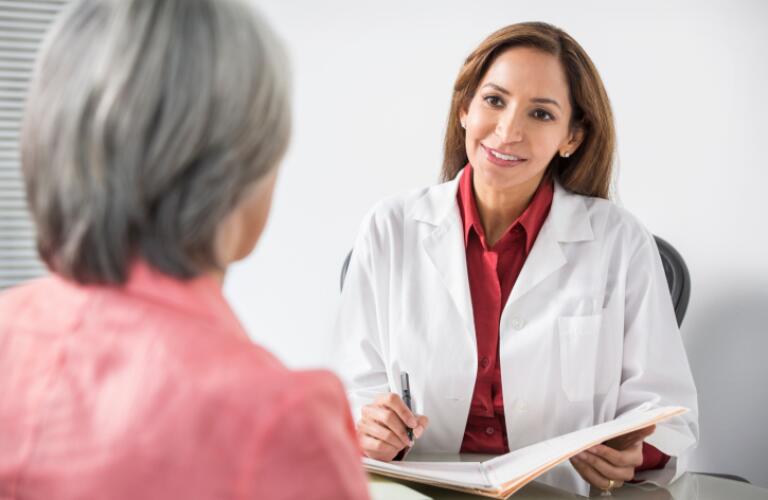 Opioids are one of the most commonly prescribed pain relievers today—and they return quality of life to many people suffering from chronic pain issues and pain after surgery or another medical procedure. However, opioids are not the perfect fix—they bring with them a risk of possible side effects. Some of these side effects can be so severe that patients decide they'd rather live with the pain than take their medication and suffer from issues like fatigue, dizziness, nausea, trouble breathing, and addiction.
The most common side effect of taking opioids—and one of the biggest reasons patients choose to stop treatment—is chronic constipation. Opioid-induced constipation (OIC) occurs because of the way opioids work in the gastrointestinal system, and while other side effects of opioids tend to fade with time, OIC remains constant. But you don't need to choose between pain and constipation: there are many ways OIC can be treated, and the first step to managing symptoms is talking to your doctor.
You may wish to tackle your constipation on your own by using over-the-counter (OTC) laxatives; however, these are not always effective for OIC. Constipation caused by opioids is different than regular constipation, and may require a different approach. That's why it's so important to form a treatment plan with your doctor.
Although OIC affects between 40 and 80% of patients on opioid therapy, your doctor may not ask you outright about it. More and more doctors are aware of this chronic side effect, but still, about 40% of doctors don't know their patients are suffering from OIC. If your doctor hasn't prompted the discussion, it's important to bring it up yourself.
No one wants to talk about constipation, but in order to find relief, communicating with your doctor is key. OIC isn't just an inconvenience; it can be severely uncomfortable and lead to very painful bowel movements. Don't let your embarrassment prevent you from seeking help. Just remember: your doctor talks about these issues every day—he or she is used to having conversations like this and will want to know as much as possible to help improve your quality of life.
Once you've decided to talk to your doctor, make the most of your appointment by doing some homework first. Keep a journal in which you record details about your symptoms, answering questions like:
When did your OIC begin?

How often do you experience OIC (Is it constant? Does it come and go?)

What does your OIC feel like? (Do you feel abdominal discomfort, bloating, gas, sharp or dull pain?

What do your bowel movements feel like? (Do you experience severe pain, straining or discomfort?)

What do your stools look like? (Are they hard, soft, lumpy or solid?)

How often do you have a bowel movement?

Have you tried anything to alleviate your symptoms? (Have you adopted a new diet plan, started exercising, taken laxatives, or anything else?)
With this information, your doctor can determine the best way to treat your OIC.

After your doctor has assessed your symptoms, he or she will come up with a treatment plan. There are several treatment options available, including lifestyle changes and both OTC and prescription therapies.
Your physician will most likely recommend you start by making some changes to your daily life, from drinking more water to increasing your fiber intake. Exercising more can also help alleviate OIC. Your doctor may have you try an alternative opioid medication, since different formulations affect patients in different ways—even if one causes OIC, another may not.
If these changes aren't enough, you may be instructed to try laxatives—they may not do the trick for everyone, as they don't directly target the cause of OIC, but many patients find that laxatives effectively improve their OIC.
For some, prescription medications are the best option. Several drugs have been developed to fight constipation, including lubiprostone (Amitiza) and Linaclotide (Linzess). In recent years, drugs specifically manufactured to fight OIC have come to the market—they're called peripherally selective opioid antagonists, and they block the gastrointestinal effects of opioids at a cellular level. Currently, two medications in this class are available: naloxegol (Movantik) and methylnaltrexone (Relistor).
The first step towards finding the right treatment for OIC is talking to your doctor. With all the treatment options available, there's no reason to suffer in silence.

Was this helpful?