What to Know About Insulin Coolers
Was this helpful?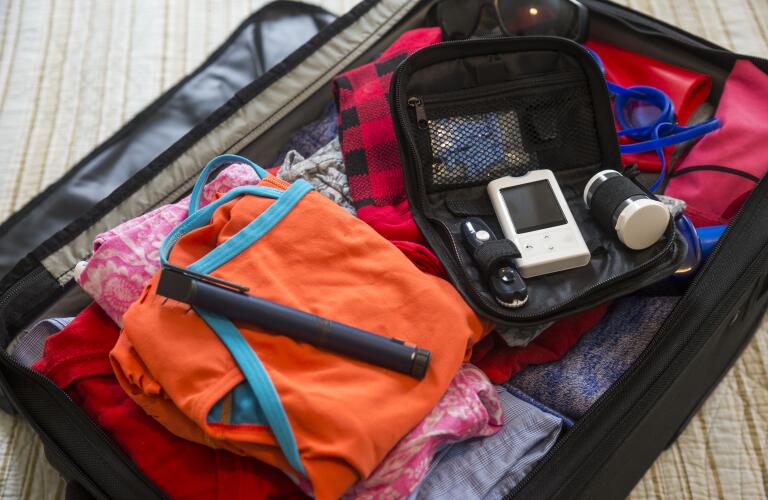 If you use insulin as part of your diabetes management plan, it's important to store the vial, cartridge or pen properly. Insulin is a hormone that needs to be kept within a specific temperature range in order to retain its strength. Temperatures below about 35 degrees or above 80 degrees Fahrenheit (F) can cause the hormone to lose potency and become less effective at managing your blood sugar. Learn whether or not you need an insulin cooler to store your medication properly when traveling or otherwise.
When you pick up insulin from the pharmacy, you may notice it's marked for refrigeration. It's true you should keep unopened vials, cartridges and pens in the fridge—but be sure you don't have your appliance's temperature set too cold. Use an appliance thermometer to make sure your refrigerator's temperature never dips below 35 degrees F, since that could affect the potency of the insulin.
Many people with diabetes say that cold insulin stings when injected. To avoid this, you can keep the vial, cartridge or pen you're currently using at room temperature (between 35 and 80F) for up to a month without affecting its potency. Always examine the insulin fluid before you draw up the dose or inject from a device. Most insulin (except NPH) should look crystal clear within the vial, cartridge or pen. NPH insulin naturally looks cloudy after you gently roll it around in your hand before using it—which you should do with any type of insulin prior to injecting. If the insulin fluid looks clumpy or crystalline, discard it—or return it to your pharmacy for replacement if it is unopened.
Many people use portable insulin coolers for traveling, because you can't rely on being able to keep your insulin at the proper temperature while driving in a car or going through an airport. However, for home or office use you also can get a tiny electric cooler (miniature refrigerator) to keep in a convenient location. Electric coolers might be handy if you share your refrigerator with roommates (who might adjust the temperature without your knowledge) or if you're planning to live in a hotel room or temporary housing without a fridge for an extended period of time.
Travel insulin coolers generally protect the insulin against extremes of both heat and cold, which makes them ideal when traveling to either hot or cold climates. Some of these coolers require "activating" the cooling properties of the device by refrigerating it in advance or running cold water over it. Others contain tiny cold packs that you should cool before using.
For general travel by air, train or car, using an insulin cooler case should be sufficient. These insulated insulin carriers come in a wide range of sizes, materials and colors. Soft-sided insulin coolers fit easily into your pocket, so you can keep your insulin with you at all times and not risk losing it. Hard-sided insulin coolers resemble water bottles and can protect your insulin vials or devices from breakage. Insulin pen coolers are made to fit one or more insulin pens with ease, making it a convenient option.
If you're packing for an extended trip, you might consider buying a larger insulin travel cooler case. These travel packs provide space to hold up to one month's-worth of insulin and supplies, which makes them ideal for extended trips. Insulin travel packs also often include organizing sections for your diabetes supplies. Soft-sided insulin travel coolers may include a removable plastic insert to better protect vials or pens from breakage.
No matter where life takes you, you can travel confidently with diabetes by investing in a cooler that holds your medication at the right temperature throughout your journey. With the wide variety of sizes, materials, colors and styles available for travel insulin coolers, you can pack with panache and practicality rolled into one.

Was this helpful?