Diabetic Socks: What They Do and Who Should Wear Them
Was this helpful?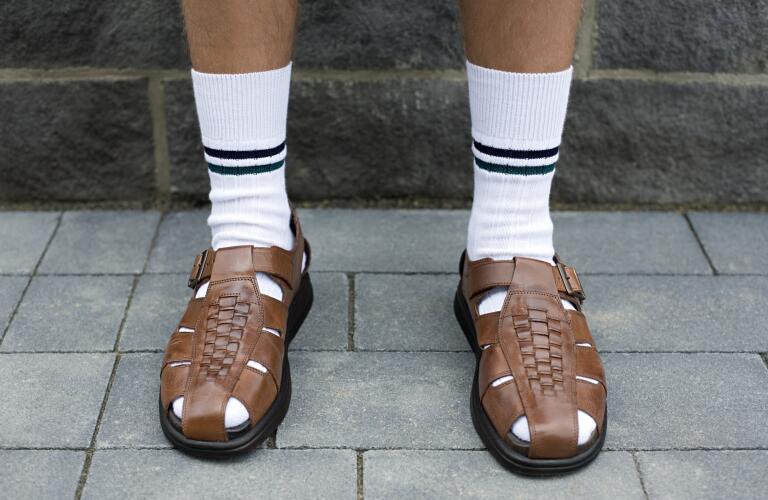 Men and women with diabetes need to pay special attention to their foot health because diabetes can cause decreased circulation and sensation in the feet. Less blood flow can lead to the development of sores (ulcers) that can become infected. Many people with diabetes lose a toe or even their foot due to poor foot care each year. But, wearing diabetic socks can help protect the health of your diabetic feet.
Special diabetic socks for men and women perform three main functions:
Protect the feet from injury
Keeping your feet dry is important because damp skin tears and breaks down more easily than dry, supple skin. If the skin of your feet breaks down, you're more susceptible to developing an infected foot ulcer.
Diabetic socks work to improve blood flow by providing warmth without constriction. Because diabetes causes poor circulation in the feet, it's important not to constrict the blood vessels there.
Lastly, diabetic socks protect the feet from injury by offering lots of cushioning. People with diabetes often lack sensation in their feet, so they do not know it if they injure a foot due to rubbing on the shoe or stepping on a sharp object.
Diabetic socks vs. compression socks: What's the difference?
People with diabetes should be careful about using compression socks. These socks are constructed of unpadded polyester material that applies aggressive compression to the lower leg and foot. People with diabetes generally should avoid wearing garments that constrict the blood vessels in the feet. Furthermore, compression socks often feature an open toe with narrow elastic bands at the bottom and top that press into the skin. These bands can greatly compress the blood vessels (reducing blood flow in and out of the foot) and rub against the skin, causing an ulcer. People with diabetes always should consult their doctor before wearing a compression sock.
By contrast, the best diabetic socks feature seamless toes and a loose-fitting upper band to avoid constriction. These socks come in many choices of material, from wool to synthetic blends, but all of them feature thick padding. Many diabetic socks for men and women offer moisture wicking technology to keep the feet dry. Some providers recommend wearing diabetic socks with white soles so it's easier to notice weeping or blood stains from a foot ulcer.
The range of diabetic socks for men includes styles that range from dressy to casual. Diabetic socks for women are available in many fashionable colors and patterns. They also come in low-rise versions to cushion the foot inside pumps and other high heeled shoes.
Diabetic socks are essential foot care.
If you have diabetes, you should get in the habit of checking your feet every day for sores, hot spots, areas of rubbing, or injury. By wearing diabetic socks, you can greatly reduce your risk of developing a foot ulcer, while improving circulation at the same time. Diabetic socks represent an essential aspect of foot care for anyone with diabetes.
Was this helpful?